There is lots of other news and a similar attack is taking place in Israel. Please check the comments under this post for newer information. I will not be posting other posts besides updates on this for obvious reasons but commenters are putting links in for other news in the comments.
cfra.com click listen live
15:37 New York police posting guards at Canadian Consulate till everything is clear.
FOX News confirms massive spike in Islamic State chatter targeting Canada for the past few days.
Ottawa Police Press Conference

As I predicted, and feared, Soldiers are being told not to wear their uniforms in public. Lets hope its just today and not a general thing.
1:23 PM CTV News confirms death of Canadian Soldier shot in today's attack.
US Embassy in Ottawa on Lockdown. Spokesman for Embassy says:
yada yada yada wuzza wuzza Canada and US good friends, offer assistance, blather blather no actual content whatsoever.
Ottawa Hospital reporting it has received three patients with gunshot wounds.
CNN is reporting heightened FBI alerts as "Increased chatter by Islamic State officials"
Ottawa Shooting Witness Clips
12:58 PM I was just informed that the soldier who was shot passed away. No link yet. Here is a good twitter feed to follow as well as this one.
Apparently Harper was to meet with Malala, the Afghan Nobel Peace Prize winner, in Toronto today.
12:50 Guard at Parliament hill shot in leg, is OK and at hospital,
 12:49 PM ALL BUILDINGS IN DOWNTOWN STILL ON LOCKDOWN (CFRA)
Reports suggest THREE shooting events and possibly three shooters
(I have put times in where I had them. The rest of the reports are not necessarily in chronological order)
More video:
***I Was just informed that the guard who was shot at the War Memorial has no ammunition in his rifle. He was uniformed, and had a C7 with zero ammunition in it by policy. This thing could have ended much faster if military personnel had actual ammunition in their weapons. To give a person a visible gun with no ammo is the most dangerous thing I can think of. ***
11:09 MT @OmarCBC : (Police) say if u can see Parliament you are dangerously close #ottnews
More shots reported fired now at 10:58
10:58 AM RCMP URGENT REQUEST: ANYONE DOWNTOWN STAY AWAY FROM WINDOWS AND OFF THE STREETS
Rideau Center, Ottawa's main shopping mall downtown EVACUATED. Shooter still on loose at 10:57 AM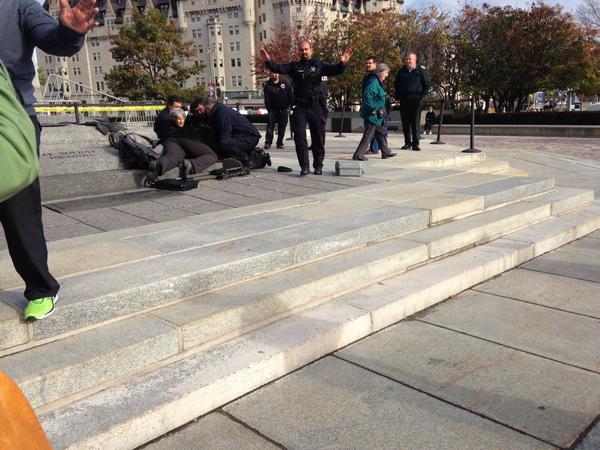 Best description so far on news as of 10:53 AM is 2 men wearing white scarves (Shahadis?) one of them is already stopped, one still active, large section of downtown in lockdown
The day after the attack in Montreal, yesterday, a caller to CFRA predicted that soldiers would be told not to wear their uniforms in public. Call was made to Lowell Green on Oct. 21 – 2014