Sweden. By Ted Ekeroth who is the brother of Kent Ekeroth, who occasionally speaks for the Swedish Democratic party, 'SverigeDemokraterna'
Posted on 2010-05-20 by Ted Ekeroth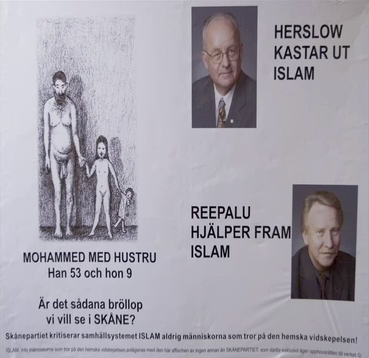 Skånepartiets poster
This blog and "Jihad in Malmö" as well as several newspapers reported that Skånepartiets party chairman Carl P Herslow is being charged with "incitement to racial hatred" after he was on the town square in Malmö with a picture of Muhammad and 6-year-old Aisha.
The image stems from the generally accepted fact in Islam that Muhammad married a 6-year-old girl and raped her at 9-years old. The image, which can be seen here on the left, is therefore something that is described in the Islamic texts about Muhammad – the muslims primary role model. How this "profet" lived is something that muslims strive to live by, as he is "the perfect man" according to their beliefs.
That Mohammed sexually assaulted young children is therefore no secret (read the hadith on jihad in Malmö). Yet JK chooses to prosecute him for incitement to racial hatred ("hets mot folkgrupp").
Put that in relation to what went down in the mosque at "Medborgarplatsen" in Stockholm. The mosque sold anti-Semitic tapes in 2005 – Jews were compared to monkeys, pigs and diseases, and that the "Final Solution" for Jews was a "jihad" – holy war.
"O Allah, annihilate the Jews, O Allah, annihilate the Jews! O Allah curse them and expulsions them and let them whipped with suffering. O Allah, of heaven and earth! "
Then Justice Chancellor at the time, Göran Lambertz, began a preliminary investigation on the incitement of hatred, but decided to close the case on the grounds that the ties were "very critical of the Jews" but otherwise there was no violation of Swedish law.
So, in Sweden today, you can prosecute a man for telling an established truth that is openly described in Islamic texts, but to prosecute Muslims call for the murder of Jews is not hate speech according to the Chancellor.
The selling of audio tapes where you incite the mass murder of Jews is of course something different than publicly showing what Muhammed did. The first should be criminalized and the second shouldn't. But instead Sweden acts just the opposite.
Why? The answer is simple. This time it's the Muslims who feel "wronged". No threats of violence were expressed, no lies have been said – only a presentation of Muhammad's life.
The truth is liable to prosecution in Sweden, 2010.