And no, I don't mean a pyrrhic victory although yeah, i'd take that. Not a "the grapes are sour anyway" victory either. I mean a real one.
The protestors, led by many of Canada's truck operators, forced what many of us knew was an authoritarian communist state to show its fangs. And this is a major victory for a state that was operating under what may as well be called a Fabian Society set of principles.
For those not familiar with the Fabians, they believed in turning the West communist but by stealth and without visible force. Their logo is literally a wolf in sheep's clothing.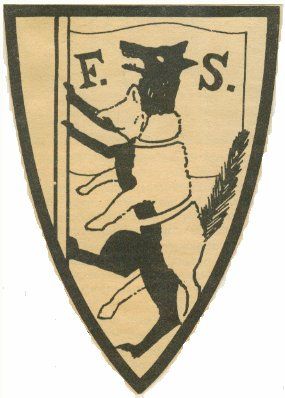 Using lies and other forms of information warfare which has become the truck and trade of mainstream media across the formerly free world. Especially Canada where the CBC, CTV, and Global News craft the next day's narratives in advance and then go get the footage they need to force that view. Probably one of the most repugnant reports on one of their methods recently is this one:
The news media is apparently sending people from the office down to the protests, having them record on phones, then "submit footage to the news" to be used as genuine protester footage. Complete scum.

— u?p?ou@ ? (@notdan) February 17, 2022
So make no mistake. Ripping the sheepskin off the wolf for all the world to see, that was an enormous victory. The people of the world now simply have no excuse not to understand the nature of Covid policies and the actions of Western governments now. Anyone who doesn't join the fight back against the state that explained that it was two weeks to flatten the curve two years ago, and 30 days of emergency measures to flatten the right to protest the rulers, well its on them. But the skin was yanked off and we know its a wolf.
And as a result, there is a tad less lying. Deputy Viceroy Freeland has already declared the financial measures permanent…
Permanent communism in Canada, so that we can remain peaceful has now been enunciated https://t.co/q8uzY2oXbx

— Randy Hillier (@randyhillier) February 18, 2022
…and the police chief has said that anyone who actively supported the protestors, whatever that means, which means whatever he wants it to as needs be, will be punished without due process, investigated without warrant, and treated as a criminal using retroactive tools to determine criminality, post hoc.
When asked about the use of excessive force against protesters that are following orders, the Ottawa Police Chief says that its been three weeks and if people do not go home they will remove you from the streets. pic.twitter.com/bo5Uy084CQ

— Marie Oakes (@TheMarieOakes) February 19, 2022
Yes, the state now determines that yesterday's perfectly legal actions are now a crime. Worse than pre-crime, this is how growing a potato today makes you a vegetable criminal tomorrow.
So yes. Its a victory. Pick a side and get to work.