An original translation by Egri Nök with much thanks.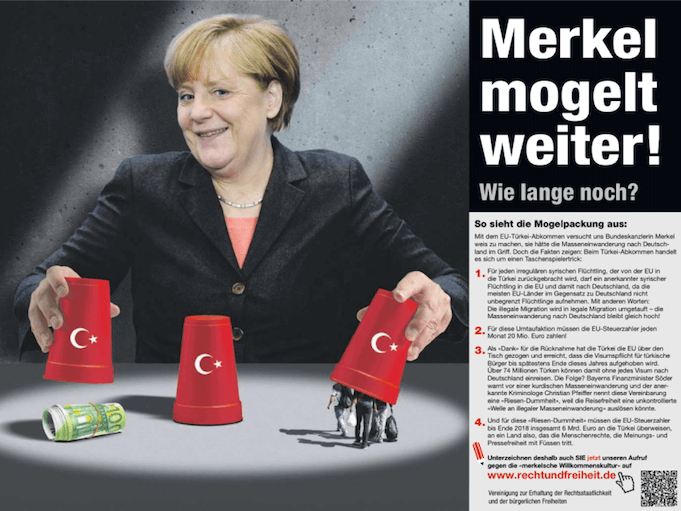 Berlin Journal
Bürger schalten Anzeige gegen Merkel in der Schweiz
Michael Müller –
26. April 2016
Citizens place advertisement against Merkel in Switzerland
Page 2 of the Neue Züricher Zeitung of Monday shows a ½ page advertisement with the title "Merkel still cheating on. How long will this continue?" The authors criticise Merkel sharply. The German chancellor is portrayed as a smiling hat player
[translator's note: This type of play is illegal in Germany].
The advertisement in the Swiss daily cost more than 16,000 Swiss Franks
[16,000 USD/20,000 CAD].
But it is not aimed at a Swiss, but at a German audience. The NZZ is widely read in Germany too. The text of the ad obviously aims at German citizens:
Merkel cheats on!
For how long?
This is how the sham looks:
With the EU-Turkey-Treaty, Chancellor Merkel tries to convince us that she has got the mass immigration into Germany under control. But the facts show: the Turkey-Treaty is a sleight of hand.
1. For every illegal Syrian refugee, who is sent back from EU into Turkey, a recognized Syrian refugee can enter the EU and therefore Germany, as most EU-countries do not accept unlimited quantities of refugees. In other words: the illegal migration is rechristened into a legal migration – the mass immigration into Germany remains constantly high.
2. For this rechristening, EU citizens have to pay 20 million Euros per month!
3. As a "Thank you" for taking them back, Turkey pulled the EU over a barrel and achieved Visa freedom for Turkish citizens at the latest end of this year.
More than 74 million Turks can come to Germany without any Visa at all. The consequences? Bavarian Minister of Finance Söder warns of a Kurdish mass immigration, and the renowned Criminologist Christian Pfeiffer calls this Treaty a "monumental stupidity", because the freedom of travel could start "a wave of illegal mass immigration".
4. For this "monumental stupidity" the EU tax payers have to wire 6 billion Euro to Turkey until end 2018, to a country that tramples human rights, freedom of opinion, and freedom of the press under their feet.
Therefore we ask YOU to sign our appeal against the "Merkelian Welcome Culture" at www.rechtundfreiheit.de
[end of ad]
It is the Association for the Preservation of Law and Civil Liberty behind the advertisement. Why did this German group place their advertisement in a Swiss newspaper?
The media businessman Josef Konrad answers an enquiry by Blick:
"Except for the Hannoversche Zeitung, all large newspapers in Germany refused to print this ad." The NZZ-ad has fully been funded by donations of the supporters. But they do not plan further ads in Swiss media.
About 3,500 people have already signed the 'No' to the "Merkelian Welcome Culture". Now they hope to find more signatures through the NZZ advertisement "Merkel cheats on!".
The name of those behind the association still remain a mystery. Media businessman Josef Konrad says, his cooperation with the association was only temporary, and he has no connections to the association.
"The founders and members of the association currently do not wish to appear in public or to be named", says Josef Konrad, who is a member of the AfD Bavaria. It is a "loose association of concerned citizens from Germany".