AN original translation by Egri Nok with much thanks!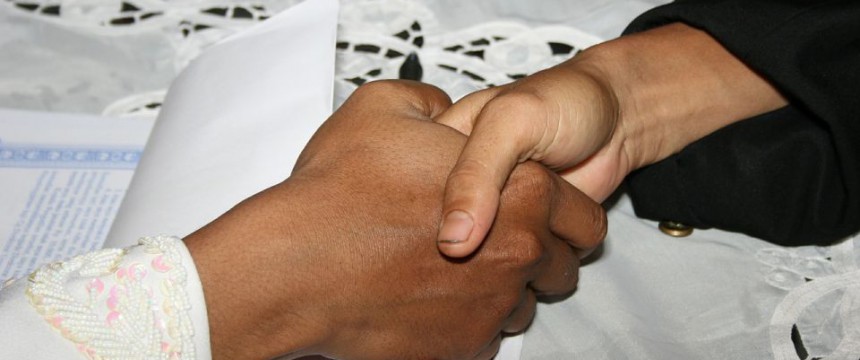 BERLIN. A Muslim father refused to shake hands with a female teacher in the Pankow district of Berlin. The educator from the private Platanus School accused the man of lack of respect and misogyny, and ended the conversation. The father, who had been at the school for a discussion about his son, lodged a criminal complaint against the teacher, RBB (public radio) reported.
Prior to the conflict pupils had been roughhousing, for which the imam's son had received a written warning. The boy's father, Imam Kerim Ucar, a devout Shiite from Eastern Turkey, after several academic talks with the mother, had according to the broadcaster been invited to the school, too.
Hand on the heart
Even as he entered the conference room, Ucar made it clear hat for religious reasons he could not shake a woman's hand. According to the couple, the teacher asked the imam four times to offer his hand. The gesture was a German custom and a vital affirmation of respect, she explained.
Ucar rejected the request politely but firmly, and put his hand on his heart, which in his religion is the highest possible testimony of respect for a woman. Subsequently the teacher allegedly became loud, and ended the talk.
School contract cancelled
The school declined to comment on the incident, but intends to remain in dialogue with the family. The parents cancelled the schooling contract, retained a lawyer, and lodged a criminal complaint for insult and violation of the dignity of religion.
This past spring, a similar case in Switzerland caused worldwide headlines. Teachers in the Swiss canton Baselland can now insist that Muslim scholars must shake hands, the educational administration of the canton decided. Despite freedom of religion, schools may "demand a handshake and use the sanction options of the educational law," the authority informed. The equality of man and woman, and integration, were more important than the pupils' freedom of religion.
[Once again we see that multiculturalism really means any culture that is European or North American will have priority. The German custom of shaking hands to establish equality and trust, will likely be sidelined for the Islamic one of not touching women unless its under … Islamic conditions.]