An original translation by JLH with much thanks.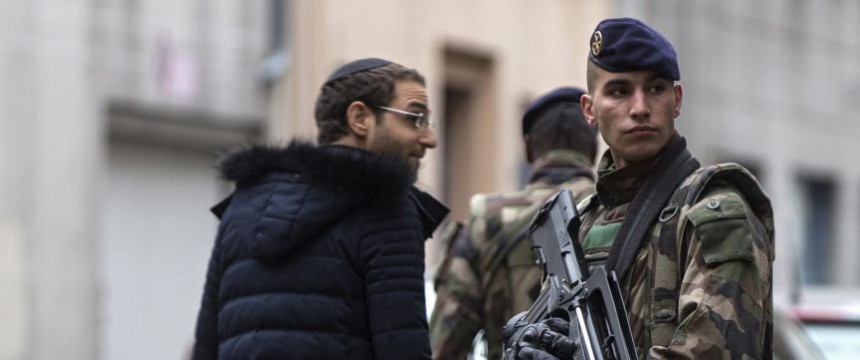 (Photo: Security forces in front of synagogue)
PARIS: The French police have a problem with Islamists in their ranks. In a confidential document from the Ministry of Public Security (Prefecture of Police) obtained by the newspaper Le Parisien, there is discussion of 17 cases of radicalization between 2012 and 2015.
According to that, officers on patrol heard widespread Muslim chanting. Also emphasized was the refusal to participate in a moment of silence for victims of terrorism. Further, Muslim police officers are said to have refused to guard synagogues.
ISLAMIC POLICEWOMAN MOCKED UNIFORM
In one instance, police became aware of a policewoman who called on Facebook for terrorism and then characterized her police uniform as "filthy rags of the republic" as she wiped her hands on it. Next, she returned from the toilet with a headscarf and justified her actions by noting that exhibitionism is forbidden.
Even though the number of such instances is small, they are of great concern to security forces, according to Le Parisien. Therefore, the police administration has decided to collect instances of offenses against secularism in a weekly paper.
YOUNG OFFICERS ESPECIALLY AFFECTED
Cases documented in the paper concern above all practice of the Muslim faith in regard to daily prayers and clothing. Most instances involve young officers who are in the lower ranks.
According to reports in the media, the French military also has a problem with the radicalization of Muslim soldiers. As early as 2013, Colonel Pascal Rolez assistant to the vice director of counter-espionage in the Direction de la Protection et de la Sécurité de la Défense (DPSD), warned: "We are seeing a growing radicalization among French soldiers, especially since the Merah Affair." (In March 2012, Mohammed Merah murdered four Jews in a school in Toulouse and three French soldiers.)
THE MILITARY ALSO HAS PROBLEMS WITH RADICALS
After the attacks on Charlie Hebdo, the radio station RFI reported the desertion of about a dozen French soldiers, who joined the jihadists in Syria and Iraq. At the same time, the police noticed a 35-year-old female non-commissioned officer of the Gendarmerie, who had converted to Islam in 2011 and had maintained a connection to Amar Ramadani.
Ramadani was one of the accomplices of Amedyn Coulibaly, who had carried out an Islamist terrorist attack on a kosher supermarket at the beginning of January 2015. The policewoman had logged into the national data bank of suspicious persons 60 times, and was sentenced to a year in prison (probation) for offenses against security regulations, and released from the service.
After the terrorist attack on Charlie Hebdo, the French military dedicated 10,000 armed soldiers to the protection of synagogues, Jewish schools and important traffic hubs, as well as mosques. According to the daily Le Figaro, it is no longer simply support of the police, but a permanent military presence.