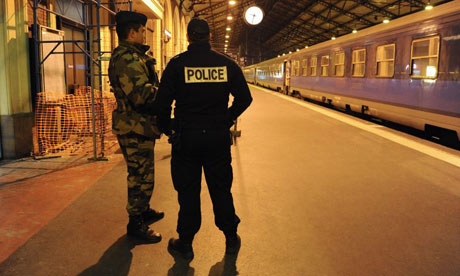 Police on guard in Toulouse after the Jewish school shootings. Two officers were injured early on Wednesday morning during a raid to arrest suspects, according to sources. Photograph: Caroline Blumberg/EPA
Two French police officers have been injured in a shoot-out during a raid on a house in Toulouse on Wednesday to arrest suspects in the killings of three children and a rabbi at a Jewish school in south-west France this week, a police source said.
The source said the raid began at 3am local time and was continuing but did not provide further details.
The French news channel BFM TV said the suspects were linked to an Islamist group that it identified as Forsane Alizza but it was not immediately possible to confirm this.
——————–
Here is the webpage for these 'tardorists'. http://www.forsane-alizza.com/
It is not a hot link as for obvious reasons I do not want a direct link to these sick-fucks. (Forgive my French)
Eeyore