Close to one week ago, Vlad reported details concerning the Islamist Supremacist group Hizb ut-Tahrir and it's global, conference initiative. Now the group has beefed up it's visual promo campaign with a poster image out of Malaysia of a beheaded Statue of Liberty accompanied by New York City left in dust rubble and smoking ruin. Consider following the instructions given in the previous post ' Canada: Hizb ut-Tahrir to meet this week in Ontario' to contact officials expressing concern regarding this group.
(thanks to www.thereligionofpeace.com)
Islamic Supremacist Hizb ut-Tahrir Event Promoted with Beheaded Statue of Liberty
Islamic Supremacist organization Hizb ut-Tahrir's branch in Malaysia promoted its July 26, 2009 conference for a global Islamic Supremacist Caliphate with an image of a "beheaded" Statue of Liberty and NYC in smoking ruins.   The HT web site refers to democracy as "perverted."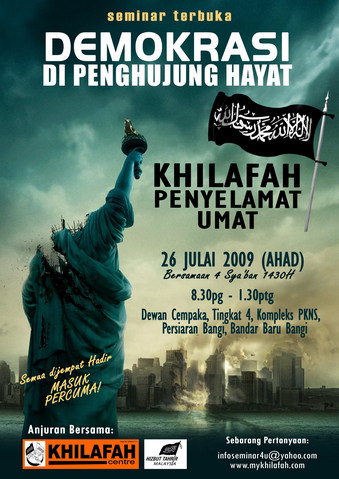 Hizb ut-Tahrir promotion for Islamic Supremacist Caliphate conference shows "beheaded" Statue of Liberty and "burning" NYC
The Hizb ut-Tahrir blog promoting such Islamic Supremacist conferences, such as those in Canada, U.S., and other countries, also promoted this image of violence against the United States on its blog as well.  The Hizb ut-Tahrir blog promoted this as part of "Hizb ut-Tahrir's Global Rajab Campaign."
This is the same Hizb ut-Tahrir blog promoting their Islamic Supremacist conference at a government-managed public facility in Mississauga, Ontario, Canada and the Hizb ut-Tahrir blog that promoted a link to the Hizb ut Tahrir America conference in Oak Lawn, Illinois at the Hilton Hotel.
This same Hizb ut-Tahrir blog promoting the July 31 event in Canada also promotes a pamphlet (page 62) that supports killing those individuals who leave Islam as guilty of "treason and a political attack on the Khilafah."
The Chicago/Oak Lawn, IL Hizb ut-Tahrir conference against democracy and freedom at the Hilton Hotel was challenged by pro-freedom, pro-democracy protesters, and the protest was covered by local and national media.   The response thus far to the Canadian Hizb ut-Tahrir conference in a government-managed facility on July 31 has mostly been indifference by the Canadian media, with vague promises of an "investigation" by Canadian government offices.
On Monday, July 27, Responsible for Equality And Liberty (R.E.A.L.) contacted the Mississauga mayor's office, the entire city council, Recreation and Parks department, and Mississauga law enforcement regarding the Hizb ut-Tahrir event planned at a government-managed facility for July 31.  The mayor went out of town; the manager of the Recreation and Parks department we spoke to also went out of town once we spoke to her.  Our discussions with mayor's office were that the "mayor's office has asked for an investigation on how this happened," but the mayor's office representative expected no further action.  A member of the Mississauga Recreation and Parks department indicated that the matter was forwarded to their regional police department for an investigation.  In discussions with the Peel regional law enforcement, they indicate that the Hizb ut-Tahrir activity is "being investigated," and that there will be a police presence at the [Hizb ut-Tahrir Canada] event" on Friday, July 31.