First, please pay attention to this excellent video by Neil Oliver
Then consider what Trudeau said, out loud, on at least two occasions. First to the New York Times: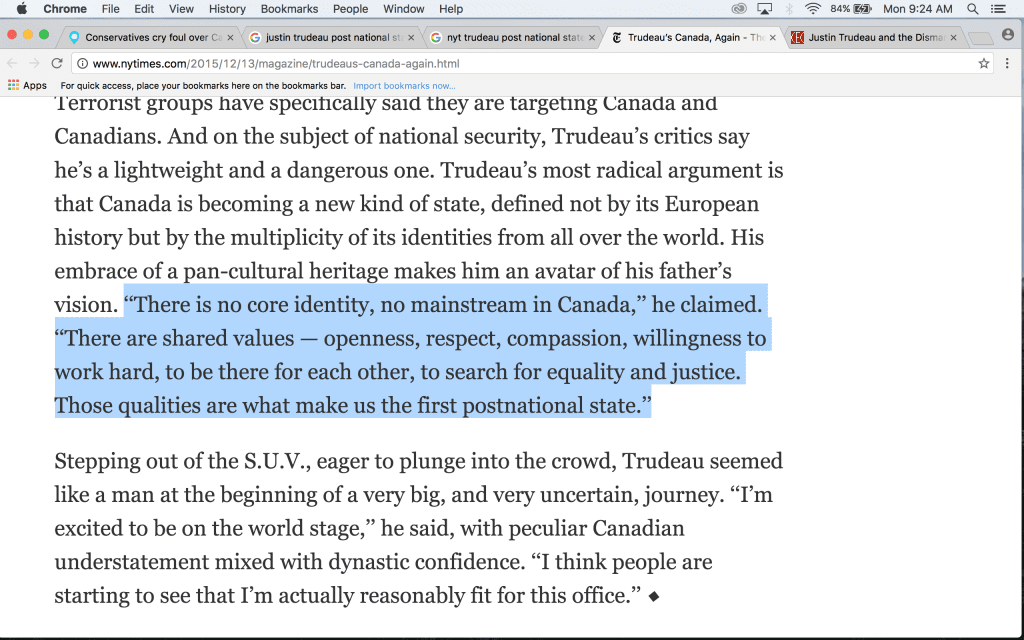 And then what he said on as TV show in Quebec before he was even elected PM in 2006. I still want to know what book he is talking about. I bet it was Klaus Schwabb's. Still looking for this whole show. All we can tell is the interviewer is named Seamus, and it was in 2006. Here is a reference to what he said, but not when and where he said it or with who. Quite odd.
UPDATE: Reader, PePi found this!
The book was: 

Citizen of the World: The Life of Pierre Elliott Trudeau which is about Trudeau's gloabalist crap

The eldest son of former prime minister Pierre Trudeau is belittling nationalism as an "old idea from the 19th century" that is not relevant to today's Quebec.

"Nationalism is based on a smallness of thought," Justin Trudeau said in an interview broadcast on CTV's Canada AM on Thursday.

"(It) builds up barriers between peoples, that has nothing to do with the Canada we should be building."

He was being interviewed about a new book about his father titled Citizen of the World: The Life of Pierre Elliott Trudeau.

Although for the most part Mr. Trudeau talked about the book written by history professor John English, he digressed into the debate on Quebec's place in Canada that erupted last weekend when Liberal leadership front runner Michael Ignatieff supported the idea of recognizing Quebec as a nation.

"I'm supposed to be, sort of quiet on this," an almost sheepish Mr. Trudeau said.

Mr. Trudeau didn't directly mention the debate in the party his father led for nearly two decades, but he appeared to think the nation issue was not a good one to get tied up in.

"Unfortunately, some people these days are wrapped up in this idea of nation for Quebec, which stands against everything my father ever believed," Mr. Trudeau said. "We need to start looking forward."