1. Nun, 77, is found 'beheaded' in the Central African Republic village in murder feared to be linked to human organ trafficking
(Skepticism is warranted here. A. as a nun and teacher, is likely to be older than the ideal target group for organ theft, especially when she has a class full of young girls who would be better candidates and easier targets one would presume, and also, a Christian teaching young girls who might be muslim is a much likelier motive in CAR which is like most places now, in a civil war between islam and everything else.)
A French-Spanish nun has been brutally murdered in a village in the Central African Republic where she taught sewing to young girls, the Vatican said Wednesday.

Sister Ines Nieves Sancho, 77, was found beheaded early Monday according to the Vatican News website, while a bishop in CAR said her throat had been slit.

'According to a local member of parliament, the murder could be linked to trafficking in human organs,' the site adds. 

Village MP, Jean Marque Djokou said that the beheading is likely to be for human organ trafficking because it took place in Nola, a village known for murder recurrences and cases of organ trafficking.
(Decapitated, throat slit, no organs missing. Yeah. Must be organ trafficking cause there is such a high demand for 77 year old nun heads)
2. New Jersey man arrested for plotting terror attack at Trump Tower
A New Jersey man was arrested Wednesday on terror-related charges for allegedly seeking to provide material support to Hamas, and discussing the bombing of Trump Tower and the Israeli consulate in Manhattan, according to federal officials.

Jonathan Xie, 20, of Basking Ridge, is charged with two counts of attempting to provide material support to a designated terrorist organization, two counts of making false statements, and one count of transmitting a threat in interstate commerce. […]

"I'm gonna go to the [expletive] pro-Israel march and I'm going to shoot everybody," he said, according to the complaint.
3. This didn't really work well for Hillary. I guess Ilhan thinks she has the system rigged as well as Hillary thought she had it rigged.
4. Germany: Statue of the Virgin Mary beheaded and damaged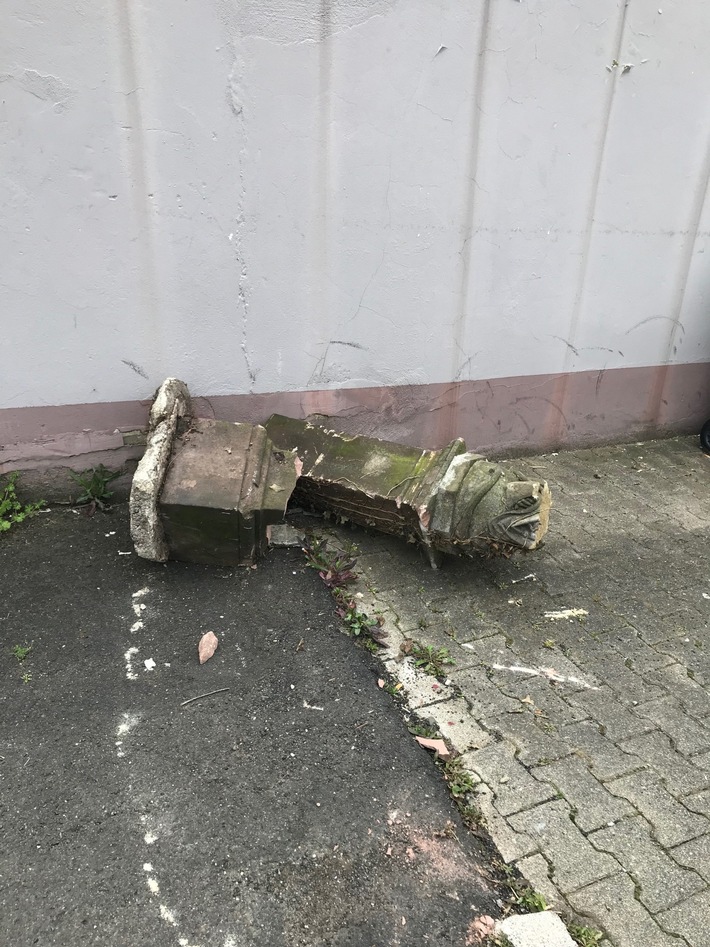 After a man from Trier district of West reported the theft of a sandstone statue of the Virgin Mary last Saturday, May 18, the severely damaged sculpture (photo above) was found last Sunday, May 19, in Trierweilerweg street. The statue of the Virgin Mary made of sandstone from Udelfang was stolen from a private property in Trier's Grana street between the 14th and 18th of May.According to police investigations to date, the sculpture, which is about two metres high and weighs 150 to 200 kilograms, must have been carried off the property by several people. The statue has now been found in Trierweilerweg street.However, it is severely damaged.
5. An analysis of the Oz election. Evil, lost:
The best summary of the election result I have heard by far.

Amazingly accurate and will give you hope.

Well done @Rowandean pic.twitter.com/9m3gherOfC

— Malcolm Roberts ?? (@MRobertsQLD) May 19, 2019
6. Just WOW. Canada
A mother scolds four youths for throwing rocks at people at Pleasant Hill Park in Saskatchewan, this is what happens next…

Our new country is going to be great! pic.twitter.com/LbfBePgsau

— Faith J Goldy ?? (@FaithGoldy) May 22, 2019
7. Canada hires company for $1.14M to bring trash back home from the Philippines
Canada is spending more than a million dollars to bring dozens of containers of rotting garbage back to Canada from the Philippines in the coming days.

Environment and Climate Change Minister Catherine McKenna announced on Wednesday that her government has awarded a contract to Bolloré Logistics Canada to remove the garbage by the end of June. According to the tender, it will cost at least  $1.14 million to do so.

Her office said the garbage will be treated to meet Canadian safety and health requirements, and will be disposed of by the end of this summer.

McKenna also said all the costs associated with the preparation, transfer, shipment and disposal of the waste will be covered by the Canadian government, but it's not clear how much it will be.

McKenna's announcement comes just hours after Philippines President Rodrigo Duterte ordered his government to hire a private shipping company to leave 69 containers of garbage in Canada's territorial waters. 
(Trudeau cannot get even the simplest thing right it seems)
8. Asylum minister Mark Harbers resigns over refugee crime report
Asylum minister Mark Harbers has resigned during a debate with MPs about a report in which figures about the number of refugees suspected of violent crimes were 'hidden'.

Harbers told MPs that he felt responsible for the report, in which figures about how many refugees were suspected of rape and murder were not explicitly stated. 'I am not only responsible in terms of the law, but I feel responsible,'

Harbers said. The figures, which were published last week, included suspicions of rape (4) and murder (31) under the heading 'other'. Harbers was then accused of attempting to hide the figures.
9. The UK an China going Orwell squared
Thank you EB., Richard, M., ML., Sassy, Gates of Vienna, Wrath of Khan, and everyone who sent in materials today.
There is still a lot of stuff in the works.