1. Russian Man Arrested After Stabbing Police Cadet in Moscow Metro
During the initial interrogation, the man announced that he is a former nationalist skinhead who converted to Islam while imprisoned for a previous police attack, an anonymous source within the police force told RIA Novosti.
2. German fireman refuses to respond to emergencies at refugee shelters
Firefighter says personal safety 'cannot be guaranteed' in buildings used by asylum-seekers
A volunteer fireman in Germany has been criticised for refusing to take part in any firefighting at accommodation used by refugees.

The fireman, who has been named only as Jürgen S under German privacy laws, sent an official request to the local authorities in the town of Frankenberg in Saxony, to be released from his duties if a fire broke out at a refugee shelter.
The 34-year-old claimed firefighters' personal safety could not be guaranteed in buildings used by asylum-seekers. The fire service immediately distanced itself from the claims.
3. Some fantastic pics of the Trident ICBM test
4. Long compilation video on the Hijra into Europe which includes testimony by former KGB agents from the 80s and a segment of the Israeli documentary from 2012
5. Here is a story I missed in September. But it seems to have a fair amount of different sources for it
Argentine President Claims Former Obama Official Pushed for Nuclear Fuel to Iran (Still working on verifying this one. In her UN speech she says a lot of interesting things, some of which mirror Stephen Coughlin's recent paper on the Atlantic article, 'What ISIS really Wants. Go to about half way and start listening from there)
President Christina Fernandez de Kirchener announced that her nation had been approached by an Obama administration official with a request that Argentina provide enriched nuclear fuel to the Islamic Republic of Iran in 2010.

The official in question was Gary Samore, former White House Coordinator for Arms Control and Weapons of Mass Destruction, who did not dispute the seemingly outrageous claim and has been open about his opposition to the nuclear agreement currently worked out between Obama and Iran.
6. Child Brides among the 'refugees'
7. Good explanation of contemporary privacy issues that relate to all of us
8. Sweden bans Jews from Kristallnacht commemoration for their own safety 
(Will look at getting real translation)
Synagogue set on fire during Kristallnacht
Wikimedia Commons
The organizers of an anti-Nazi event in Sweden face controversy Monday, after declining to invite the Jewish community to the event.

"Umeå against Nazism" will run in the city of Umeå on Tuesday and Wednesday, commemorating Kirstallnacht, or the "Night of Broken Glass," the massive 1938 pogrom against Austrian and German Jews which is seen as marking the start of the holocaust.

But, absurdly, Jews will not be invited.

The organizers claim that inviting the Jewish community presents a security risk, nt.se reports, citing anti-Semitic and anti-Israel protests present at past events.

"In previous years, we have had a lot of Palestinian flags at these rallies, and even one banner where the Israeli flag was equated with a swastika," organizer and local Workers' Party member Jan Hägglund told locals. "The Jewish community wasn't invited because we assumed they might be uncomfortable around that sort of thing."
9. Hamas: We're closer than ever to 'liberating Jerusalem'
A senior member of Hamas boasted on Monday that the terrorist group was closer than ever to "liberating Jerusalem".

Speaking with the Quds Press news agency, Hamas political bureau member Salah Bardawil said that the "Al-Quds Intifada", as Hamas refers to the current terror wave, opened the gates to the liberation of the Al-Aqsa Mosque, adding that the intifada continues to escalate every day and efforts to stop it will fail.

Bardawil accused the international community taking a "pale" stand about the "occupation", and also claimed that some Arab states are collaborating with Israel. In addition, he claimed the Palestinian Authority is weak and faltering, and is unable to halt its security coordination with Israel.

"The Palestinians," he claimed, "are defending the religion which is above the nation and any issues of faith…our faith will not be deterred and those who rely on the fact that the siege and the killings would lead to our defeat are deluded."
10. Egyptian Cleric Unmasked as Plane Bombing Mastermind: Report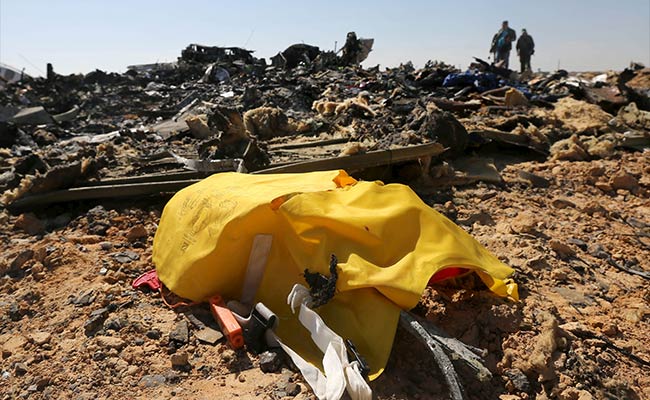 LONDON:  Abu Osama al-Masri, an Egyptian cleric and the frontman of an ISIS-offshoot group, has been unmasked as the suspected mastermind behind the alleged downing of a Russian jet, according to a media report.

"Intelligence chiefs believe that the plane, which crashed last weekend killing 224 people, was brought down by a bomb planted by an offshoot of ISIS in the Sinai peninsula," The Sunday Times reported.

The group's frontman, Masri, an Egyptian cleric, brokered a pact with the Islamic State of Iraq and Syria (ISIS) last year in Syria, the report said.
Thank you Kathy, M., PP., Green Infidel, Nick V.,ML., CB Sashenka, Gates of Vienna and all.
Breitbart covers the Dutch police confiscation of the Moetoons here. I It is quite the logical short circuit I find. The people who's property is being taken, are protesting the islamification of The Netherlands. By that they mean the replacement of classical liberalism and law based on democratic principles, (which mean the fundamental right to free speech and criticism of religious and political authority) with sharia and Islam, and the police prove their point at light speed by confiscating anything that might incite muslims to real crime. (more specifically terrorism as the motive would be political not personal gain) So the police have of course, proved the point of the protestors better and faster than they could make it themselves. But first, people have to notice.