Original Translation by Bear
A Moroccan daily paper has photoshopped the French president into Adolph Hitler. The paper details how Francois Hollande is preparing the extermination of muslims.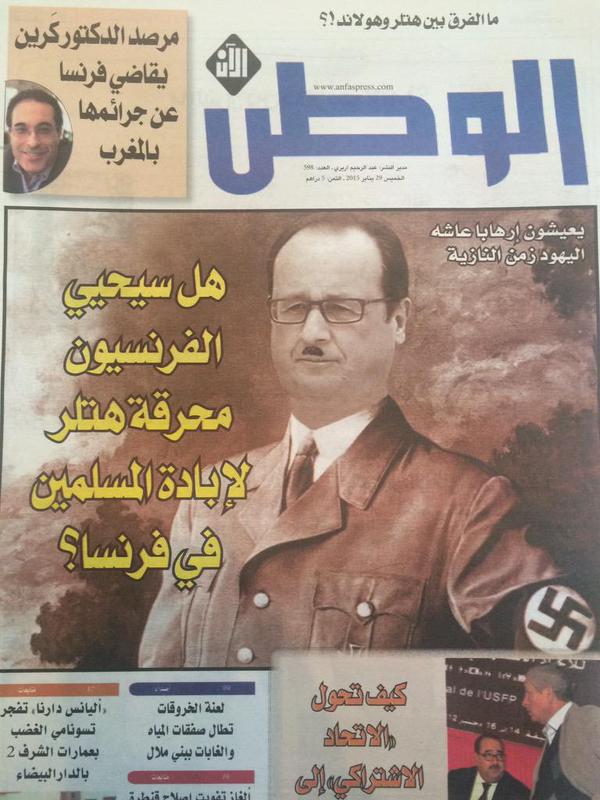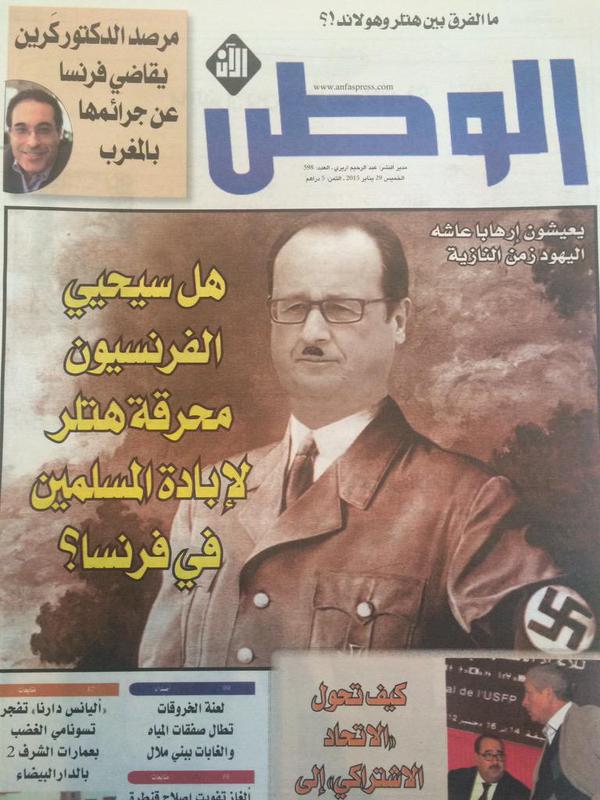 The Arabic Moroccan daily (Al Watan al An) wanted to shock and it did:
Three days after the celebration of the 70th anniversary of the liberation of Auschwitz-Birkenau, in one sedition on the 29th of Jan. Francois Hollande is disguised as Adolph Hitler more truly than nature: Small mustache, dressed as Nazi and Nazi armband.
Beside the picture, the title in Arabic allows people to think: "Will the French recreate the concentration camps of Hitler to exterminate the Muslims?"
The Moroccan French weekly, (Telquel) has questioned the director of the publication, Al Watan al An, of this choice of scoop. "It is very lightly against the French president. He deserves worse. The French government does not ensure the security of Muslim citizens in France as is the case for the Jewish community"
(Arabic name) "The journalist rejects the responsibility of the many anti-islam acts, 128 acts took place in the last 2 weeks representing almost as many as in the year 2014 total, following the attacks in Paris towards the French government. Many places of muslim worship are attacked daily without it bothering the French authorities".
[another comment same guy]
That sees the left and the French right in competition to see who will cause the most damage to the muslim community, goes as far as saying that the French is preparing the country to deprive the muslims of roofs over their heads and employment if it continues this way.
Telquel reminds that this article and this scoop could fall under the code of the Moroccan press according to article 52, 'offense publicly committed against a chief of state and their dignity, a chief of government, ministers of foreign affairs of foreign nations, will be punished by imprisonment of one month to one year and a fine of 10,000 to 100,000 Dirhams or one of the two sentences only.