1. Pakistan court sentences Christian man to death for blasphemy
(These rulings need to be understood, like so many things in Islam, in specific and often multiple contexts to have an understanding of their significance. In the excellent book, 'The Impact of Islam', the author explains with thoroughness how the potential and actual use of blasphemy laws are used to make certain that no non-muslim ever gets in any sort of dispute with a muslim neighbor, making pretty much every muslim a tyrant and despot over his Christian or infidel cohabitants. In other words, you can have anyone you want killed by claiming they were disparaging towards islam or its pirate-founder Mohamed, therefore, you had better not ask a muslim for your lawnmower back if you know whats good for you This remains true historically and now wherever muslims are in sufficient numbers to enforce sharia based thought-crimes laws)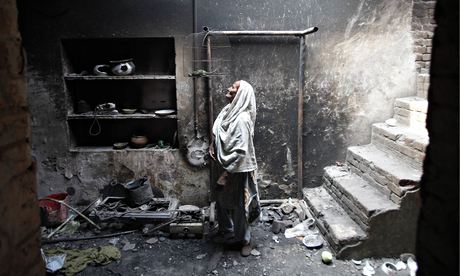 A woman whose home was burned during the riot in Lahore looks at her dead pet bird in a cage. Photograph: Mohsin Raza/Reuters
A court in Pakistan has sentenced a Christian man to death for blasphemy, his lawyer said, over an incident that triggered a riot in the country's second-largest city.

Sawan Masih was convicted of insulting the prophet Muhammad during the course of a conversation with a Muslim friend in the Joseph Colony neighbourhood of Lahore in March last year. More than 3,000 Muslims rioted, torching about 100 Christian homes in Joseph Colony, after the allegations against Masih emerged.
2. Saudi Gazette: Qaeda women using websites to entice youth
3. It turns out that the "Swiss" man who was arrested in Turkey for murder, was actually not Swiss but yes, did spend time in a Swiss prison.
4. Obama seems to have roughly the same knowledge of History and US actions as he does the number of US states in the union.
(Direct link to RT video here)
5. Saudi man justifies his choking-attack of his daughter for romantic involvement of a Non-Muslim
Shortly after that incident at Ches's, the family went to a house on Lemarchant Road, where they had been staying. Once there, Alshaek attacked his daughter three times, wrapping his hands around her neck. Alshaek believed his daughter, who had always been quiet and shy, was being disobedient.

The woman, who was left with marks on her neck, feared her father would kill her. She managed to text her husband to call police, who took her father into custody.
6. Outrage as judge claims: 'Muslims feel they can beat their wives'
(The truth causes outrage wherever Muslims have numbers enough to have their collective offense noticed)
Judge Anthony Halpin's comments made before a packed courtroom yesterday caused a government minister and the Immigrant Council of Ireland to say he needs to immediately clarify or withdraw the remark made during a criminal case.
7. Philippines, MILF seal historic peace deal
(Will the muslims break this deal in days, weeks, months or years to get more territory and enforce Islamic norms on the Christian population? I would say 2 years which is the sharia norm based on the precedent of the treaty of Hudaibiya)
MANILA — The biggest Muslim group in the Philippines signed a historic pact yesterday to end one of Asia's longest and deadliest conflicts, promising to give up their arms for an autonomous homeland.

Following four decades of fighting that has claimed tens of thousands of lives, the Moro Islamic Liberation Front (MILF) signed the peace deal with President Benigno Aquino's government at a high-profile ceremony in Manila.
"The comprehensive agreement on Bangsamoro is the crowning glory of our struggle," MILF chairman Murad Ebrahim said at the signing ceremony, using a local term that refers to a Muslim homeland.
Thank you Fjordman, M, LinaN, Tundra T, and all. More to come. It is Friday after all when muslims are at their most religious. Which usually means most violent.