First let me thank Susan Victoria for translating this article, as well as much material for us from the current hearings in Quebec on the secular values charter.
Below is a translation of an article on a lawsuit being brought against a man in Quebec who took a picture of a woman in a full islamic face covering. The man has already, as I understand it, fled Canada because of it.
This is a serious and important case and issue with consequences for us all. Should the case be decided against freedom of expression etc. it is a safe bet that this precedent will be used in other Western nations trying to come to terms with the same problem because of the same people.
Niqab in Québec city – The true intent of a lawsuit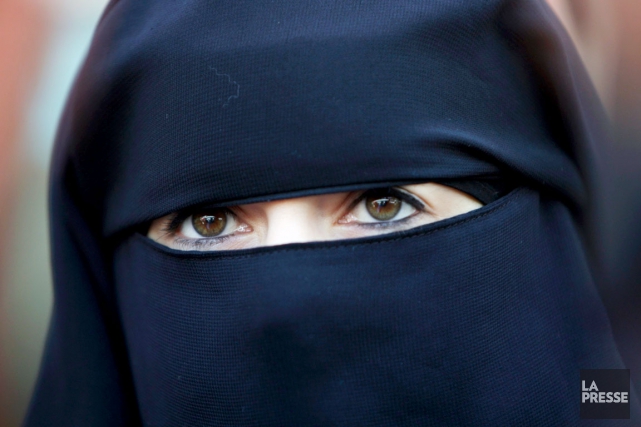 The reporter of Les immigrants de la Capitale only wanted to capture the 'culture clash' and the public's 'bewilderment' upon suddenly seeing a nikab.
(Québec City) A trivial matter. A veiled woman in a public area.
No incident occurred and no words were exchanged.
Had there not been a photo published along with a few lines,
there would not have been a story.
The monthly newspaper published a clean and factual account, devoid of hate, contempt and intolerance. At first glance, no harm is done.
However, publication of the photo resulted in a $150,000 lawsuit against Les immigrants de la Capitale. The case will be heard on June 5th.
The photo is the problem.  A woman wearing a nikab accompanied by a bearded man in a T-Shirt and cap.  Her spouse.
Except for close relatives, it would seem almost impossible to identify the couple.  This issue will be decided by the Court.
However, the fundamental question raised is : Was it a matter of public interest to publish this photo?
Within the context of the Charter, any reference to religious symbols and expression of fundamentalism within the public space seems relevant.
The line is indeed fine between public curiosity and public interest.  This line will be addressed, a delicate one, between freedom of the press and personal privacy.
In the Supreme Court case of Aubry v Vice-Versa, the Court ruled that consent is required when publishing a photo, unless it is directly related to a public event.
Was the photo taken at the flea market part of a public event?  There is room for debate on this issue.
Whether the couple wins its case or not, it will not be awarded the $150,000 they are claiming.  In the matter of Vice-Versa, damages were set at $2,000.  Such is the order of magnitude.
This lawsuit also raises social issues and a certain 'malaise' can be felt.
The lawyer who first took on the lawsuit withdrew from the case on 'personal grounds'.  He asked not to be identified.  The lawyer counselling the publishers of the newspaper also refuses to identify himself.
The muslim community is walking on eggshells.  'No comment.'  'The matter is between a newspaper and a citizen', says the Islamic Cultural Centre of Québec.
This peculiar story started on June 10th, 2012 at the Sainte-Foy flea market.  It is possible it began earlier but, for the purpose of this story, let's say it started on that Sunday morning.
The market place is crawling with people.  Mihai Claudia Cristea, a reporter who publishes for Les immigrants de la Capitale, is also there.
He notices a woman wearing a nikab pushing a baby stroller.
In his story, he writes "long black gloves and a veil where only her eyes can be seen, coquettishly highlighted with blue eye shadow".
The reporter sees the reaction of the public upon seeing the nikab, that of 'consternation' and 'culture shock'.  He mentions this in his text but notes the absence of any incident.  From a distance, he snaps a photo.
When he haphazardly learns of the couple's discomfort as a result of his story, he offers the couple some space in his paper.  The matter seems resolved.
Six months later, in December 2012, the lawsuit is filed.  Ahlem Hammedi and Saber Briki are claiming damages for loss of enjoyment of life, violations of their dignity and freedom of religion as well as the harm inflicted on their reputation.
Mme Hammedi states that 'her honor was gravely offended' as well as that of her spouse, the offending words being that she has wearing makeup.
"If a muslim woman wears makeup under her veil, she is dishonest and illicit", she declares.
"Our client does not wear makeup under her nikab and she is not coquettish", insists the lawyer who filed the lawsuit.
Ahlem Hammedi wore the nikab while living in Tunisia and kept on wearing it here in Québec since her arrival in 2011.
By "conviction" and "personal choice".  She explains it is a "symbol of chastity, modesty and mostly submission to God".
She chooses this "proudly, freely and voluntarily".  The affidavit states that her spouse has not imposed it on her.
The couple expresses its great displeasure at seeing the printed photo, a "strong feeling of humiliation, shame and powerlessness".
One month after sending a written notice following the publication of the photo, Mme Hammedi declares she no longer feels safe while walking out in public because she fears that, at any moment, someone can take a picture of her without her knowledge.
Six months later, she still doesn't dare to go outside, except for a medical appointment or the CLSC.  Even her friends no longer wanted to be seen next to her.
Since his wife was housebound, the spouse had to do all the shopping which had an impact on his studies, as alleged in the lawsuit.
I knocked on the couple's door, in what seems to be a large caretaker's apartment near Laval University.  No one answered and I received no reply to the note I left inside the doorframe.
I had many questions.
Does Mme Hammedi still wear the nikab?
Is it possible her fear of being singled out while in public originates from wearing the nikab itself and not from the photo published in a small newspaper?
How can a student and his at-home wife find more than $13,000 to hire a lawyer for a lawsuit?
Why did they change their mind after having accepted an arrangement?
I also wanted to ask her if she was pressured through her muslim community to launch this lawsuit.
As I mentioned earlier, this story begins with the Flea Market but is it possible it really started before this?
The reporter Cristea thinks that it does.  He sees in this lawsuit a 'revenge' coming from the 'fundamentalist muslims of Québec', for his past writings.
In his January 2013 editorial, M. Cristea suggests that this "couple of Tunisian immigrants were influenced by the call of other sirens", (luckily a minority), associated with Islamic fundamentalism in Québec City.
In May 2007, the publication Les immigrants de la Capitale reported advice being given during an open door event at the Québec Islamic Cultural Centre.   It was being explained how to administer a small corrective slap to one's wife.  The issue had made waves.
In May 2010, the publication had reported statements made by the Egyptian imam Abdeladhim Ibn Badawy while visiting the University.  At the time, the issue was polygamy.  More waves.
"My writings of last June were the straw that broke the camel's back.  They are now taking revenge", believes Mr. Cristea.
The reporter having settled in Québec in 2001, he now says he has been deeply shaken by the lawsuit.  He has since taken a 'sabbatical leave' and is staying with his family in Timisoara, Romania, his country of birth, and from where he continues to manage his newspaper.
If he loses his case, he will close down the newspaper and will never set foot in Québec again, he confirms by mail to the Soleil.
"A question of principle.  We will stay in Romania.  Or we will move to France where, as you know, there are fines for wearing the nikab while in public, and not 'staggering' damages to be paid out as wished for by our more or less visible complainants."