During rousing speech in Tahrir Square, Egypt's president-elect promises to work to free Omar Abdel-Rahman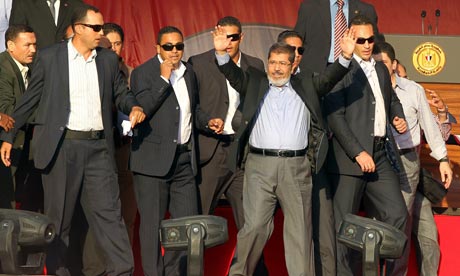 Egypt's president-elect, Mohamed Morsi, greets the crowd upon arriving in Cairo's Tahrir Square. Photograph: Khaled Elfiqi/EPA
Egypt's president-elect Mohamed Morsi has vowed to free the blind sheikh jailed in the US for a plot to blow up New York City landmarks.
In his first public speech, addressing tens of thousands of people in Tahrir Square, Morsi promised to work to free Omar Abdel-Rahman, the spiritual leader of men convicted in the 1993 World Trade Center bombing.
He also promised to free detained Egyptian protesters facing military tribunals.
Morsi earlier read the oath of office and defied the country's military rulers by saying: "I fear no one but God."
He has been speaking on the eve of his official swearing-in ceremony, which had been scheduled to take place in front of a high court. But many protesters called on him to take the oath in the square to defy the ruling generals who took power after Hosni Mubarak's ouster.
"There is no power above people power," Morsi said to wild cheers from the crowd, many of whom were supporters of the once-banned Muslim Brotherhood.
"Today you are the source of this power. You give this power to whoever you want and you withhold it from whoever you want, with God's blessings."