Since at least the mid-1990s, when alleged Saudi Al Khobar Towers bombing conspirator Hani al-Sayegh reached Canada, it has been clear that Iran's Hezbollah terror organization is operating here. Hezbollah has conducted targeting reconnaissance in Canada and its operatives have flown its flag in increasingly muscular demonstrations in major Canadian cities. With growing consternation, many Iranian expatriates in Canada have warned about this threat and of Iranian diplomats' scheming in this country. And these expatriates have expressed related — and increasing — concerns about what they view as Iran's expanding "Fifth Column" in Canada.
Recently the Toronto District School Board suspended an Islamic school's operating permit after its Iranian-sponsored textbooks were found to promote anti-semitism and jihad. The school — which operated on Sundays out of a public high school — is now under investigation by police. (The story was originally broken on the Blazing Cat Fur website.) According to the National Post:
The school's curriculum, which it has now taken off its website, referred to "crafty," "treacherous" Jews and contrasted Islam with "the Jews and the Nazis." The passages were from two books published by Iranian foundations.

The booklets also told children that Islam was the "best" religion, and provided a list of "unclean things," including pigs, dogs and "a person who does not believe in Allah." It said boys should be "healthy and strong" so they would be "ready for jihad whenever the time comes for it."

Girls, meanwhile, were told to limit their involvement in physical activities and to instead engage in hobbies that would prepare them to become mothers and wives.
(A cleric associated with the school denies the texts were Iranian-sponsored despite evidence to the contrary; the school itself has since issued a public apology.)
The Toronto incident, however, is not an isolated one: Another program, this one offered in an Ottawa public elementary school, relied on similarly controversial materials — materials which were quietly removed last year after complaints from local Iranian Canadian dissidents.
Immigrant sources say Iranian embassy sympathizers and collaborators shaped and influenced a weekend Iranian language and culture course offered by the Ottawa-Carleton District School Board (OCDSB), on the premises of the board's publicly-funded Lady Evelyn Alternative School. The course was attended mainly by children of Iranian background. The school describes itself as "a nurturing environment" and prides itself on its "diverse, multicultural population."
Several of the course's Farsi language textbooks — authorized by Iran's Ministry of Education, bearing the Islamic Republic's crest, and the motto "Teaching and learning is worship" — were obtained by parents and given to this blogger: They feature prominent photographs of Ayatollah Khomeini, one showing Khomeini giving a grandfatherly cuddle to a young boy. Khomeini — who killed hundreds of thousands of citizens, installed torture chambers, hunted Bahais, and sent children into the Iran-Iraq War meat grinder, adorned in burial shrouds and carrying plastic keys to paradise — is referred to as "The Kind Imam," according to the latter book's caption: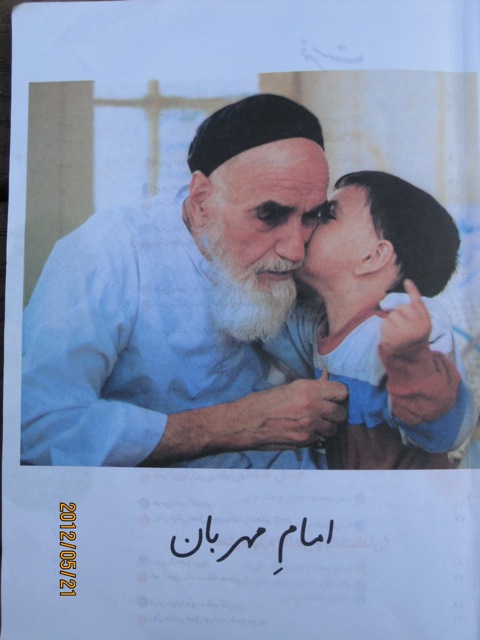 A Grade 3 Iranian text used on site at Lady Evelyn glorifies child soldiery and suicide-martyrdom operations. It celebrates 13-year-old Iranian child soldier and suicide bomber Mohamad Hossein Fahmideh. Children read how the boy "tied a grenade to his belt and sacrificed his own life under the tracks of the [Iraqi] enemy's tank" in the Iran-Iraq War. A handsome portrait of Fahmideh accompanies; the background shows him throwing himself in front of a tank: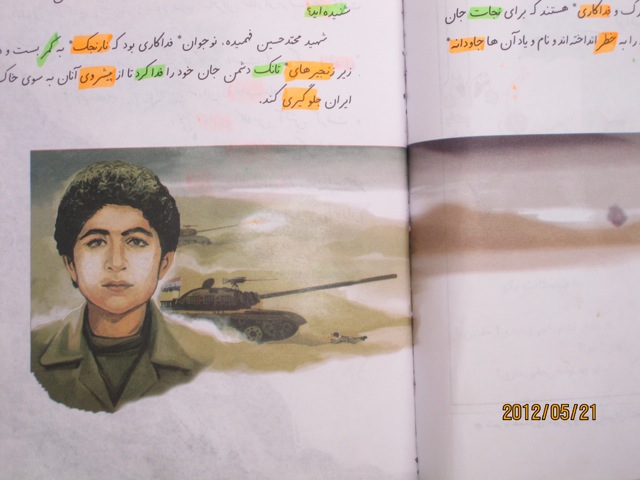 Meanwhile, a cartoon with racist overtones depicts hunched, ogre-like brown-faced Israeli soldiers — dead-ringers for the common Islamist description of Jews as "sons of apes" — menacing with bayonets a diminutive, light-skinned Palestinian child. The associated fictional story tells of six-year-old "Khaled," a Palestinian child who teaches brother Mohamad, age three, to stone Israeli soldiers. Here is how precocious Grade 3 weekenders were prepared for Canada's bridge-building multiculturalist future: "The Israeli officer hit Mohamad's head with his gunstock and his warm blood splashed over Khaled's hands."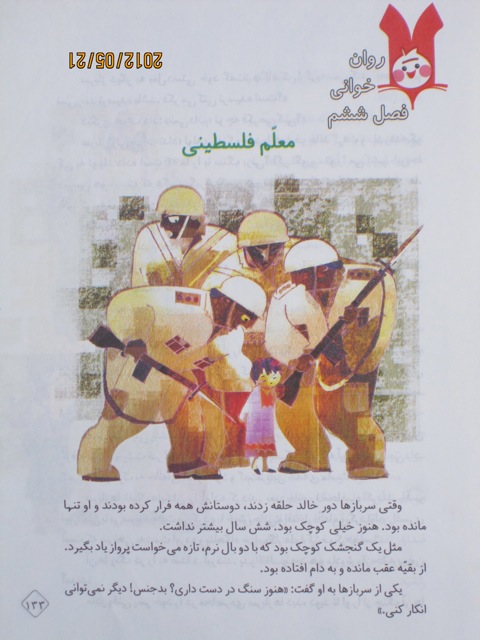 Yes, Grade 3. Two blocks from Colonel By's scenic Rideau Canal, and schoolkids under the Ottawa-Carleton District School Board (OCDSB) were learning to strive for martyrdom.
Other texts contain a sprinkling of pictures of Khomeini. And a photo of Iranian Supreme Leader Ali Khamenei appears in a drawing of veiled little schoolgirls studying in a classroom: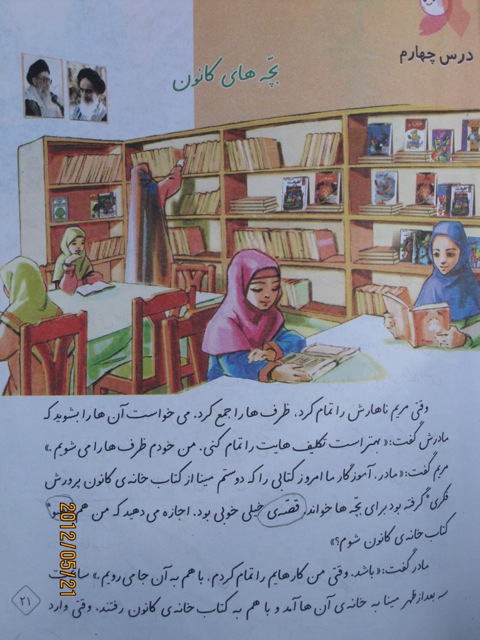 Remember, it was under Khamenei's leadership that Iran's fraudulent 2009 election took place, triggering mass protests and murder by Khamenei's henchmen. One of Khamenei's legacies — apart from his hatred of the West — is the video image of Neda Agha-Soltan, the young woman who was lying bleeding to death, after security forces fired on a protest. Then there is the butchery in Syria facilitated by Khameini's military and other support of Damascus dictator al-Assad.
Into the disgraceful public school situation, however, came a voice of conscience: Shabnam Assadollahi, award-winning journalist and human rights worker. An Ottawa immigrant settlement counsellor who had survived as a 16-year-old political prisoner in Tehran's notorious Evin prison, Assadollahi managed to escape to Canada. She recognized the text books as extensions of Tehran's efforts to groom a Fifth Column in our midst, and did her duty by her adoptive country, repeatedly remonstrating with Board and school officials about the books — without noticeable result.