From Jihad Watch: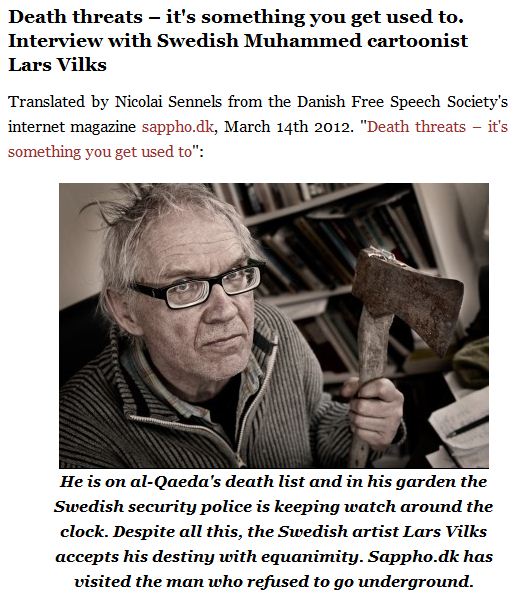 It is Friday afternoon in early March. The sun shines and the car glides slowly through the flat countryside of Skåne in southern Sweden.
I am going to visit Lars Vilks. The man who enraged Muslims because he drew a picture of their prophet as a dog.
I have a lot to ask him. What is it like to be on al-Qaeda's hit list and have a security detail in your garden? Has he had any regrets after publishing his drawings in 2007?
"Lars Vilks, Artist"
But first I need to find him. And that is surprisingly easy.
The Swedish Yellow Pages make no attempt to hide his address: "Lars Vilks, Artist" it says loud and clear, followed by city, street name and number. If you want the GPS coordinates, you can also get them.
So I am now driving along Brunnbyvägen outside Nyhamnsläge – a tiny village north of Helsingborg.
Neighbors are far between and besides empty fields there is little to see. It is difficult to understand why al-Qaeda has marked this place on their maps.
On the right-hand side of the road an isolated house comes into view. I turn into a small dirt road that leads up to the house.
NOTE: See the Tundra Tabloids' own interview of Lars Vilks here.