First, it helps to understand the story that broke, by Blazing Cat Fur of course, in the past few days about the Ottawa Schools who, like the now famous Toronto public school, breaks Canadian law on not having religious services on school property, and especially not when school is in session and doubly so when they are exclusive to one group and double-double when it discriminates against girls and then again menstruating girls. Simply un-canadian values. At leas as those values were before the great hijra.
Now it might be wise to look at one of the principal (pun actually intended this time) people who is running interference at any attempt to stop Islamic prayer services in Ottawa public schools, one of whom is Aisha Sherazi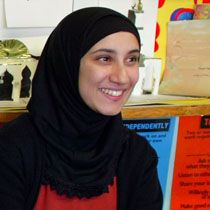 She was in fact the principal of a Muslim school that got caught up in quite a bit of controversy in 2005.
I would like to take this opportunity to bang a drum of my own before the pastes of the various newspaper articles (Thanks Shab!) below.
The notion of religious freedom was never meant to mean that anyone can do anything they want so long as they called it a religion. It very simply meant that governments could not persecute you as an individual because you chose to hold different beliefs on matters supernatural than your neighbor or what the state might hold. Technically it was really meant to mean, 'you can be both kinds of religion if you want. Catholic OR Protestant".
It was most certainly never meant to allow people to break national, or municipal laws because you claim it is your religion to do so. For those people, there is always a flight  to somewhere that allows whatever it is you feel you must do. And hell, if you aren't willing to make that small sacrifice for your religion, then do you really believe that stuff you say? Or if you are not willing to adapt to Canadian values and laws, then are you really a contributing citizen?
Now on the the articles:
While the links to the Ottawa Citizen stories are dead now, I happen to have the text of the entire article here… (Again, thanks Shab!)
Province to investigate school after student's anti-Semitic report
Ministry responds to fear of Islamic schools becoming 'incubators of hate'

Juliet O'Neill

The Ottawa Citizen

Friday, March 25, 2005

CREDIT: Wayne Cuddington, The Ottawa Citizen

Principal Aisha Sherazi of Abraar Islamic School at 1085 Grenon Ave. has had to deal with a lot of fallout over the contentious story written by a child attending the school.

Ontario Education Minister Gerard Kennedy launched an investigation yesterday into the "deeply disturbing" situation at the Abraar Islamic School after two teachers were suspended for their involvement in a young student's writing project, which glorified martyrdom and violence against Jews.
Mr. Kennedy said he hoped an Education Department supervisor's investigation "into what is going on" at the private school will find this is an isolated incident. He also said it could lead to a reference to the Ottawa police for a hate crimes investigation. He said the government is also looking into its powers to deregister a private school. If the teachers are certified by the Ontario College of Teachers, they may lose their certification.
The education supervisor is scheduled to go to the school Tuesday. Abraar School provides full-time education for about 260 students ranging from junior kindergarten to Grade 8.
Mumtaz Akhtar, president of the Muslim-Community Council of Ottawa-Gatineau, said he was stunned when he saw the student project published on the front page of the Citizen.
"This is against our religion, against our character," he said in an interview. "Whoever did it must have a very low esteem. I am really shocked. We all ran away from those countries to come here and live peacefully. The only thing I can say is it's very shameful."
The government intervention under a never-used power in the Education Act was requested by the Canadian Jewish Congress, which said it was astounding and frightening that a teacher could permit, let alone encourage, the glorification of violence.
"The danger to students is so great that we believe that the Ministry of Education has no choice but to become involved," said Frank Bialystok, chairman of the Ontario community relations committee of the CJC.
B'nai Brith Canada, a Jewish human rights organization, warned that if no action is taken, "such schools will become incubators of hate." The organization's executive vice-president, Frank Dimant, called for intervention by educators, police and Muslim leaders "to prevent a poisonous and dangerous environment from firmly taking hold" in schools and other institutions.
The Congress request was backed by Ed Broadbent, Ottawa Centre MP and former New Democratic Party leader, who issued a statement saying that encouragement of hatred by teachers must be strongly condemned. "Such activity is not only immoral in Canada, it is also illegal," he said.
An Ottawa police spokeswoman said no formal complaint had been laid under hate crimes law, so there is no police investigation under way. A Canadian Security and Intelligence Service spokeswoman, Barbara Campion, could not confirm or deny that the agency has been, or is, investigating, but she said such things concern the service because "it is the type of activity that could be construed as inciting extremist or radical beliefs."
The education investigation came amid statements of shock and alarm from an array of Jewish and Islamic organizations about teacher involvement in a student's eight-page story of revenge on Israelis. It was illustrated by a drawing that showed a burning Star of David, a machine gun and the Palestinian flag atop the Dome of the Rock, an ancient Muslim shrine in Jerusalem. One teacher allegedly helped with the illustration and another praised the story in marginal notes.
It should be kept in mind the story itself was a work of fiction by a boy who is of Palestinian origin and whose extended family "lives under the jackboot of Israeli occupation," said Riad Saloojee, director of the Council on American-Islamic Relations. It is the teachers, he said, and not the boy, who must be investigated and whose actions must never be repeated.
"The teacher should have moved quickly and addressed in a very balanced manner the importance of working towards a peaceful resolution and saving human life in any conflict, and certainly not praise the contents," Mr. Saloojee said. "That's the more troubling dimension." The council released a statement saying Canadian Muslims reject the glorification of violence or the promotion of hatred against any ethnic community.
While Mohamed Elmasry, head of the Canadian Islamic Congress, also joined the chorus of shock about the incident, he also noted that while there was great media interest in the Abraar school, no reporter had called him the previous day when he called for Jewish leaders to re-evaluate what young Jewish Canadians are taught at Hebrew schools. He cited a recent letter to the editor of the Kingston Whig Standard from a nine-year-old Hebrew school student which said Israel does not want to fight and the Palestinians wanted to push the Israelis into the sea.
"It's the responsibility of the ministry of education to look at the curriculum of all private schools, including Jewish and Muslim schools," Mr. Elmasry said. He hoped both communities would learn a lesson from these incidents. He also said the boy may have learned his views from TV or the Internet, not from teachers. "I hope it's a single incident."
Israeli Ambassador Alan Baker was affronted by Mr. Elmasry's comment. "It's very sad that when we're all faced with this blatant evidence of what's being taught in an Islamic school, that anybody is trying to move the attention to Jewish schools when it is simply not the fact," he said. "To teach understanding of Arabs of Islam, I'm all in favour, but to turn this into some kind of balancing act just adds to my concern."
Mr. Baker had weighed in with a call for "drastic action" by Canadian educational authorities and Muslim leaders, saying it is a short leap from glorified fantasy violence to the real thing. "The last thing I would like to see is for this type of thing to happen in Canada, to move from the story mode in a school project out into the street and out into society," he said. " I think this should be treated as ringing a very loud bell and turning on a very bright red light for attention within Canada."
Mr. Kennedy said in an interview that even though private schools exist in an unregulated "wild west" environment, the education ministry and he "have responsibility for the welfare of those children." He said the regulation is so light over private schools that basically all the department does is periodically confirm that there are at least five children in a classroom.
"We're treating it as a general power to go in and check what's going on in that school and we'll deal with our findings when we've arrived at them," Mr. Kennedy said. "This power has not been exercised before that we know of. It's important that we send a signal that we are interested that standards are not being breached even in the private schools that are not directly supervised by the ministry. Obviously we are deeply troubled by the potential … for any kind of school that would seem to be a site for that kind of intolerance."
Mr. Kennedy said he was heartened that the administration of the school had suspended the teachers. The teachers were suspended Wednesday after a translated version of the writing project, which was handwritten in Arabic, was brought to the principal by the Citizen for comment. She called an emergency meeting of the seven-member school board and the instructors were suspended pending an internal investigation.
Mr. Kennedy said there's a better than 50-per-cent chance the teachers are not certified "and that's partly why we're looking into it." "It's deeply disturbing," he said. "We would like there to become some reasonable expectation on any institution that has minor children in this province, that they would have some standards they have to meet. Certainly we may end up exploring that out of this incident. Right now we'll just deal with the incident itself."
Bernie Farber, director of the Canadian Jewish Congress, said the story and teacher's praise "comes close to the legal definition of hate propaganda and it has to be taken very, very seriously." "It's a major eye-opener and it's something that the ministry of education has to take seriously," he said. "This is not something for an internal investigation. This is something for an objective educational specialist to come into a school and to ensure that this is not going on any place else."
Juliet O'Neill Ottawa Citizen 239-3870 joneill@thecitizen.canwest.com
– – –
On the web for seven-day subscribers: Read the full text of the student writing project that has shaken Abraar School.
www.ottawacitizen.com
Private Schools: Anyone can start one, page F1; Editorial: Foreign hatred must not infest our schools, page F4
© The Ottawa Citizen 2005

Copyright © 2005 CanWest Interactive, a division of CanWest Global Communications Corp. All rights reserved.
Optimized for browser versions 4.0 and higher.
Another article on the same school:
05-03-25, Earl McRae, " 'There is no room for hatred',"
Fri, March 25, 2005
'There is no room for hatred'
By EARL McRAE
Rashid Nasim arrives at Abraar Islamic elementary school to pick up his young daughter, and he's upset, he wants answers.
"I want to speak to the principal, I want to speak to teachers. This is not what I want from this school. We didn't have our daughter go here for this. I want to know how this could happen."
Rashid Nasim wants to know why a Muslim pupil at the private school was allowed to get away with a project in which he wrote a stridently anti-Semitic story about Palestinians revengefully killing Jews in the Middle East. He wants to know why two teachers were approving of the completed work. He wants to know why it was put on display in the school as if to be proud of.
Rashid Nasim, 31, owns three of the Curves For Women fitness centres in Ottawa. His wife, Shaista Zareef, is a family physician. Their four-year old daughter Mariya is in junior kindergarten at Abraar. The family is Muslim. Nasim was born in Pakistan and grew up in Montreal where he attended a Catholic high school. "I'm glad I did. Where does it say I can't learn about other religions? The ignorance about other religions and cultures, that's what breeds fear and hatred.
"We are practising Muslims and wanted her to go here for the cultural education and strong moral foundation it provides. We spoke to the principal, and were convinced it was the right choice."
The principal is Dr. Aisha Sherazi, who has suspended the two teachers.
"The view of the child who wrote the story is not a view accepted by the overall teachers, the administration, or the other students. It was one individual opinion. It was the culture he was brought up in over there. Any child coming from that environment would have that feeling.
"To be allowed to express it in a school setting that might influence other students at that impressionable age, that's the issue. But why did the teachers seem to encourage it, why did one of them write the favourable comments on it? I want to know — was it assigned or was it original?
"I don't want my daughter's school tarnished by this. This is not what the school stands for. We don't want the community to feel threatened. I am not anti-Semitic. I have Jewish employees. Christian, Hindu, Muslim, Jew — all people deserve respect, there is no room for hatred."
For a story by a child who could have been in only Grade 8 at the most, the political knowledge, writing style, and language seemed suspiciously sophisticated. "That's exactly what I thought," says Prosper Torjman, principal of Yitzhak Rabin High School. "I was appalled by it. And then the fact that it was an assignment put on display absolutely shocked me. Before we'd ever put something on display here, we'd scrutinize what was written. But, that kind of thing that was written would never happen in my school. It just wouldn't."
"As a Jewish private school, we've always reached out to the public to spread peace. Schools of other religions invite our students to visit for religious and cultural educational sessions, and we do the same. Anti-Semitism harms the whole community, not just the Jewish community."
Rubin Friedman is director of planning and affairs for the VAAD, the Ottawa Jewish community council. "My reaction was shock and dismay. The principal was right to suspend the teachers, but here's my question: The story was written in Arabic and then displayed. The principal doesn't speak Arabic, but did she not see his drawing on it? The machinegun, the Star of David in flames? The Palestinian flag? Did she not notice it? And if she did, why didn't it arouse her suspicion, why didn't she do something about it?
"We (the VAAD) have had complaints of anti-Semitism before about that area. We've been told about Muslim parents concerned about some of the things their kids said they were being taught. As for the story being too mature and politically knowledgeable for a young boy alone to have written, I've had people report to me about Muslim kids in Ottawa as young as three spouting anti-Semitism with information you'd think they wouldn't know.
"They get it from their parents, or they see it with their parents on Al-Jazeera via satellite. Vicious, hate rhetoric is not something you're born with. You're taught it."
But wait! There's more!
Islamic school suspends teachers over student's hate-filled tale
'God bless you, your efforts are good,' instructor wrote on Ottawa boy's story celebrating violence, hatred against Jews
Juliet O'NeillThe Ottawa Citizen1 | 2 | 3 | NEXT >>
The cover page of the boy's story is illustrated with a burning Star of David beside a machine-gun and a Palestinian flag atop the Dome of the Rock, an ancient Muslim shrine in Jerusalem. The text next to the shrine reads: 'With the call of God is the Greatest, the flag of Zionism will fall and will be destroyed.'
Two teachers at the Abraar Islamic school in Ottawa were suspended yesterday pending an investigation into the encouragement or incitement of hatred against Jews expressed in a young student's violence-laden writing project.
Principal Aisha Sherazi said the seven-member school board and administration were "shocked" by teacher involvement in the project that was brought to her attention by the Citizen yesterday morning, and decided at an emergency meeting to suspend the instructors.
One teacher was apparently involved in the artistic production of the eight-page story of killing and martyrdom. Handwritten in Arabic and titled The Long Road, the cover page was illustrated by a drawing of a burning Star of David beside a machine-gun and Palestinian flag atop the Dome of the Rock, an ancient Muslim shrine in Jerusalem.
The other teacher had written comments on the student's paper, praising the boy's story of revenge for the assassination by Israeli forces a year ago of Sheik Ahmed Yassin, a co-founder of Hamas, in retaliation for suicide bombings against Israeli civilians.
"God bless you, your efforts are good," the teacher wrote on the title page. "The story of the hero Ahmed and the hero Salah is still alive. The end will be soon when God unites us all in Jerusalem to pray there."
On the margins inside the story, the teacher had written a note endorsing the boy's fantasy of a young Ahmed Yassin and his friend, Salah El-Dine, ambushing Israeli soldiers.
"Without thinking, Ahmed took his M16 machine-gun and threw the bombs, and he showered the Jews; this resulted in the killing of the soldiers," the boy's text reads. "Salah said: 'You killed them all.' Ahmed answered: 'Praise be to God.'"
The fantasy heroes are quoted at the end of the story saying: "We promise God and the heroes of Al-Aksa that we will continue the path, we will continue in spite of the difficulties and the hardships until the victory or the martyrdom, we will not surrender; we will fight for the sake of God until the end."
Mrs. Sherazi declined to name the student, for privacy reasons, or the teachers until the investigation is complete. "Then we'll see what action we decide we want to take," she said.
Mrs. Sherazi, a 32-year-old teacher who took over as principal in recent months, does not speak or read Arabic. She expressed surprise about the drawing and the story, even though it had reportedly been displayed in a glass case at the school.
The Citizen obtained two translations of the story before asking the principal about it. She said such a subject was not on the curriculum, but it may have been a submission in a creative writing contest for the Arabic studies class, where students could choose their own topics.
"Upon the issue being brought to the attention of the school principal, an emergency meeting was held today by the board and administration," Mrs. Sherazi said in a prepared statement.
"The individuals involved were immediately suspended pending an internal investigation. Encouraging or inciting hatred is strictly prohibited at our school. We will take all measures to investigate this matter and ensure that it does not reoccur."
Mrs. Sherazi said in an interview that the situation is "very, very shocking for everybody involved. Emotions run high so it's a difficult issue in general, very upsetting to all concerned."
The Abraar school, established in 2000, teaches students full time from junior kindergarten up to Grade 8. About 260 students are enrolled at the school, which is located on Grenon Avenue, near Bayshore. The school web page says it is designed to provide "a proper Islamic environment for growing and learning" and to help preserve Islamic culture in Ottawa.
"A lot of hard work is being done and where kids are involved it's just a great shame when things like this happen," Mrs. Sherazi added.
Mary Schoones, an educational consultant who has worked part-time at the school on professional development for more than a year and teaches education at the University of Ottawa, said it would be a shame if the staff at the school was tarnished by the incident.
"During my tenure at the Abraar school I have had the privilege to work with all the Abraar teaching staff and found them to be warm, caring and professional," Ms. Schoones said.
"As a teacher who has dealt with equity issues in the past, I have found the staff to have accepted and welcomed my presence. At no time during my tenure at the school have I seen any racial comments towards any culture. In fact I have found the staff to be interested in learning about all aspects of Canadian culture. I would consider it a shame if all the hard work put in by staff at the school was tarnished by this incident ."
As translated from Arabic for the Citizen
A tragedy. It seems that nothing can be worse than what happened today. I think that you know what happened. It is the imam Sheikh Ahmed Yassine the martyr. Two weeks after the martyrization of the sheikh, our hero Ahmed Yassine was born in Gaza …
My hope is for God to be pleased with me.
Ahmed grew up and was educated in the mosque where he had a religious education. He grew up with his friend Salah El-Dine knowing that Palestine should become free. They were always fighting, with the rest of the children, until Ahmed and Salah grew up and went to university. When Ahmed reached 33 years of age, a tragedy occurred …
Ahmed entered his house and greeted his mother. He heard the broadcaster say: "Killing of 10 Zionist soldiers in fierce clashes in Gaza." Ahmed said: "This is a lie. Myself, Salah and the rest of the fighters, we killed 30 of them." His mother told him: "God bless you my dear."
One day, when Ahmed was returning home with his father from the Friday prayers, the soldiers killed him before his eyes. In the latter's house … Om Ayman, the neighbour, said: "There is no power or strength except in God, God be with you Om Ahmed. I wish we can take revenge from them who killed Ayman while fighting and now it is Salah El-Dine who is fighting."
Om Ahmed said: "Do they have to fight? Salah and my son killed 10 Jews last week."
Om Ayman said: "We hope for God to protect them."
Om Ayman told her husband all of what happened. When she fell asleep, he got in touch with his officer: "I think that you have learned that it is an ambush!"
The same night, Ahmed was unable to sleep, he felt an imminent danger. Ten minutes later, the Israeli bulldozers came; he quickly woke up Salah then they ran away …
The soldiers destroyed the two houses and searched in the rubble; they did not find Ahmed and Salah. The officer ordered to search for them.
The army searched but did not find them. After a short while, two soldiers astray from the rest of the troop passed by; Ahmed killed them both and took their weapons and after the two soldiers were killed, the two friends escaped to the mountains.
"I will go and find out what happened to our homes?" Ahmed said: "Good Salah, but be careful." An hour later, Salah came back and said in pain: "The commandos killed our families; we will take vengeance."
Ahmed said: "That is fine, the retaliation is coming and they will not escape us harming them."
Salah said: "God willing."
The cave in which Ahmed Yassine and Salah El-Dine lived was far from sight, but one day …
"The place is besieged, they surrendered."
The voice of the officer.
Without thinking, Ahmed took his M16 machine gun and threw the bombs, and he showered the Jews; this resulted in the killing of the soldiers.
Salah said: "You killed them all."
Ahmed answered: "Praise be to God."
They immediately collected the ammunition and they moved from one cave to another.
Ahmed said: "I learned that Shalom will pass through here; the street is 500 meters away from us, and I will kill him."
Ahmed armed himself with a machine gun and bombs and hid in the long grass and waited for the victim.
Shalom's car passed by and Ahmed threw all the hand bombs he had, which resulted in the killing of Shalom. Following his killing, Ahmed fought a fierce fight with the guards, which resulted in Ahmed being wounded by the bullets of the occupation and which led to the killing of them all.
Following the killing of the soldiers, Ahmed saw a poster on which was written:
Ahmed Yassine – Salah El-Dine
The award: US $1.000.000.000.000
Ahmed realized that, somehow, the Israeli learned of their presence. He hurried and told Salah about what happened.
After a long discussion, the two heroes decided to escape.
It was dawn. Ahmed quickly visited Ahmed Yassine's tomb (illegible) along with Salah. They said at the same time:
"We promise God and the heroes of Al-Aksa that we will continue the path, we will continue in spite of the difficulties and the hardships until the victory or the martyrdom, we will not surrender; we will fight for the sake of God until the end."
Done with our thanks to God.
Ran with fact box "The story", which has been appended tothe story.
© The Ottawa Citizen 2005
Are we getting the picture yet? The principle of this school is now an actual affiliate of the Ottawa Citizen where all these articles are now scrubbed,  and is demanding the right to Islamic services in Ottawa Publicly funded schools.
(Unsurprisingly, this link still works)
Friday Feb.,  17, 2012, Ottawa Citizen:  
There should be space for prayer in school
http://www.ottawacitizen.com/life/There+should+space+prayer+school/6166693/story.html
Allowing students to explore their faiths for a few minutes a week can only strengthen the secular public school system, writes Aisha Sherazi
BY AISHA SHERAZI, OTTAWA CITIZEN FEBRUARY 17, 2012
In her op-ed in Thursday's Citizen, titled "We must protect our secular school system," school board trustee Pam FitzGerald was right to say that schools are enriched by their multi-cultural flavour, something for us to applaud and enjoy.
When FitzGerald spoke at recent meetings held at the Ottawa Carleton District School Board, she raised the concern of absenteeism among students of certain religious backgrounds. On this count, she is also correct, and I think the vast majority of parents, of any faith or background, would agree that learning is a priority for all children. No religious service should interfere with learning.
But it is unclear why religious services held at lunchtime on site would interfere with learning. Quite the opposite.
FitzGerald mentions that three schools, to her knowledge, have imams who come in and deliver Friday prayers to some students. It did not surprise me to find that Longfields-Davidson Heights, Bell and Brookfield high schools all hold Friday prayers. One only has to look at the demographics of the schools to see why. There are quite a few Muslim children, and those students have origins from all over the world, but many were born here.
That's right. They were born here, but some would quite like to get together on a Friday at lunchtime, and listen to a sermon about social values and making healthy life choices, given from a local young person (often an undergrad or recent graduate, or young professional in the city, not imams). If those students who choose to attend were instead to leave the premises at lunchtime for prayers, it might increase absenteeism, not decrease it.
FitzGerald raised concerns about the Public Education Fairness Network, a coalition of "fundamentalist Sikh, Hindu, Muslim, Jewish and Armenian representatives, formed to press for public funding for separate religious schools in Ontario." Charming. I was one of the "fundamentalists" she describes.
I felt it spoke to fairness. If a Catholic school system can be funded by tax dollars, so can any religious school system in theory. It happens in other provinces in Canada, which are not "European religious ghettos" or elite American schools, as she would have us believe. The model proposed by the Jewish Federation of Ottawa, in which schools that are closed can be turned into religious schools and brought into the fold of the public school system, is not unlike the model in Alberta.
I personally have my children in an Islamic school. I want to spend my weekends with my own children. I don't want to send them to a Saturday or Sunday school on a weekend to learn faith, when we could be together. Why can't they learn faith and social justice values on the job, given they are at school far more than they are at home?
I think any parent of faith with children can sympathize with me. Just the other week, a Christian friend told me her children more or less stopped going to church when they reached a certain age. Why? There were no other children in the congregation, and without the social experience it can get quite dull. Why were there no other children? Once kids join hockey, well, kids stop attending church. And therein lies the dilemma.
People of all faiths and backgrounds are worried about "losing" their children. The same can be said of secular communities too, of course.
I grew up in London, England, worrying about how to fit in at school and hide my Indian background when friends came over. It's scary trying to learn to fit in, but not wanting to reject family.
Children nowadays get to grow up celebrating culture, any and every culture. There is no taboo anymore. It is all a rich experience, there for everyone to enjoy. We are all one happy family. On this count, FitzGerald is 100-per -cent right. But attending Christian schools all my life in Britain didn't do me any harm either. I read the Lord's Prayer every day, sang hymns. I doubt any parent expects public schools to provide their children with religious education. But if someone is willing to volunteer at lunchtime, is that such a disaster?
The main reason trustees rejected FitzGerald's motion to study the issue of prayer in schools is because they had already reviewed and approved religious accommodations policies last fall and will be receiving a report on religious accommodations procedures to review this spring. Why invest so much time on this? Given economist Don Drummond's report on how Ontario can escape its fiscal nightmare through cuts in education, among other things, perhaps we should be focused on how we can improve education in challenging economic times, not waste time investigating voluntary services.
The other, related matter raised by FitzGerald this week is the Pastoral Care for Secondary Schools Program, which has been around for more than 20 years. It is actually to my relief that this program will get reviewed. At least that way the caring individuals who have volunteered to be a listening ear for years to kids of any faith, without indoctrination, but with plenty of kindness, will receive some recognition of their efforts from trustees.
FitzGerald mourns the demise of the non-religious public school, but she shouldn't. The non-religious school system is alive and well and is thriving on its premise of openness, mutual respect, and being welcoming to one and all.
Besides, if the province can fund people to be Catholic in Catholic school, the public school board shouldn't begrudge a few children wanting to be Muslim for 15 minutes on a Friday at lunchtime.
Aisha Sherazi is a pastoral care worker at Merivale High School who blogs at ottawacitizen.com/ blogs.
© Copyright (c) The Ottawa Citizen
more:http://www.ottawacitizen.com/life/There+should+space+prayer+school/6166693/story.html#ixzz1mery88nU