From The Guardian U.K.
Pakistan erupts after US jailing of 'daughter of the nation' Aafia Siddiqui
Thousands take to the streets to protest as scientist convicted of attempting to kill US soldiers gets 86 years.
Declan Walsh in Karachi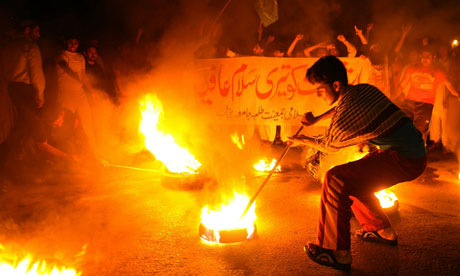 Pakistani protesters burning tyres in Lahore. Photograph: Arif Ali/AFP/Getty Images
Pakistan
's prime minister hailed a scientist convicted of attempting to kill American soldiers as the "daughter of the nation" today, and vowed to redouble efforts to secure her return to Pakistan.
Thousands of protesters took to the streets after a New York court sentenced Aafia Siddiqui, a US-educated neuroscientist and mother of three, to 86 years in jail.
Police fired teargas and scuffled with protesters surging towards the heavily fortified US consulate in her hometown, Karachi.
In Multan people burned posters of Barack Obama and the former ruler General Pervez Musharraf.
At least 5,000 people attended the largest, and most peaceful, rally in Peshawar, where a mostly male crowd cried anti-American and jihadi slogans.
The protests were led by activists from the religious party Jamaat e Islami and Imran Khan's Justice party – minority political forces that have seized on Siddiqui's case as a means of attacking President Asif Ali Zardari's government.
But Siddiqui's case has attracted deep support from across the political spectrum.
Her plight taps into deep anti-American hostility in a country where a recent survey found that just 17% of Pakistanis view Washington favourably.
The protesters' shouts have been amplified by private television networks that have offered uncritical coverage of a murky case that, even after a lengthy trial, is dogged by as many questions as answers.
In an effort to quell criticism of the government's failure to secure Siddiqui's repatriation from the US, prime minister Yousaf Raza Gilani told parliament today he had appealed to the US to release Siddiqui in order to "improve its image" in Pakistan.
"We all are united, and we want the daughter of the nation to come back to Pakistan," he said. The government spent $2m hiring defence lawyers for Siddiqui; today Gilani said he was willing to negotiate an extradition treaty with the US to facilitate her early return.
In the trial Siddiqui, a diminutive 38-year-old, was accused of snatching a gun from an American soldier in an Afghan jail cell in July 2008 and opening fire.
Although she hit nobody, she herself was shot in the stomach by an American officer and, a month later, flown to America to face trial.
Many Pakistanis believed she could not receive a fair hearing – she was tried near the site of the World Trade Centre attacks – but she weakened her defence with frequent intemperate outbursts against the US government and speeches against Jewish conspiracies that caused her to be ejected from court several times.
Her case was also weakened by the Taliban leader, Hakimullah Mehsud, who issued a statement of support.
She was found guilty in February. But the trial, which concentrated on the events in Afghanistan, did little to illuminate the wider mysteries of Siddiqui's story.
In March 2003 she disappeared from Karachi with her three children, one of whom was six months old, and only resurfaced in July 2008 when she was arrested in Ghazni.
US prosecutors said she was carrying details of prominent American monuments, bomb-making notes and a small amount of cyanide.
Siddiqui's supporters insist she spent the missing five years at the US detention centre in Bagram, north of Kabul, and her youngest child may have died. US officials deny she was in their custody.
In 2003 US officials accused her of belonging to al-Qaida and being married to Ammar al Baluchi, a nephew of the 9/11 mastermind Khalid Sheikh Muhammad. Siddiqui's relatives deny this is true.
Baluchi and Muhammad are currently imprisoned at Guantánamo Bay.
The case is likely to remain on the agenda between Pakistan and the US. Yvonne Ridley, a journalist and campaigner for Siddiqui, said supporters would step up pressure through a campaign of civil disobedience.
"It will involve blocking Nato supply lines into Afghanistan," she said. "This is not going to go away."