It should be noted that Ottawa City Council turned down an application by an atheist group to pay for signs for the side of Ottawa Buses saying "There's probably no god. Now stop worrying and enjoy your life."
Compare that to this story from San Fransisco: (Thanks to Zombie blog by way of GAR)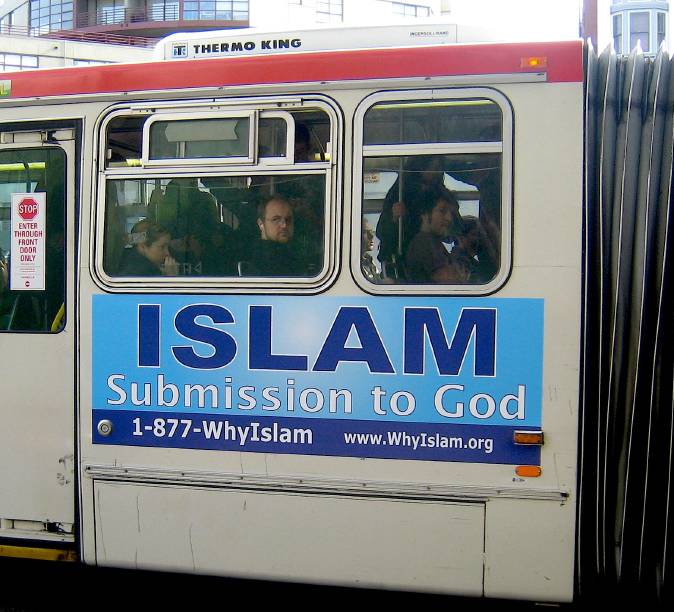 San Franciscans have recently been finding themselves in the uncomfortable position of riding around on public buses plastered with the words "ISLAM – Submission to God." I say "uncomfortable" because San Francisco is famously amongst the most secular and non-religious cities in the nation. But there has been nary a peep of comment or protest about these ubiquitous in-your-face ads, which are shown here in photos taken on March 2 in San Francisco.
Such was not the case a few weeks ago in Ft. Lauderdale, however, which is one of the cities where the ads first appeared on buses. As reported in the Miami Herald, Fort Lauderdale mayor Jim Naugle joined a protest against the same ad campaign. While the protest did not succeed in getting the ads removed, it highlighted the fact the the ads were co-sponsored by the Islamic Circle of North America (ICNA) and the Council on American-Islamic Relations (CAIR) — a fact which can be easily confirmed with a little research: The ads themselves link to www.whyislam.org, which states at the bottom of the page that it is a project of ICNA; ICNA's local chapter has a page on its own site about creating the ISLAM ad campaign in San Francisco; that page also lists CAIR as a co-sponsor (along with many other Muslim groups); and CAIR's own site "Calling Islam" has many photos, links, and press releases about the ad campaign on its home page. So there's no question that the ads are an ICNA and CAIR co-project.
Why is this noteworthy? Because ICNA is not your run-of-the-mill Muslim group, but rather is the North American branch of Jamaat-e-Islami, the fundamentalist Pakistani political party whose goal is the imposition of sharia law, and who are closely affiliated with the Muslim Brotherhood, one of the primary fonts of Islamic fundamentalism in the modern world. ICNA's mission statement on its own Web site says
The goal of ICNA shall be to seek the pleasure of Allah (SWT) through the struggle of Iqamat-ud-Deen (establishment of the Islamic system of life) as spelled out in the Qur'an and the Sunnah of Prophet Muhammad (pbuh)
Please go to the Zombie blog to read the read the rest of this story. We know its a matter of time and not much before similar adds are on Ottawa busses and frankly I have no objection to them. However the fact that the city of Ottawa has declined to allow the atheist adds on city busses (Blsphemous to Muslims perhaps) makes for selective enforcement which is more than merely uncomfortable but would be a serious concern with respect to what is acceptable in the public domain. Again, as far as we know at Vlad, no such adds have as yet been proposed.