Just two examples of the insultingly obvious degree to which enemy-propaganda is ready to lie to us to enforce a narrative, and make damn sure we know we are being lied to and can't seem to do anything about it.
Let's start with CBC News:
(Watch or don't watch the news clip. Its funnier if you do. I love the part where he makes an analogy to explain to the peasants why you need to get a booster because "immunity wanes from the initial two shots", being like "a smoke detector with old batteries." But whatever you do, click through to YouTube to read the comments while they allow them to be up.)
Not that at this point we need to discuss the science or "my doctor Vs. your doctor", but it feels wrong to allow this CBC propaganda above without responding with some science, lets say from Dr. Assem Malhotra, one of the very top cardiologists from the UK NHS. This is a segment from I think it was his December 1st appearance on Tucker Carlson Today:
Notice how he quotes his studies and stats and sources them. Let's compare that to the expert the CBC uses from speed-dial, and who they used to try and reinstate the mask mandates at Public Schools:
After watching that, it may be a good time to contemplate the difference between a claim, and an argument. The entire presentation by Ray should be up and available soon. If memory serves, he never backs up his claims with a source or a fact. One may also ask oneself if we have ever seen even one study showing that masks do not block a virus or can cause harm to the wearer long term. If we have, it brings into question his stark claim.
Back to government/enemy propaganda:
Majority of Canadians favour Emergencies Act invocation, poll shows https://t.co/7S0prdOJIK

— The Globe and Mail (@globeandmail) December 5, 2022
Again, click through and read the responses. Below is a decent graphic though: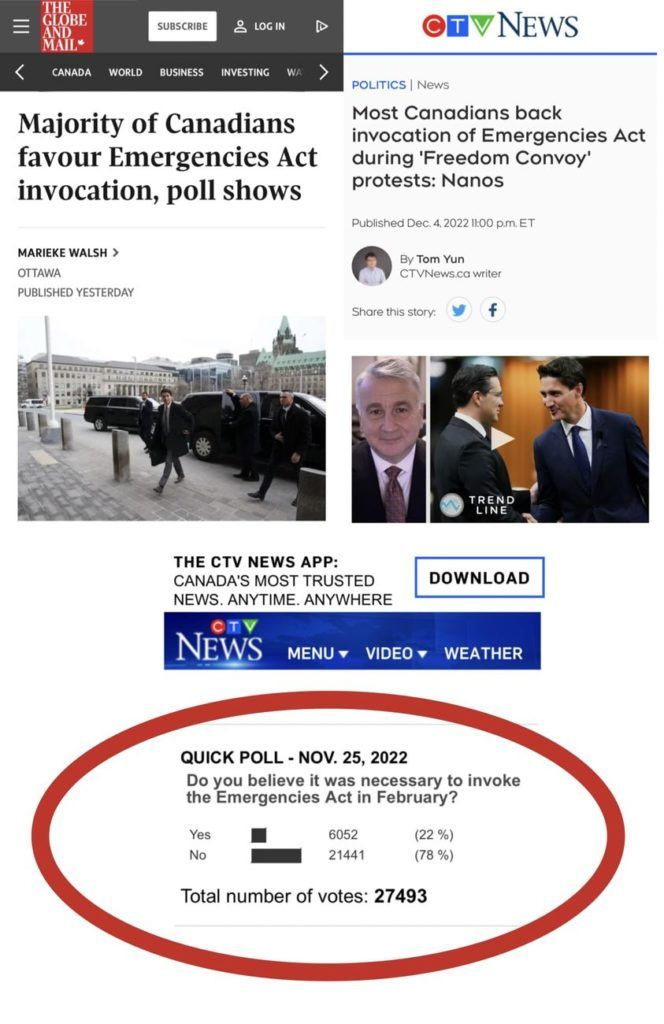 I guess inflation in Canada cannot really be that bad if just shy of two billion dollars can buy you this kind of obedience from nearly the entirety of the main stream media.