1. France under attack: Jihadist murders three worshippers – including two who were beheaded – INSIDE Nice church + Gunman screaming 'Allahu Akbar' is shot dead by cops in Avignon + French consulate worker is stabbed in Saudi Arabia
France has been struck by two terror attacks within hours of each other as three people were killed – two of them beheaded – in an attack inside a cathedral in Nice before a gunman was shot dead by police in Avignon.  

The first attack began around 9am at the Notre Dame cathedral in Nice where a knifeman beheaded an elderly female parishioner and a male church warden, fatally stabbed a second woman, wounded several others, and was then shot and arrested by police. 

Two hours later, a gunman threatened people on the streets of Avignon – 120 miles from Nice – while shouting 'Allahu Akbar' before he was fatally shot by police. 

Elsewhere, a security guard at the French consulate in Jeddah, Saudi Arabia, was stabbed and wounded. 

The attacks come amid fury across the Islamic world at President Macron for defending satirical cartoons of the Prophet Mohammed, and on the day that Sunni Muslims mark the Prophet's birthday.

It also comes less than two weeks after a schoolteacher, Samuel Paty, was beheaded north of Paris for showing cartoons of the Prophet to his class in a lesson on free speech.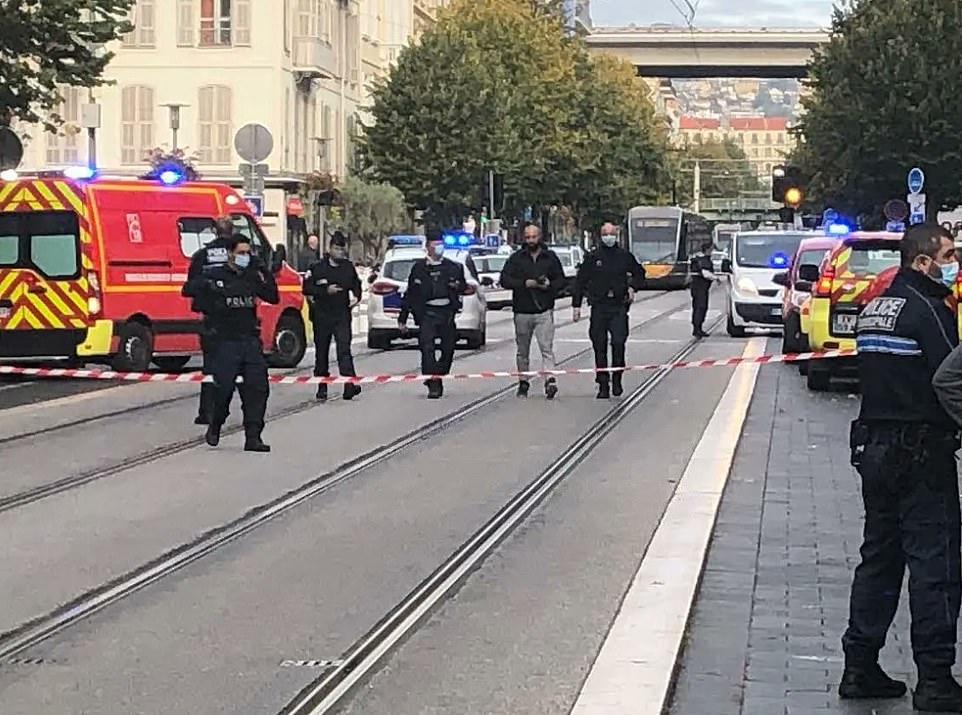 2. Avignon horror: Gunman shot dead by police in street hours after Nice terror attack
The man was shot dead in Montfavet, near the city of Avignon in the south of France. He was allegedly shot around 11.15am but it is not being treated as a terrorist incident. After threatening the public with a weapon, police opened fire and killed the assailant according to Europe 1. 

An investigation has now been launched into the incident this morning. 

It has not been confirmed whether the man injured any members of the public before being shot. 

Emmanuel Macron has not yet released a statement on the attack. 
3. Knife attack in French city Nice leaves three dead
(Info, photos at link for AlJazeera above and here)
Ambiance de crise sur l'avenue Jean Medecin. Encore. #Nice06 #attentatnice pic.twitter.com/q4TEbImhAc

— Christophe Cirone (@Cirone06) October 29, 2020
VIDÉO. David Olivier Reverdy, représentant du syndicat de police Alliance donne des précisions sur l'attaque au couteau survenue plus tôt ce matin. #attentatnice « L'individu s'en serait pris à deux femmes et un homme ». pic.twitter.com/To9hjPY0Md

— Célia Malleck (@celia_malleck) October 29, 2020
Des coups de feu entendus en plein centre-ville, scène de panique à Nice https://t.co/pKB4WdFwC9 pic.twitter.com/UQKrTeKjtx

— Nice-Matin (@Nice_Matin) October 29, 2020
Photo alleged to be the muslim assassin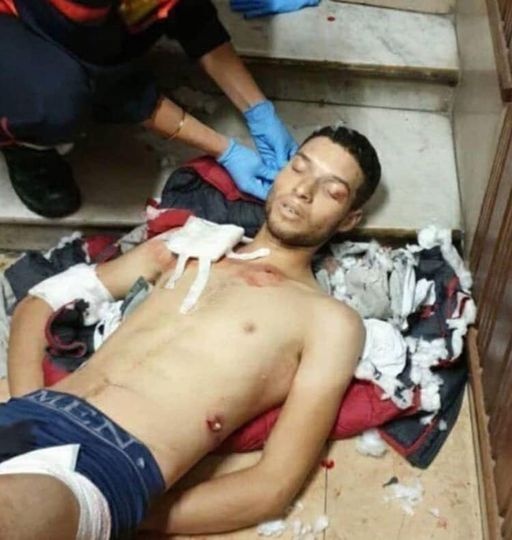 Thank you Oz-Rita, Tundra Tabloids, ET., EB., C., and all who sent in links showing the unraveling of France on the surface. The unraveling beneath is old news to people who are paying attention.