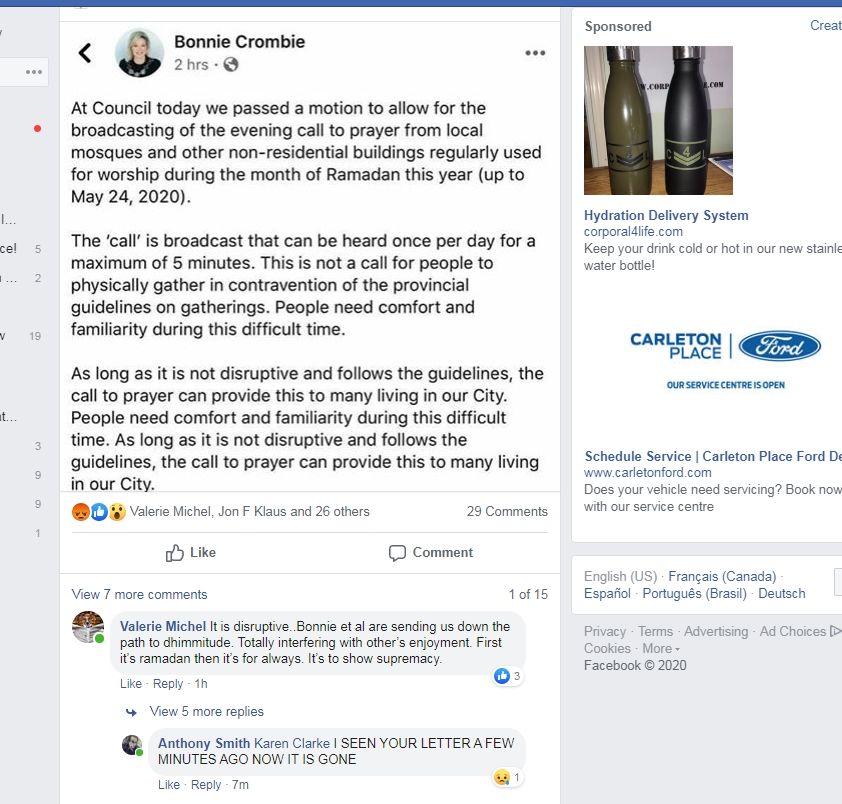 Check out the reasoning.
People need comfort, but hearing a call across the city in a foreign language that ultimately is a call to dominate the non-muslims, cannot be something familiar which gives comfort.
This is classic neo-Marxist attacks on Classical Civilization using language and cognitive dissonance and of course, anyone who objects is a "racist" so pointing out the absurdity and hypocrisy of the reasoning to allow this, won't go over well. May even be punished by law. If you can get a $1500.00 fine for taking your dog to your own back yard, then it wouldn't be much of a stretch to punish people for not supporting the call to prayer, in a time where we are all supposed to be isolating, (another aspect of the cognitive dissonance) might net you a criminal charge of some kind.
Rumour has it that around May 11th or so, this sequestration may begin to end. This likely means that before Ramadan is done, the call to prayer will actually be a call to prayer and not be for "comfort" at all. It will be what it is intended to be.
A triumphalist note for Muslims where their prayers and schedules are supreme over the unbelievers.
I deeply hope that someone will stand across the street from the mosque and practice Bagpipes at the same time. It would be interesting to see how the police handle that one. Should someone decide to do it, make sure it's filmed.
H/T Gun Goddess