1, 'Islam or Die' Reportedly Tagged on Texas Churches
(This looks like a stencil was prepared for this bit of dawa)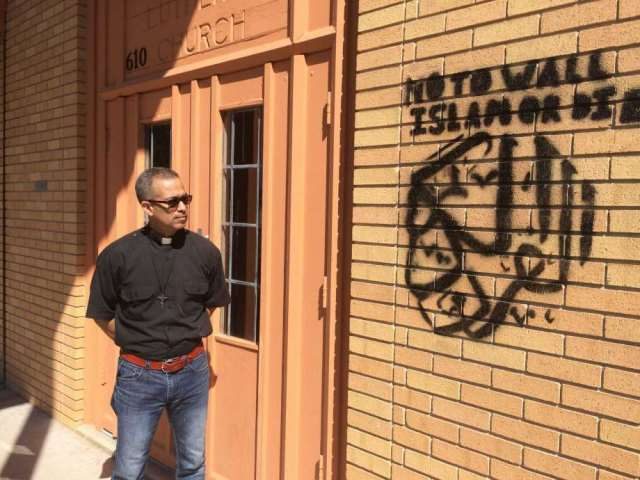 San Antonio news outlets are reporting that two area churches were defaced by vandals. Identical graffiti on the structures reads: 'No to wall' and "Islam or Die" with an unknown symbol stenciled beneath.
These incidents purportedly occurred in San Antonio on Monday at Gethsemane Lutheran Church and Saint Gregory the Great Catholic Church. On both, black spray painted messages read in capitalized letters: "No to wall" and "Islam or Die," along with an unidentified image, according to KABB. The TV news outlet said the defacement was done by an unknown suspect.
2. President Hollande has admitted 'France has a problem with Islam' and warned that the country's national symbol will one day be a woman in a burka
French president Francois Hollande has admitted the country 'has a problem with Islam' and warned France's national symbol will one day by a woman in a burka.

Hollande also branded ethnic minority football stars as 'guys from the estates, without references, without values, who leave France too early', it emerged today.

The words were all part of a more general attack on people from Muslim backgrounds whom the Socialist Mr Hollande views as a major difficulty for his country.
(Perhaps he shouldn't have created that problem then.)
3. USA: Developing: Jordanian 'Student' Intentionally Slams Plane Into Downtown Conn. City
(Let's follow that one over the day)
4. BBC sacked me for being a white man… even though I work in radio: The Now Show comic was told he was being axed to make way for more women and diversity
The BBC was at the centre of a damaging diversity row last night after one of its top radio stars was sacked for being 'white and male'.

Bafta award-winning comedian Jon Holmes was axed from The Now Show – the hit Radio 4 programme he has appeared on for 18 years – when bosses told him 'we're recasting it with more women and diversity'.

Last night, leading figures from the world of entertainment and across the political spectrum reacted with fury to the BBC instigating a policy in which it was now choosing performers based on their gender or skin colour, instead of their talent.
(There are about a dozen links in the Daily Links post dealing with this issue and England's new totalitarian racist regime)
5. Putin: We know who hit aid convoy in Aleppo, so do the Americans
Hillary Clinton regards vetting refugees as impossible, according to email released by WikiLeaks.
For his part, Donald Trump says his immigration plan does not ban Muslims, but instead requires "extreme vetting" for Muslims arriving from countries with documented problems of Islamic terrorism—consistent with the U.S. Constitution.

Regarding policy, Americans will decide between the sharply contrasting visions of Trump and Clinton—one focusing explicitly on security and America's interests, the other saying behind closed doors that she believes in "open borders" but does not say so publicly, and that national leaders can have a private position that is different from their public positions.
7. A 2012 clip of Newt Gingrich handling the press the way they deserve to be handled.
8. The white face of Obama's plausible deniability discusses human shields in Alepo
Thank you Pym Purnell, M., Richard, Wrath of Khan, and many more who sent in materials. Its already a hell of a news day. More to come. Quite a bit actually.