An original translation by Ava Lon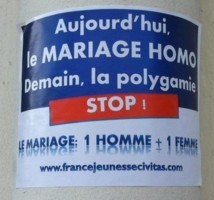 Article published on 08/13/2016
In November 2012, during the debate that preceded the Taubira law legalizing homosexual "marriage", CIVITAS [the new French christian party] had campaigned with the message "Today gay marriage, tomorrow polygamy." Critics of Civitas had claimed there was no connection between the two.
The Italian news has demonstrated how much the French Catholic organization was right.
The founder of the Union of Islamic Communities in Italy, the convert Hamza Roberto Piccardo, comes insidiously, on social networks to ask Italy, which recognized homosexual unions as a "civil right", to do the same with polygamy.
"If it's only a matter of civil rights, well, polygamy is a civil right," Piccardo wrote on his Facebook account to comment a photo where the mayor of Milan, Giuseppe Sala, appears next to the a gay civil union couples on 5 August.
The Muslim leader said: "I and millions of people do not approve of homosexual relationships, yet this is the law and we respect it. The persons concerned (by the law) are a minority, as are polygamous people. The society can accept all minorities. "
It has to be said that Hamza Roberto Piccardo was designated in 2005, spokesman of the European Muslim Network, lobby based in Brussels and chaired by Tariq Ramadan. One of his sons, Davide Piccardo, heads the Coordination of Islamic Associations of Milan and collaborates with the Italian version of the Huffington Post.