1,'Benefits must be earned' Denmark to make migrants PAY into system before they get welfare
Foreign minister Kristian Jensen said new migrants arriving in Denmark should not be able to claim financial support without contributing to the Scandinavian country's economy first.

The leading politician said: "I think it would be reasonable to have a contribution requirement before receiving social benefits.

"I think it would create greater understanding for labour movement in Denmark."
(What an interesting idea. Reason. Its in short supply)
2. Here is the segment of CIA director, John Brennan. He clearly has left the narrative.
He point out that as pressure is applied to the Islamic State, it will likely increase international terror operations.
3. Muslim who said 9/11 "changed the world for good" is on Homeland Security Advisory Council
(It looks more and more like Mr. Trump's allegations of treason against President Obama are well founded. And Trump isn't the only one)
How by any stretch of anyone's imagination can Laila Alawa be seen as someone who cares in the slightest degree about "homeland security"? She is quite obviously on the other side, and if we had a sane political and media culture, her presence on the DHS Advisory Council would be a major scandal.
"Syrian Immigrant Who Said 9/11 'Changed The World For Good' Is A Homeland Security Adviser," by Peter Hasson, Daily Caller, June 13, 2016:
4. Boko Haram massacre women in north-east Nigerian village
Militants rampage through Kuda in Adamawa state, burning down homes and killing at least 18 women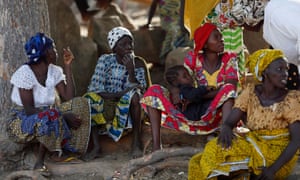 Boko Haram militants have shot 18 women dead at a funeral in north-eastern Nigeria, rampaging through a village, setting houses on fire and shooting at random, according to witnesses and local government officials.

The attack took place on Thursday evening in the village of Kuda in Adamawa state. Some women were still missing, resident Moses Kwagh said.
5. Deaths, arrests as looting erupts in Venezuela
Caracas (AFP) – Venezuelan police have arrested hundreds of people as the country's food crisis erupted into deadly looting this week, heightening hardship and political uncertainty in the impoverished oil-producing nation.

Dozens of bakeries, supermarkets and hardware shops were looted on Tuesday in the eastern city of Cumana, the latest flashpoint in a crisis that has killed at least four people so far.

"It ended in total ruin because the businesses had not only their stock pillaged but also their furniture. It was total destruction," said Ruben Saud, president of the Cumana Chamber of Commerce.

The chaos started when gangs of looters on motorcycles raided trucks transporting food, witnesses said.

The governor of Sucre state, where Cumana is located, told state television channel VTV that "more than 400 people" were arrested, including three suspected gang leaders involved in the looting.

Arrests have also been reported in other towns.
(Well. Communism worked out well in Vz. then, didn't it?)
6. UK: "Muslims in the UK have no choice but to join the IS as governments make them feel disempowered". Really she said that!
(One of the best examples of Muslim jihadis using the language of the left to justify Islamic jihad perhaps ever.)
PA

NUS President Malia Bouattia has blamed Government cuts on young Muslims joining ISIS
Malia Bouattia said young people in Britain have "no choice but to go off to Syria" because they "feel so disempowered".

The outspoken 28-year-old has previously refused to condemn ISIS since she was elected as president of the NUS in April.

And the controversial student leader has now claimed that the closure of youth centres, coupled with "the fact that education is being privatised and rendered inaccessible", is the reason more than 800 British citizens have travelled to Syria and Iraq to join groups such as ISIS.
Thank you M., Wrath of Khan, Richard, Yucki and many people who have been sending in materials.
For the last 70 years or so, civilization has enjoyed extraordinary times of prosperity, peace and development. Now, as the world slides in to what is likely more normal times, it is very important and very appreciated that rational people find forums to share actual information. Soon, we will need time capsules buried all over the place if we hope to preserve reason, or at least it feels that way at the moment.
Work, both this sort but not immediately post-able, and gather the rent type has kept posting low for a few days but there are some very interesting things in the pot which should be up by tonight.