The attacker has not been described in the media despite witnesses. This used to mean he was Muslim but now I think it applies to anyone in order to not lead the idea it was a Muslim, and to better deflate those of us that see the connection between Islam and motive if it is released later that he was not.
After all, the standards are, we have to be right 100% of the time and if we are wrong once, then they try and destroy our credibility.
In any case its noteworthy that a woman MP for Labour, the most muslim friendly political party in Western Europe outside actual sharia law parties, was shot and stabbed.
Then again, she is a woman.
A female Labour MP has been shot twice and stabbed by a man with a 'makeshift gun' as she met constituents in West Yorkshire.

Jo Cox, MP for Batley and Spen, was speaking to locals in Birstall near Leeds when she was savagely attacked.

The shocking incident took place near the town's library where the 41-year-old politician held advice surgeries.

Those who saw the shocking incident said the mother-of-two was left 'bleeding on the pavement'.
(Those who saw, but didnt report what the attacker looked like or more likely, it is not being reported)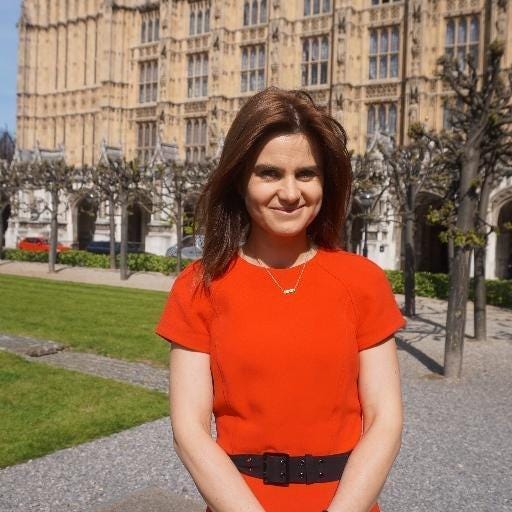 The MP Jo Cox has been attacked at in her constituency in Birstall, Yorkshire. Here are the latest updates:
Jo Cox has been injured in an incident in her constituency, her team confirms
Attack involved shooting and stabbing
Some reports say it took place in her constituency office
But eyewitness says she was left lying bleeding on the pavement
Gunman is reported to be on the loose
Ms Cox is Labour MP for Batley and Spen
She attended the so-called "battle" on the Thames to protest EU fishing regulation on Wednesday
("Gunman is on the loose" so the most important thing is not to describe him or else someone might catch him before he does more harm. Either that or the EU sent someone after her for her BREXIT stance)
A British member of parliament has been shot after a town hall meeting at a library.

Police said in a statement earlier that "a woman in her 40s" had "suffered serious injuries and is in a critical condition." The British Press Association reported that the woman was Jo Cox, a Labour Party MP who is known for her work on Syria-related issues.

Jeremy Corbyn, leader of the Labour Party, tweeted that Cox was the victim in the attack. […]

A 52-year-old man was arrested near the shooting in Birstall, West Yorkshire, according to police. An eyewitness told Sky News that he saw a man in a baseball cap suddenly pull a gun from his bag.

Police presence in the area has been increased as a reassurance to the community.

The motives of the attacker are unknown at this stage.

There are unconfirmed reports that the attacker shouted "Britain first" before shooting. Brits will decide on June 23 whether or not to remain in the European Union, a divisive issue in the country.
(So now its about her being anti BREXIT. We all should have seen this coming)