1. 'No-one told me I was going to be interviewed by a Muslim': Moment Burma democracy heroine Suu Kyi lost her cool with BBC's Mishal Husain after being quizzed over violence towards Muslim minority
(British media and establishment is cashing in on every last penny's worth of 'sanctimony uber alles' before their entire civilization collapses into a black hole of Islamic and state totalitarianism)
She is a Nobel Peace Prize laureate and a beacon of saintly integrity in the West who remained under house arrest for 15 years in her native Burma.

However, there is another side to Burmese politician Aung San Suu Kyi that sits at odds with her iconic image.

After the BBC Today presenter Mishal Husain gave Suu Kyi a rough ride during a BBC interview, Suu Kyi lost her composure and was heard to mutter angrily off-air: 'No one told me I was going to be interviewed by a Muslim.'
(Yes it is the worst ofence now to preserve your own people, culture and values from Islam and sharia. And no one is to forget it, even though no one is allowed to state it quite that plainly. Video at site)
2. Water treatment plant hacked, chemical mix changed for tap supplies
(As Verizon security caught this hack, it likely took place in the USA despite the .UK origination of the URL)
Hackers infiltrated a water utility's control system and changed the levels of chemicals being used to treat tap water, we're told.

The cyber-attack is documented in this month's IT security breach report (available here, registration required) from Verizon Security Solutions. The utility in question is referred to using a pseudonym, Kemuri Water Company, and its location is not revealed.

A "hacktivist" group with ties to Syria compromised Kemuri Water Company's computers after exploiting unpatched web vulnerabilities in its internet-facing customer payment portal, it is reported.

The hack – which involved SQL injection and phishing – exposed KWC's ageing AS/400-based operational control system because login credentials for the AS/400 were stored on the front-end web server. This system, which was connected to the internet, managed programmable logic controllers (PLCs) that regulated valves and ducts that controlled the flow of water and chemicals used to treat it through the system. Many critical IT and operational technology functions ran on a single AS400 system, a team of computer forensic experts from Verizon subsequently concluded.
3. Glasgow mosque leader praises extremist killer
(Just to clarify the BBC' rapidly deteriorating English, no. They do not mean killer of extremists)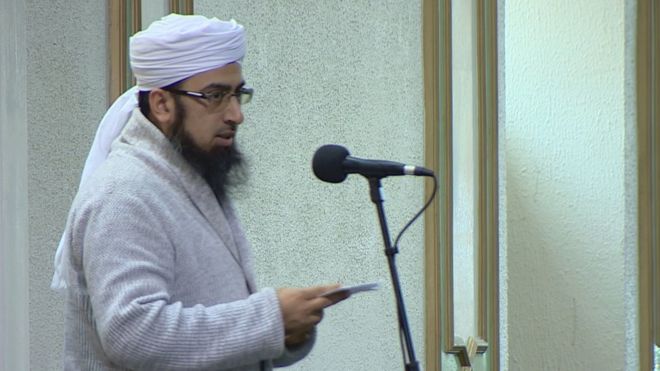 The religious leader at Scotland's biggest mosque has praised an extremist who was executed for committing murder in Pakistan, the BBC can reveal.

Imam Maulana Habib Ur Rehman of Glasgow Central Mosque used the messaging platform WhatsApp to show his support for Mumtaz Qadri.

Qadri was hanged in February after murdering a local politician who opposed strict blasphemy laws.
4. BREAKING NEWS: ISIS suicide bomber blows himself up at a FOOTBALL STADIUM near Baghdad, killing at least 65 people and injuring more than 60
A suicide bomber blew himself up in a crowd after a local football game in a village south of Baghdad, killing at least 65 people, police and medics said.

'They were just handing the trophy to the winners, the suicide attacker blew himself up in the crowd,' a police captain from the village, Al-Asriya, told AFP.

The police captain said more than 50 people were also wounded in the blast, near Iskandariyah, a town about 25 miles south of the capital.
Residents walk past the site of a car bomb attack in the Ameen district of eastern Baghdad, Iraq, September 22, 2015
A source at Iskandariyah hospital confirmed the toll, warning that the casualties figure were preliminary and could rise.

The medic told AFP that the attack took place around 7:00 pm with some source claiming that nearly 65 people were killed in the attack.
5. Brave Russian soldier wipes out band of ISIS fighters after calling in airstrikes on himself after being surrounded by jihadists
The special forces officer was on a one-man mission to track down ISIS militants in the area around Palmyra, when he found himself surrounded by enemy fighters
'An officer of Russian special operations forces was killed near Palmyra while carrying out a special task to direct Russian airstrikes at Islamic State group targets,' said a spokesperson for the Russian military.

'The officer was carrying out a combat task in Palmyra area for a week, identifying crucial ISIS targets and passing exact coordinates for strikes with Russian planes.

'The officer died as a hero, he drew fire onto himself after being located and surrounded by terrorists.'
6. 'They're way behind the ball and paying a terrible price': U.S. intelligence experts slam Belgium's 'overwhelmed' anti-terror teams
(Thats funny cause just a day or two ago, Belgium was the shining example to the world of muslim multicultural utopia)
In the wake of the bombings that shook Belgium on Tuesday, the country's anti-terror teams have been slammed by US intelligence forces as 'weakly coordinated,' 'behind the ball' and uncommunicative with their allies in the West by U.S. intelligence experts.

U.S. officials and consultants ran up a sizable list of complaints about the country's anti-terror officers for Reuters, suggesting that the home of the European Union was frustrating its American allies.

Rep. Adam Schiff, ranking Democrat on the House Intelligence Committee, told the news agency, 'They're way behind the ball and they're paying a terrible price.'
'Overwhelmed': U.S. intelligence officials say they Belgium seems overwhelmed by the threat it faces in the aftermath (pictured) of three explosions tore up its capital, Brusses, on Tuesday
7. Islamic State video with lots of threats and chants in scribbely probably taken from the only book they are allowed to read.
[WARNING: I have not watched it, so it may contain harsh scenes. No guaranteed it will. YT will remove it so watch it here if you have to]
8. Turkish military strikes PKK in northern Iraq, kills 24 militants
(Is Iraq OK with this?)
Turkish warplanes struck Kurdistan Workers Party (PKK) targets in northern Iraq and killed 24 PKK fighters in southeast Turkey on Thursday, the army said, as the militants launched a car bomb attack on a military installation in the region.

Thursday night's bombing killed three security force members and wounded 24 at a security outpost near the southeast's largest city of Diyarbakir, the military said in a separate statement on Friday, confirming a report from security sources.

A Reuters witness said the installation suffered severe damage in the blast on the highway between Diyarbakir and the town of Lice. Security forces imposed tight security in the area and erected screens to conceal the site.

The PKK claimed responsibility for the attack in a statement on one of its websites. It said 28 soldiers were killed and 32 were wounded in the attack. The army and PKK generally give vastly different death tolls for attacks and clashes. The figures could not be verified.
9. After Brussels Attack: 'Europe Won't Exist In Ten Years'
(Romanian MEP)
A Romanian member of the European Parliament has lashed out at Europe's approach to the cultural war with migrants, and questioned the ability of Europe as a cultural entity to continue in the face of the onslaught.
Romanian MEP Laurentiu Rebega is a member of the same Europe of Nations and Freedom group as Marine Le Pen and the Front National, having joined last year after he crossed the floor from the Conservative party.

Speaking out in the immediate aftermath of the Brussels bombing attack this week,  he told Breitbart London that the flow of refugees to Europe wouldn't end until there was peace in the Middle East — a potentially unlikely prospect.

Speaking of the migrants travelling to Europe in ever greater numbers, Mr. Rebega said: "They can't be integrated, they will never be integrated.
Thank you Wrath of Khan, M., ML., Buck, Xanthippa, Kathy, and many more
Here are a couple of interesting items about 'feminism' as it is today.
First, a Rebel piece on female privilege 
And what would happen if Microsoft were to develop an actual artificially intelligent entity and release it to the wild. One capable of learning and reflcting what it learns.
But what would happen if you failed to program it with cultural- Marxism before you released it?
The same thing that will happen to many of us and happened to many who believed in the freedom to speak the truth under the Soviets and the North Koreans.