11 dead 20 injured (unconfirmed)
Two loud explosions have been heard at a Brussels airport which is being evacuated amid reports of several casualties.
Video and images on social media showed smoke rising from an airport building, shattered windows and confused and shocked passengers fleeing the terminal to safety.
IG

Passengers flee the terminal
Unconfirmed reports have said 11 people are dead and at least 20 people are injured.

Multiple injuries have been reported and medics are racing to the scene.

The large explosions have taken out glass windows at the entrance and much of the airport's ceiling has collapsed.

The cause of the two blasts, which occurred at around 8am this morning at an American airline check-in desk, are unknown at this stage.

There are unconformed reports that a bomb had been placed next to a check-in desk.

The blasts occurred four days after the arrest in Brussels of a suspected participant in November militant attacks in Paris that killed 130 people. Belgian police had been on alert for any reprisal action.
At least eleven people have died and several people injured after two explosions rocked Brussels Airport in a suspected terror attack.

Witnesses said they 'felt the shockwaves' of the blasts which are believed to have centred on the American Airlines check-in desk at 8am (7am GMT).

Photographs from inside the arrivals hall showed the floor was covered in fallen roof tiles and dust as bloodied people hobbled out of the airport. Others injured were photographed lying on the floor.

Video also shows terrified passengers running for their lives out of the terminal.

In the aftermath of the explosions thousands of people waiting for flights this morning were penned inside the terminal as police sealed off the shattered arrivals hall.

People already checked-in were then slowly evacuated through emergency exits – but were told to leave all their hand luggage as police checked bags for more explosives.
Scroll down for video 
Videos and photos of train station here
Tweets: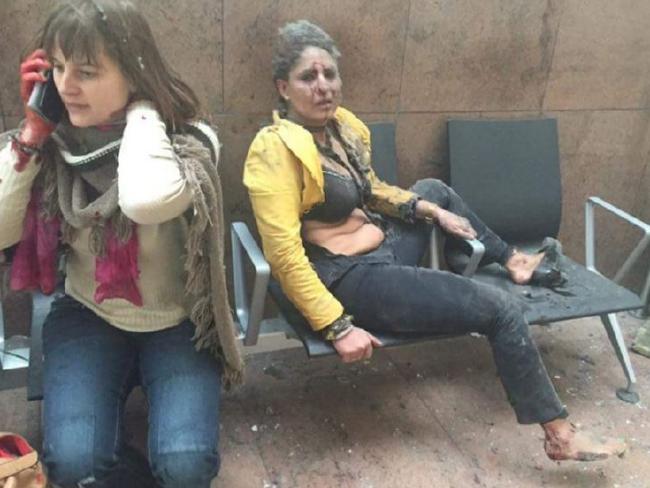 Apparently Belgium is shutting down all public transport. Last time their was a threat they closed Antwerp for 3 days. They mayas well just shut down the country since they won't fight back.
#BREAKING: second suicide bomber reportedly behind blast at #Maelbeek #Brussels metro station
H/T  Tundra Tabloids, Oz-Rita