1. Public school in Britain pulls all the girls out of tennis because of bouncing.
(And this is how sharia is implemented. Nothing to do with courts or rational procedure. Each individual muslim simply enforces it)
2. Amazing footage of this morning's shootout in Molenbeek with the usual religious SOBs
Apparently there were far more people involved with the Paris plot than thought earlier.
3. Muslims at Greek-Macedonian border say they that they will only go back to Turkey or Greece if force is used.
4. Belgium: 5 arrested including Abdeslam following police raid in Molenbeek
TWITTER: #Breaking: Belgium prosecutor said three members of a family hosting #Salahabdeslam have been arrested today as well as an accomplice.
5. Merkel makes reasonable policy speech which is nearly certainly not to be implemented but to cement hold on power to complete her task of mass immigration of Muslims to Germany.
Belgium: Merkel announces "every irregular migrant" to be returned to Turkey 
German Chancellor Angela Merkel announced that "every irregular migrant" that has arrived in Europe will be returned to Turkey, during a press conference in Brussels, Friday, on the EU-Turkey summit.

SOT, Angela Merkel, German Chancellor (German): "From the 20th March, so in a few days, will Turkey start to take back every irregular migrant for the necessary conditions to be fulfilled – that means, all the illegals who come over the Aegean to Greece then must be returned. This means that when they embark on this dangerous route they do not only risk their lives, but also they have no prospect of success. Thus we want to end this inhumane smuggler model and also reinforce the external borders. We hope that this will bring to an end irregular migration for the most part. And then, I would like to conclude that this shows once again that a common European solution is still possible; that we want to achieve this important and worthy task with Turkey and everyone has emphasised this again today. Thank you."
9. Niger attacked by both al-Qaeda and Boko Haram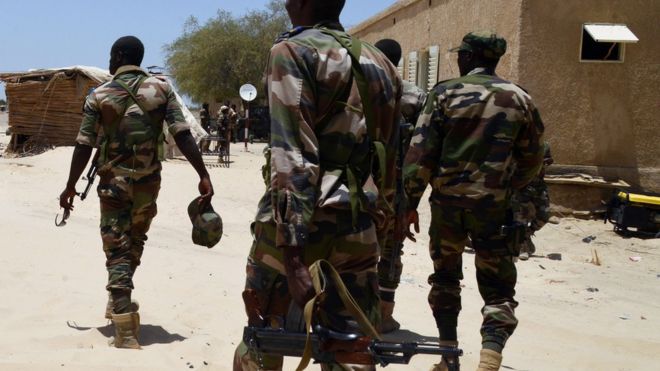 (Someone should clue the BBC in that all these groups are the Muslim Brotherhood with different stationary)
Islamist militants from al-Qaeda and Boko Haram have killed four security forces in two separate attacks in Niger, officials have said.

Three policemen were shot dead by suspected al-Qaeda members in a village near the border with Burkina Faso.

One soldier was killed and two others wounded when a military convoy was attacked close to Nigeria's border.

Thursday's attacks came three days before Sunday's controversial presidential run
10. Belgian police show us the proper way to approach a religious Muslim
Thank you Tania, Yucki, Nash Montana, Richard, M., Wrath of Khan, and a inkarge number of excellent classical-liberals who tirelessly stay on top of events and send them in to us all.
This is a good time to remind new readers, always check the daily links post. There is a great deal more material there, some of which may be important to you.