1. Gunmen open fire at hotel in Egyptian resort of Hurghada
This might be a video of the one captured terrorist that attacked the hotel. (One notices they are hydrating him in the loving manner of a mama bird)
2. Video of muslim shooting police officer and officer shooting back
3. Al-Qaeda threatens to explosions in Madrid, Naples and Rome
USPA NEWS – A new video released by Al-Andalus, the producer of Al-Qaeda in the Islamic Maghreb (AQIM), has alerted the Spanish security forces, after confirming that a Spanish citizen living in Melilla appears in it.
This is Abu al-Nur al-Andalusi, a Spanish citizen living in the North African city of Melilla and Spain fled to join the jihad. The terrorist defines himself as "Mujahedeen" and belongs to a family, several of whose members have been arrested by the Spanish Police for his relationship with radical groups. Abu al-Nur al-Andalusi seized on the video threatening attacks in European cities such as Madrid, Naples and Rome.
The video, which has been analyzed by the company AICS, dedicated to the study of terrorist threats abroad, shows images of terrorist acts and members of a group operating in Mali, in the West African coast, in whose ranks militates Spanish Abu al-Nur al-Andalusi. This terrorist asked last September to the "Muslim brothers in Spain" to abandon their homes and their families for jihad.
4. Toronto Imam: Muslims should hire only Muslims; do business only with Muslims
Shaykh Said Rageah (????? ???? ????) was born in Somalia and in the late 80sn moved to North America. Rageah has a Bachelor's in Islamic studies and a Masters in Shari'ah and he has had several posts over the years, including: founder of Masjid Huda in Montreal and Masjid Aya in Maryland, advisor for Muslim Youth magazine, and member in the Aqsa Association.

He is also the founder of both Muslim Magazine and Al Aqsa Association, and served as the Chaplain at both the University of Calgary and the Southern Alberta Institute of Technology (SAIT). He served as an Imam at the Abu Hurairah Mosque in Toronto, the Chairman for the Journey of Faith Conference and as an instructor for the AlMaghrib Institute.

In a sermon delivered at Abu Hurairah Centre in Toronto (the video was uploaded to YouTube on February 8, 2009), Imam Rageah called on Canadian Muslims to unite and translate their demography into a political and economic power that is necessary to make the government allow Muslims to implement the Islamic Law (Sharia) in their communities and to change the foreign policy.

Rageah spoke in favour of following the example of the Sikh neighbourhood in Edmonton, Alberta, by bringing the Muslim community to live together in one area in which the authorities will not be able to make any decision without the approval of the Muslims.
(We say 'assimilation' but they hear 'As-salam alekum')
5. Sentenced for terrorism in France under investigation in Brazil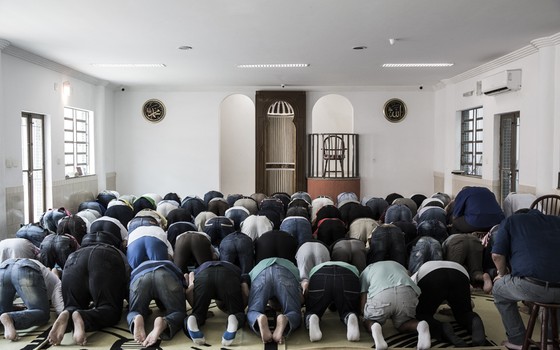 Sentenced for planning terrorist attacks in France in 2009, the French-Algerian physicist Adlène Hicheur is under investigation by the Brazilian Federal Police. Hicheur lives in the South American country since 2013.

Hicheur's case is well known in France. He served three years in prison for exchanging e-mails with a presumed Al Qaeda member and for suggesting possible targets of terrorist attacks. Hicheur didn't deny sending the messages, but claimed at the time that he never intended to actually do anything.

Last October, the Brazilian Federal Police has conducted authorized search and seizure in addresses linked to Hicheur. Both his house and laboratory at the Rio de Janeiro Federal University were searched, in a secret operation organized by the Federal Police antiterrorist squad.
6. Report: Netanyahu to lead effort in thwarting Obama bid for UN chief
Prime Minister Benjamin Netanyahu remembers well just how US President Barack Obama brushed aside Israeli objections and went ahead with the P5+1 nuclear agreement with Iran.

Now, Netanyahu is reportedly planning some personal payback.

According to the Kuwaiti newspaper Al-Jarida, Netanyahu will make common cause with moderate Arab governments in order to sabotage Obama's plan to succeed Ban Ki-moon when the South Korean diplomat ends his term as United Nations secretary-general on December 31 of this year.
( I would doubt this is payback. It sounds like a really good idea not to have Obama in any position of real influence whatsoever. More at the Gateway Pundit)
7. Philadelphia Mayor makes the usual baseless claims about the motive for the attack this morning on a police officer. I hope the officer and his family and union sues the city.
8. Lone wolves – or part of a larger terror problem?
9. More from the Mayor of Philly doing the desperate tap-dance of the Counter Violent Extremism narrative.
Thank you Maria J., M., Wrath of Khan, Gates of Vienna, Buck, Shabnam, Oz-Rita and a long list of wonderful people.