1: Australia cancels one program to try and find illegals living in Ozzie cities.
2. Ezra at The Rebel Media has started a petition to end government funding for muslim only buildings in Toronto. You can add your name here and for those who have not seen his video on it, it can be watched here. It is really very good.
3. 9 civilians killed as India and Pakistan exchange fire over disputed border
Srinagar, India (CNN)India and Pakistan blamed each other Friday for exchanges of fire over their disputed border that killed nine civilians and wounded dozens more.
The violence is the latest flareup along the heavily armed frontier.

Six people were killed and 46 were wounded on the Pakistani side, its military said in a statement.

Three people were killed and eight were wounded on the Indian side, said Pawan Kotwal, a military official.
4. Facebook Must Obey German Law Even if Free Speech Curtailed: Minister
Facebook will have to abide by German laws banning racist sentiment even if it might be allowed in the United States under freedom of speech, Justice Minister Heiko Maas said in an interview with Reuters.

Maas, who has accused Facebook of doing too little to thwart racist and hate posts on its social media platform, said that Germany has zero tolerance for such expression and expects the U.S.-based company to be more vigilant.

"One thing is clear: if Facebook wants to do business in Germany, then it must abide by German laws," Maas told Reuters. "It doesn't matter that we, because of historical reasons, have a stricter interpretation of freedom of speech than the United States does.

"Holocaust denial and inciting racial hatred are crimes in Germany and it doesn't matter if they're posted on Facebook or uttered out in the public on the market square," he added.
(Worrying about pesky details like what comprises 'racism' etc. I guess are things that one worries about later after the tools are in place to shut down anything you call racist)
5. Chad sentences 10 Boko Haram members to death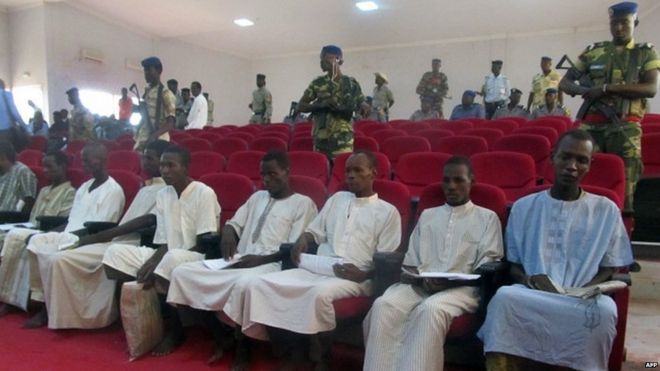 The 10 were convicted over their roles in twin attacks on the capital in June, which killed at least 38.

The attacks were the first by the Nigerian-based group in Chad, which hosts the headquarters of a regional force set up to fight the militants.

In July, Chad reintroduced the death penalty for acts of terror.
6. A highly depressing article by Daniel Greenfield on the Islamic take over of the US via church conversions. Depressing or not, it should probably be read anyway.
7. Virginia killer identified with 911 attackers and other attackers of America.
8. Serbian Minister Bans Anti-Migrant Protests
Nebojsa Stefanovic, Serbia's Interior Minister, on Wednesday banned protests against refugees in Serbia after two far-right organisations, Nasi [Ours] and Srbski obraz, announced a rally next Monday.

The groups denounced what they called "an EU plan" to settle 400,000 migrants in Serbia.

"We will not allow the expression of intolerance and hatred to be something that is characteristic of Serbia. The Ministry of Interior will not allow any meetings against migrants and people passing through Serbia, who were forced to do so because of difficult conditions or war in their country," Stefanovic stated.

He said Serbia was proud of its traditions and would not allow "fascist manifestations".
9. Ghana investigates Islamic State recruitment in universities
IS agents recruited students after urging them to join radical online forums, National Security Coordinator Yaw Donkor told state media.

Mr Donkor confirmed that two Ghanaians had travelled to join IS, the first such cases that have been reported.

Ghana has so far been unaffected by Islamist militancy.
Thank you M., Wrath of Khan, Richard, Krishan B., and all. Working on a few things more.