1. 'Frightened' Britain Cancels Mohammed Cartoon Exhibit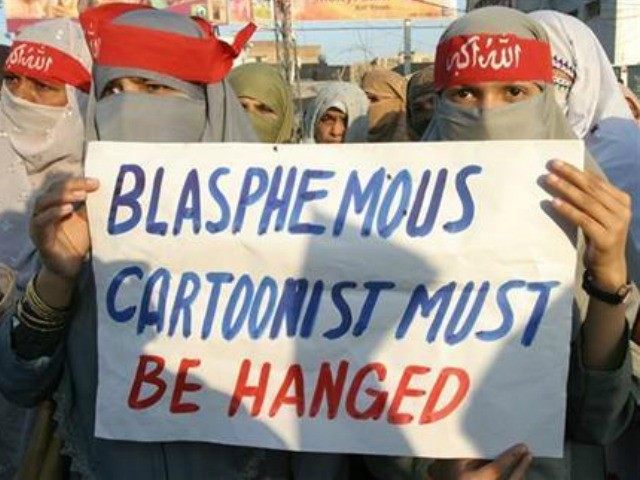 (Does this surprise anyone? Would you have been surprised had the exhibition gone ahead?)
Over the last few weeks, I have had several conversations with both Scotland Yard and counter-terror detectives. My conclusion? That the risk of running this exhibition is simply too high. When setting out to do something like this, one has to be prepared for the possibility of threats, or even violence, but it's easy to underestimate the impact such things will have on the people around you.

There's a very real possibility that people could be hurt or killed – before, during, and after the event. This, together with the fact that our venue had indicated it wanted to pull out citing security and insurance concerns, and given the fear that people were feeling generally, the only responsible thing to do was to pull back and try to learn some lessons. I have not learned lessons as much as I have had my suspicions confirmed. There are two major messages to take on board from this episode: 1) Britain is a frightened nation, and 2) our freedom is not going away, it has gone.
2. Savannah River Nuclear Facility Under Lockdown Amid "Security Event"
(From yesterday, but an important thing to know about if you didn't)
3. French police stoned by migrants near Dunkirk as they chase suspected UK traffickers who had two men in their car boot
4. This amateur analysis of the current left-right divide in Australia as manifested by Anti-fa Vs. Anti-sharia Australian patriots is quite good. It starts out a bit slow and its taking me days to get through it five minutes at a time but it is good and enjoyable overall.
5. Woman 'seen placing bag in Bangkok shrine' minutes before bomb exploded killing 21 – the disaster captured on a mobile phone
(That is basically the only piece of new information in that whole page article)
6. CDC Official Calls Obama "Marxist" And "Worst President We've Ever Had" Over Illegal Aliens: "No Country Would Ever Allow This"
Excerpted from Fox News: A federal health official dealing with the surge of illegal immigrants last year at the southern U.S. border ripped President Obama for the months-long crisis, calling him a "Marxist" and "the worst pres we have ever had," according to newly released internal emails.

The emails, obtained and published by the conservative watchdog group Judicial Watch, show a June 9, 2014, exchange between Centers for Disease Control and Prevention logistics specialist George Roark and agency public health adviser William Adams.
(Audit time?)
7. Islamic State in Afghanistan threatens Turkey.
(But WHY did EuroNews blur their faces?)
8. Second Bangkok bomb puts city on edge
9. ISIS 'Mein Kampf' discovered in Pakistan; promises final solution in 2020
ALEXANDRIA, Va. (Christian Examiner) – The American Media Institute, an independent investigative news agency, has uncovered a secret Islamic State document in Pakistan which the group says bears a striking resemblance to Adolf Hitler's Mein Kampf (My Struggle).

In it, ISIS militants reportedly set six phases of operations leading to the end of the world. Phase six, according to the plan, will begin in 2017, when the group says it will begin subjecting all enemies of the global caliphate and Islam will rule in peace.

The 32-page document is interesting for several reasons. First, it was found in the remote tribal regions of Pakistan – to date, an area not officially considered ISIS territory. Secondly, the document draws a strong connection between the initiation of hostilities with the West by al Qaeda in 2001 and ISIS. In other words, ISIS believes it is continuing the work of al Qaeda's founder, Osama bin Laden.
10. CCTV footage shows Bangkok blast suspect leaving rucksack on bench
11. Clearest video yet of actual blast here. 
12. Iran does an 'art' exhibition of Islamic State atrocities. But take a good look at the installations at about 6 seconds, 27, 36 and a minute 40. See anything that might resemble a theme?
Thank you Buck, M., Richard, Bains and a few other people, I am sorry but I lost track of. Today, the big news really is Quebec's bill 59 which is being debated right now in the Quebec legislature in Quebec city. I will have a LOT on this as the days go by but things are so busy. In fact components for a serious post have been sitting here waiting to be assembled and we want to do a great job on it as its so important, and so consequently, it got backburnered over bombs and the usual horrors which are as important as they are quick and easy to present.
Back in 2014, we actually did do an article predicting this and showing the person is responsible for the most retrograde legal initiative, probably in Canadian history here.
Over the past couple of days, I have been working with a couple of people, most diligently, CB Sashenka, to produce this video which is a part of the story, but does tell you more about who he is.
The National Post did this comprehensive article about this all, here. 
And so did Montreal's The Gazette
At some point I hope a proper dedicated post gets made here at Vlad that gives this the detail and explanation that this deserves. But for the moment, anyone who is interested in understanding the state of the Enlightenment, of the most basic right of criticism of religious and political authority, needs to check all the materials out posted above and which relate to this issue.
My dearest readers…
This is no small thing.
Eeyore for VladTepesBlog