1. Boko Haram murders around 150 people fleeing their rule
The residents were fleeing Boko Haram gunmen who raided a remote village in the north east last week
Dozens of militants arrived on motorcycles and a car on Thursday last week and opened fire, scattering terrified residents of Kukuwa-Gari.
"They opened fire instantly, which forced residents to flee. They shot a number of people. Unfortunately many residents who tried to flee plunged into the river which is full from the rain. Many drowned," Modu Balumi, a resident of the village told AFP.
"By our latest toll we have 150 people either (shot dead) or drowned in the attack. The gunmen deliberately killed a fisherman who tried to save drowning residents of the village."
(Nothing wrong with this guy at all)

2. 'Frightened' Britain Cancels Mohammed Cartoon Exhibit
(Proving something that in days of reason and logic was clear to all, but now generates disdain to contempt from contemporary Canadians, there simply is no first amendment without a second one. For non Americans, there is no right of free speech if the people are not allowed to use arms to defend that right. Witness the only place where the cartoon exhibit happened with no bad result was Texas. Everywhere else, it will be cancelled or the people involved will be slaughtered.)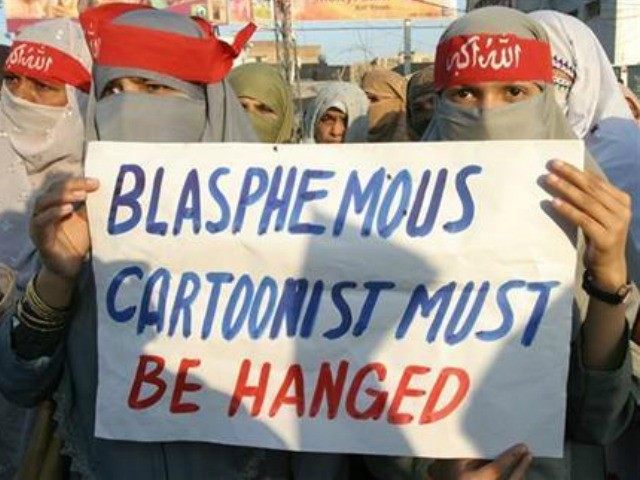 (Article at Breitbart written by Anne Marie Waters, the organizer of the event)
3. Danish politician found guilty of racism on Twitter
The Danish People's Party councilor in Gladsaxe, Mogens Camre, has been convicted of racism in the Court of Glostrup, the Danish newspaper Politico reports.

The court sentenced Camre to pay 10 daily fines of 800 DKK., so he will in total have to pay 8,000 DKK (1186 USD).

However, Camre refuses to acknowledge the sentence and has instead chosen to appeal to the High Court.

The DF-politician wrote on Twitter last July that "Muslims continue where Hitler stopped. Only the same treatment that Hitler got will change the situation. "

The Tweet had two people to report the former MP of racism, and the Court in Glostrup chose to follow the prosecutor's demand of daily fines.

In court Mogens Camre explained that the message on social media was not intended sent out to a wider audience, but the explanation did not appeased the court.
(There are two seriously fundamental problems with this judgement. 1. In a democracy, truth must be considered the ultimate defense. 2. Freedom to criticize ideology, religious or political authority is necessary for a democracy. Something really rotten is going on with many mid to high level bureaucrats who seem to flaunt these basics with skillful malice f forethought)
4. Iran Threatened 'Harm' to Top Nuke Inspector to Prevent Disclosure of Secret Deal
Iranian leaders prevented a top International Atomic Energy Agency (IAEA) official from disclosing to U.S. officials the nature of secret side deals with the Islamic Republic by threatening harm to him, according to regional reports.

Yukiya Amano, IAEA director general, purportedly remained silent about the nature of certain side deals during briefings with top U.S. officials because he feared such disclosures would lead to retaliation by Iran, according to the spokesman for Iran's Atomic Energy Organization (AEOI).

Amano was in Washington recently to brief members of Congress and others about the recently inked nuclear accord. However, he did not discuss the nature of side deals with Iran that the United States is not permitted to know about.
5. Obama Allows Chinese Communist Police to Operate in America
(I can't see any problems with this at all)
The F.B.I. and the Department of Homeland Security are in charge of tracking the activities of foreign government agents inside the United States, and American officials said that both agencies had amassed evidence about the Chinese law enforcement agents by speaking to Chinese expatriates and by monitoring the agents themselves.
6. Armed Citizens Protect Oktaha Family After Threats Over Controversial Sign
NewsOn6.com – Tulsa, OK – News, Weather, Video and Sports – KOTV.com |
OKTAHA, Oklahoma –
A group of armed private citizens says it's protecting the owners of an Oktaha survivalist shop and gun range after they put up a sign saying their store is a "Muslim-Free Establishment."

The store owners said their family started receiving threats when the sign controversy became a global story.

Now the group is providing security for the owners and the business, saying their constitutional rights came under attack. Some of the volunteers are even camping out overnight
Thank you Buck, M., Richard, Gates of Vienna and so many more.
Each of these stories, frankly pretty much everything posted at Vlad today is deserving of, and needing a proper analysis. Things that would have occupied a week's worth of news shows, editorials and late night TV pundits now happen at such a dizzying rate we barely have time to interview law abiding citizens before they are rushed off to jail, fined exorbitantly, or killed for a thought crime. This last story especially. Gun store owners have even more right of freedom of association than regular citizens. They have a right to refuse service to anyone for any reason. On the merest suspicion that the person has bad intentions in mind with their products. Refusing to sell weapons to muslims given the threat doctrine of Islam seems not just not-unreasonable but should probably be a national  law. Also the 2nd Amendment specifies the right to bear arms for the purpose of forming a militia. Clearly that is what these people did. Yet we can all guess how it will play out.
The only ones with the weapons will be the most determined of jihadis. The rest of us will be defenseless, and hence without rights as we see in most of Europe today.
Afterthought: Who is responsible for the rise of the Islamic State? The real answer is Islam. But this isn't bad either.