1. A car jacking in Johannesburg
(At this point it wouldn't surprise me if the South African Government posted this video under 'adventure travel' on their tourism site)
2. U.S. Supreme Court rules for Muslim woman denied job at clothing store
The U.S. Supreme Court on Monday ruled in favor of a Muslim woman who filed a lawsuit after she was denied a job at an Abercrombie & Fitch Co clothing store in Oklahoma because she wore a head scarf for religious reasons.
(I wonder if the Supreme Court will also force customers to decide who they have to buy from and who they may wish to avoid. Will Jewish customers have to buy from people in Nazi Uniforms? If not, in what substantive way is muslim religious clothing different in its statement of intentions and preferences from a Nazi uniform?)
3. Australia: There have been clashes recently between self named 'anti-racists' and presumably some form of Ozzie nationalists. Will get details. Below is video of some of the clashes.
4.  Egyptian judges: We are being targeted
5. Sharia police in Raqqa
6. Terror trial collapses after fears of deep embarrassment to security services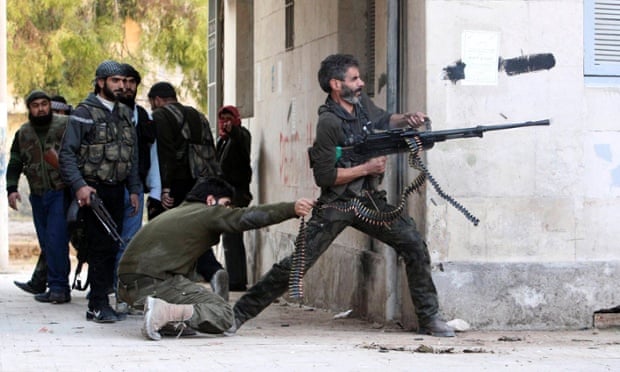 Swedish national Bherlin Gildo's lawyers argued British intelligence agencies were supporting the same Syrian opposition groups as he was

A Free Syrian Army fighter fires his weapon during clashes in Aleppo. The Old Bailey was told by the crown that there was no longer a reasonable prospect of a prosecution. Photograph: Muzaffar Salman/Reuters

Richard Norton-Taylor

Monday 1 June 2015 14.33 BST

The prosecution of a Swedish national accused of terrorist activities in Syria has collapsed at the Old Bailey after it became clear Britain's security and intelligence agencies would have been deeply embarrassed had a trial gone ahead, the Guardian can reveal.
7. South African families among ISIL's newest recruits
Johannesburg, South Africa – At least 23 South African citizens have travelled to Iraq and Syria to join the Islamic State of Iraq and the Levant group (ISIL), raising concerns of recruitment activity among the country's sizable Muslim community, an Al Jazeera investigation has revealed.

Various sources have confirmed with Al Jazeera that at least 23 people, including families with children, have left South Africa to join ISIL over the past year. At least eight families are believed to be among the recruits.

Some of the affected families have reacted with shock and confusion to the defection of their relatives.

An official in the Turkish foreign ministry, who asked to remain anonymous because they are not authorised to speak to the media, confirmed that around a dozen South Africans were detained and subsequently deported to South Africa for attempting to reach ISIL territory last month.
8. Undercover DHS Tests Find Security Failures at US Airports
An internal investigation of the Transportation Security Administration revealed security failures at dozens of the nation's busiest airports, where undercover investigators were able to smuggle mock explosives or banned weapons through checkpoints in 95 percent of trials, ABC News has learned.
9. Qatar sues French politician over 'terror' claims
(This could be very interesting if the French take it seriously. The evidence that Qatar does indeed sponsor terrorist groups and actions to a very high degree is pretty strong)
10. Turkey's Erdogan is quite upset about the story broken a few days ago in Turkish and as far as we know, was broken first here in English about his secret weapons program to the the Islamic State. Here is a link to the article in English and there is a video of him in Turkish where I think he vows to get the journalist at the Turkish daily. We are working on that now.
Thank you Antikythera, Wrath of Khan, M., AM., and all. The temperature is rising now everywhere.