1. Ted Cruz announces his candidacy
(Personally I think its a huge mistake for a serious candidate to announce this early. The Democrats will eat him alive with the time they have. Remember how they operate. Ad-Hominem, attack, deceive, call into disrepute etc. It doesn't matter if its true or not. Look at what they did to Sarah Palin while managing to get a guy elected to president who had no executive experience whatsoever and sealed all his records. The GOP should field a few decoys and announce the real anointed one at the last possible minute)
2. Afzal Amin quits as Tory candidate for Dudley North after EDL plot allegations
Afzal Amin, the Conservative candidate who was recorded allegedly plotting with the English Defence League, has resigned "with immediate effect" to avoid a disciplinary hearing by the party.

Grant Shapps, the Tory chairman, welcomed the decision by Amin, who said earlier in the day that he was planning to mount a "robust defence" after claiming he was the victim of an EDL sting operation.

A Conservative party disciplinary hearing, which was due to hear from Amin on Tuesday, will not take place. Tory sources had said that evidence against Amin was so overwhelming that he would be removed as the party candidate in Dudley North in days.

The Mail on Sunday reported that Amin discussed with the EDL a plan to march against a planned mosque in the constituency that would then be called off. (More here as well)
(Couldn't happen to a nicer guy)
3. Palestinian Journalist Chronicles Brutal Life of Muslim Sister Wives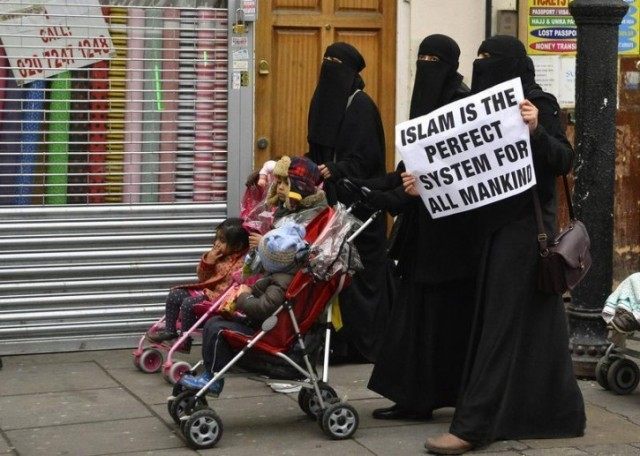 Becoming the second wife is the worst decision that a woman can make. She will always live with the guilt of taking what was not hers. In most instances, the second wife discovers that 90% of the things her husband told her about his circumstances and his first wife were lies.

Another woman, a first wife, describes the enormous "pain and humiliation" that she felt when her husband sprang a second wife upon her.
4. Burqa-clad suicide bomber kills provincial Afghan police chief
A suicide bomber wearing a burqa blew himself up in the Afghan capital Kabul, killing an influential provincial police chief, officials said Thursday.

The Taliban immediately claimed responsibility for the death of Matiullah Khan, head of police in central Uruzgan province, where he had worked closely with NATO troops during their combat mission.

Afghanistan's interior ministry said in a statement that a "terrorist clad in a burqa" had killed Khan and strongly condemned the murder.

General Farid Afzali, head of the criminal police in Kabul, confirmed to AFP the attack, which took place late on Wednesday.
5. Three men charged with sexual assault of 14-year-old Calgary girl
(Why do I dread the phrase, 'tip of the iceberg' all of a sudden?)
It's alleged the 14-year-old girl was sexually assaulted by each of the men at separate times.

The allegations were brought forward to police in August of 2014, at which point officers launched an investigation to determine who the offenders were.

Police have charged 22-year-old Abas Ahmed Ibrahim (also known as Maxboy or Moe), 21-year-old Omar Kromah (also known as Nef) and 24-year-old Zakariya Mohamed Abdow (also known as Slickthug or Slimthug) with sexual assault, sexual interference with a child under 16 and invitation to sexual touching.
6. BBC report on the murder of the Afghan woman in Kabul.
(It was fairly matter of fact. I cannot find overt fault with this presentation other than in the improper impression it creates. Someone should point out the irony that she was murdered for defending the most oppressive set of laws and rules for women in human history and was likely studying to teach those very rules by which she was clearly killed legally under the sharia)
7. If there is anyone who reads this site who is not yet convinced that the conscious, non-accidental leftist quite specifically wants to tear down civilization and all it has created, have a look at this Facebook site by a feminist group.
For those with any uncertainty about the science behind what this potentially genocidal campaign might achieve I suggest reading, at least as a first step, this article on Herd Immunity.  And for those that cannot see Facebook links, the photo in the link is here. For more laughs in that Scary Movie 3 sense, check out their page.
Thank you M., Richard, Yucki, ML., Dagawker and all.