1. 'Last Jew in Pakistan' Beaten by Muslim Mob – Then Arrested
Fishel Benkhald, who is leading a campaign to restore Karachi's Jewish cemetery, attacked after agreeing to debate over minority rights.

Fishel Benkhald after being attacked
Fishel Bennkhald
A Jewish activist in Pakistan was savagely beaten by a Muslim mob Wednesday – and then arrested and roughed up again by police.

Fishel Benkhald – who is leading a one-man campaign to preserve the old Jewish cemetery in Pakistan's largest city, Karachi – has been a vocal activist for minority rights in the country, which is overwhelmingly Sunni Muslim and where minorities such as Christians, Hindus and non-Sunni Muslims are routinely persecuted.

Speaking to Arutz Sheva Thursday, Benkhald – the son of a Muslim father and a Jewish mother, but who identifies as Jewish – told how he had agreed to a face-to-face debate with a Muslim Pakistani man after a discussion on the topic of minority rights on Twitter.
2. Most interesting links between Amnesty International and CAGE linked to 'Jihadi John'.
In the past decade or so Amnesty has widened its brief from human rights and torture into such matters as how to reduce poverty and limit the arms trade. (By contrast, Human Rights Watch, a pre-eminent New York-based monitoring group, has stuck closely to the mission for which it is named.) Amnesty has forged alliances and shared platforms with groups which do not necessarily share its original aims.

Controversy over Amnesty's relations with Cage goes back five years, when Gita Sahgal, a senior figure in Amnesty, was sacked for criticising her organisation's close ties to Moazzam Begg, a British former detainee of the Americans in Afghanistan and then in Guantánamo, and a director of Cage (formerly Cageprisoners).

Cage describes itself as "an independent advocacy organisation working to empower communities impacted by the war on terror." Ms Sahgal, however, has long argued that Cage is by no means a human-rights group but a promoter of violent jihad against the West and against non-Islamists in general. She has derided a claim by another former senior Amnesty figure a few years ago that Cage's promotion of "defensive jihad" is "not antithetical to human rights".
3. ISIS bulldozes ancient Assyrian city of Nimrud in Iraq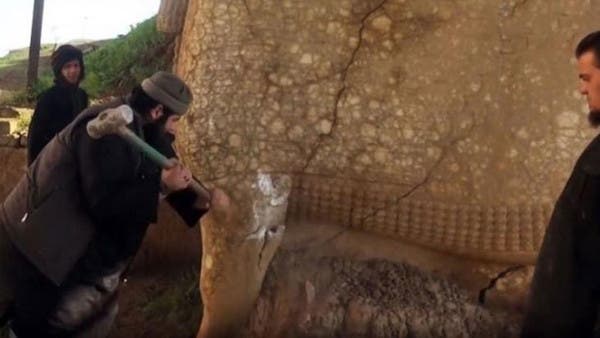 The Islamic State of Iraq and Syria (ISIS) group began bulldozing the ancient Assyrian city of Nimrud in Iraq on Thursday, the government said, in the jihadists' latest attack on the country's historical heritage.

ISIS "assaulted the historic city of Nimrud and bulldozed it with heavy vehicles," the tourism and antiquities ministry said on an official Facebook page.

An Iraqi antiquities official confirmed the news, saying the destruction began after noon prayers on Thursday and that trucks that may have been used to haul away artefacts had also been spotted at the site.

"Until now, we do not know to what extent it was destroyed," the official said on condition of anonymity.
(Understanding islam is easy. Just think of the most vile, awful, anti-human, anti civilization things you can and put them all together and you will be nearly exactly right)
4. McGill University gym women-only hours proposal causes uproar
When student Soumia Allalou, 23, decided to get back into shape, she contacted the university's gym and asked when women-only hours were. She was surprised to find that there was no such thing.
"Personally I prefer to work out in a women-only environment. I just kind of assumed they would have women-only hours. I asked them if there was a project for that in the works and they said that they didn't think so," said Allalou, who wears a hair covering and cites religious reasons for her preference. She took to Facebook to voice her concerns.
5. Noam Chomsky, a person who I thought had become so irrelevant that no one really gave a fig what he thought about anything as its so damn predictable, feels that all the islamic terror we have seen is indeed because of oppression, poverty and all the usual Marxist distractions from reality as we might expect from him.
6. Saudi Arabia Facebook Arrest: Religious Police Detain Indian Citizen For 'Offensive' Hindu Mecca Photo
An Indian citizen has been arrested in Saudi Arabia for allegedly posting offensive religious images on Facebook, Gulf News reported on Tuesday. The man was detained by Saudi religious police after reportedly posting a photo of Mecca's Grand Mosque and its iconic black "Ka'aba" cuboid replaced with Hindu religious symbols.

A Saudi national reportedly alerted the country's religious police, officially known as the Commission for the Promotion of Virtue and the Prevention of Vice, after seeing the image, which prompted an investigation, according to Gulf News. The man accused of posting the photo was arrested at the airport by police under the country's anti-cyber crime law, which bans the promotion of offensive pictures.
(In keeping with the modern tradition of submitting to islamic sensitivities by the world's media, the IB Times does not have the offensive photo in question in their article. The IB Times like everyone except possibly the Daily Mail, is determined to send humanity back to the drag ages.)
7. Islington knife murder of cyclist, 15, caught on CCTV
Police have released CCTV footage of the moment a 15-year-old boy was fatally stabbed while he was cycling with friends.
Alan Cartwright, from Islington, north London, was attacked near Copenhagen Street in the borough, last Friday.

The teenager managed to cycle away but collapsed on nearby Caledonian Road and was pronounced dead at the scene.
(Video at site)
8. Channel4 explains that Jihadi John was a great guy till someone said an unkind word to him or didn't give him the right kind of X box on a birthday and so thats why he went to jihad.
9. This is just great. You have to watch it to get it. No amount of description could ever do this justice.
10. This seems to be a well written and fairly complete explanation of islam and its ambitions by someone raised in Egypt and experienced the transformation of that country into a pure Islamic" one right before her eyes. This is one of those things you may want to keep the link and download to send to people who might just be starting to be open to understanding this issue.
Thank you Draculea, M., Bear, Wrath of Khan, Tasha Car and so many more. Still a long way to go to catch up. Thank you all for sending in so much important material and great comments on it.