The cost of pretending that Islam is not the problem grows, the cost of pretending islam is the religion of peace grows and the cost of pretending anything you want to be true but is not true will always grow in direct proportion to the degree of divergence from what is true, to what you wish was true. This is a general truism. But applied to islam and multiculturalism, the cost becomes unbearable quickly.
I will add updates to THIS POST for the next few hours. Please refresh your browser and scroll below what you have seen before for the newest items.
1. There have already been many Canadian islamic leaders who have come out in the
shadow of the attacks in France to use the blood of actual martyrs, real martyrs like the dead at Charlie Hebdo who died defending our rights, to demand that offensive images to muslims be made illegal. They do it while pretending to condemn the attacks yet capitalizing on them in exactly the way the attackers want. Make no mistake. This man is a classical enemy to our civilization in no way less than or different than Nazis, Soviet communists, North Korea etc. This man seeks to destroy our culture, value and freedoms and is doing it from inside and on our tax dollar.
2. There are two distinctly different hostage events in Paris right now. One at a Kosher grocery, and another at a printing business. We don't know if the printer is Jewish or not.
3. REPORT: Trocadero Square Evacuated Near EIFFEL TOWER – Reports of Armed Incident
(CFRA RADIO reported something vaguely like this an hour ago as well)
The police are waving people away from Trocadero Square.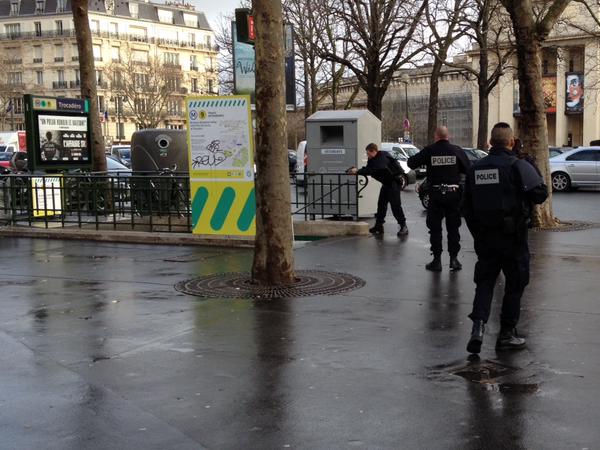 5. French police have ordered ALL JEWISH BUSINESSES to close in an area of Paris far from the attack areas. CFRA
5. The hostage takers are threatening to kill the captives if police storm the factory where the Charlie Hebdo killers are holed up.
(Hey France. How's that gun control working for you?)
Hostage takers holding at least six people at a Paris kosher supermarket are demanding freedom for the cornered brothers suspected of the Charlie Hebdo massacre.

Gunfire and explosions rang out in Dammartin-en-Goele, on the outskirts of Paris, where the two brothers are holed up with a hostage.
(I guess martyrdom doesn't look quite as good when you see it out the window)
6. This live stream of events in Paris may not require a VPN
7. Meagan Kelly and Ayaan Hirsi Ali on the Paris attacks
8. CFRA is reporting that the AP claims all 3 hostage takers are now dead
Links for that:
Thank you Wrath of Khan, WTD, Ox AO., M., more to come