1. British woman, in argument over illegally  parked Gypsy trailer, fined a pile of cash for racially insulting them back.
Former Sunday school teacher and community stalwart José Hampson claimed she was sworn at and intimidated when she backed her Jaguar through the gates of their camp to turn it around.

But the respected toyshop owner was fingerprinted and ordered to provide a DNA sample after the gipsies told police she had shouted racist abuse at them.
2. Anyone who thinks that Islam is friendly to other religions or ways of life should really have a look at this 4 min video  of fairly pedestrian orthodox Islamic prophesy. Notice what 'dropping the Jizya' means. It is not dropping the requirement for non-muslims to pay it but dropping the option to pay it and offering only death or conversion to Islam.
3. Montreal convention centre cancels Muslim conference, citing security concerns
  The Parti Quebecois government, which wants to introduce a new secular charter this fall, had asked Ottawa to block some of the conference's speakers from entering the country.

In a letter to her federal counterpart last week, Quebec's minister responsible for the Status of Women, Agnes Maltais, said some of the speakers were circulating ideas that violated the "principles of equality."
4. Finland: Christian church premises stained with slogans glorifying Islam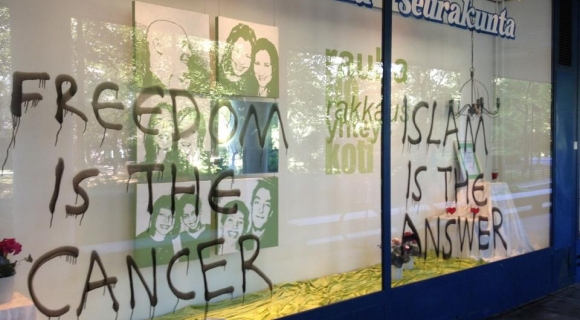 Seurakuntalainen: The premises of the Helsinki, The Living Word church has been the target of long-term vandalism. The windows of the church's assembly have been repeatedly defaced with texts idealizing Islam.

The public spaces of the Helsinki Living Word Church has been vandalized during August, at least three times. The windows of the church premises are painted with slogans glorifying Islam and criticizing Western culture and values. The incident was first reported on Nuotta.com.
5. Quebec's attempt at cultural self defense generating some news.