The Guardian:
Shooting of six female aid workers and a male doctor appears to be latest attack by militants on public health teams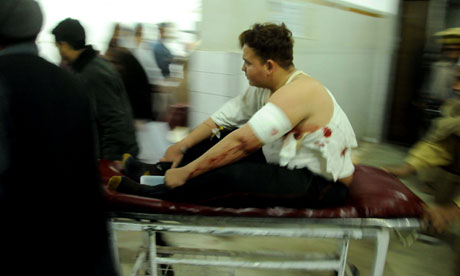 Jason Burke, South Asia correspondent
Gunmen have killed six Pakistani female aid workers and a male doctor in what appears to be the latest attack by Islamic militants on teams involved in public health campaigns.
Recent days have been violent in the troubled country, with dozens dying in a string of terrorist attacks. Analysts blame many of the strikes on militant groups keen to demonstrate their ability to cause casualties and destruction after the government rejected the Taliban's call for ceasefire negotiations late last month.
"They are signalling to the people that the pain they are suffering is in fact the government's fault because their offer of peace was rejected," said Ejaz Haider, of the Jinnah Institute, a thinktank in the capital of Islamabad. "There is likely to be more violence as they ramp up their campaign in coming weeks."
The militants have been stung by a loss of public support following indiscriminate attacks last year, a lack of economic development in the areas where they are strong, deals concluded by the authorities with some major local extremist commanders, and ongoing strikes by US drones.
Click to continue: