No wonder the BBC is so sympathetic with Islam. On the other hand, it's a surprise that they aren't hostile as they are all competing for the same twisted sick perversion.
Broadcaster accused of three offences committed between 1974 and 1984 involving girls aged between eight and 17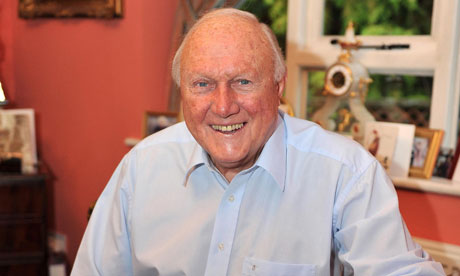 Stuart Hall at his home in Cheshire: the broadcaster has been charged with three offences of indecent assault. Photograph: Martin Rickett/PA
The veteran BBC commentator Stuart Hall has been charged with three counts of indecent assault which date back to the 1970s and 1980s.
The former It's A Knockout presenter, 82, was arrested on Wednesday morning and later that day charged with sex offences.
It is alleged he abused three girls aged between eight and 17 years between 1974 and 1984, according to the Crown Prosecution Service. Hall was released without charge on an allegation of rape and a further allegation of indecent assault but bailed to appear before magistrates on the other charges in Preston on 7 January 2013.