Tensions rise between Muslim and Christian communities amid claims that 11-year-old desecrated text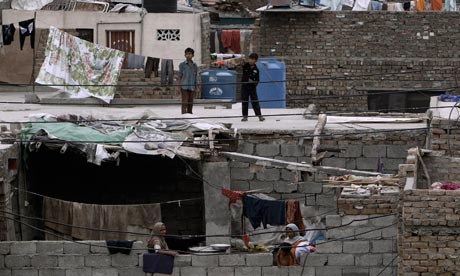 A Christian neighborhood in Islamabad. Around 900 Christians living on the city's outskirts have been ordered to leave. Photograph: Muhammed Muheisen/AP
An 11-year-old Christian Pakistani girl said to suffer from a mental disorder could face the death penalty under the country's notorious blasphemy laws, after she was accused by her neighbours of deliberately burning sacred Islamic texts.
Rifta Masih was arrested on Thursday, after complaints against her prompted angry demonstrations, and Asif Ali Zardari, the president, has ordered the interior ministry to investigate the case.
As communal tensions continued to rise, around 900 Christians living on the outskirts of Islamabad have been ordered to leave a neighbourhood where they have lived for almost two decades.