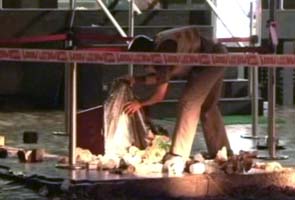 Pune: Pune this evening saw four low-intensity blasts in a span of nearly 40 minutes on its busy Junglee Maharaj Road in the heart of the city. Two other bombs have been defused by the Anti-Terror Squad. All the bombs were placed within a kilometre. At least one person has been injured. He has been taken into custody.
Home Secretary RK Singh told NDTV that the injured person is being treated as suspect and questioned by the police. Mr Singh also said that a terror angle cannot be ruled out as it appears to be a planned attack.
Sushil Kumar Shinde, who took over today as India's Home Minister, was scheduled to be in the city tonight to preside over a prize-giving ceremony. He cancelled his plans at the last minute. "The blasts were of low-intensity. I was supposed to be at the Tilak Theatre, very near to where one of the blasts took place. At this moment, I cannot say anything more. It is now a matter of inquiry, " he told reporters in Delhi.