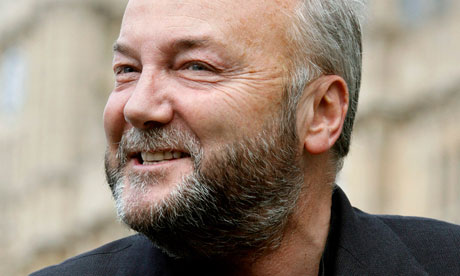 Press TV: George Galloway is the channel's best-known UK contributor. Photograph: Alessia Pierdomenico/Reuters
Press TV, the Iranian state broadcaster's English-language outlet, has been forced off the air in the UK after Ofcom revoked its licence for breaching the Communications Act.
Ofcom found that Press TV's practice of running its editorial oversight from Tehran, Iran's capital, is in breach of broadcasting licence rules in the UK.
"Ofcom has decided to revoke the licence held by Press TV Limited with immediate effect," the media regulator said in a statement.
Ofcom wrote a letter to Press TV in November highlighting the issue and offered a choice of two remedies.
The first was to switch editorial control for Press TV's programming to the UK, the second to transfer the broadcasting licence to Iran.
"Broadcasting rules require that a licence is held by the person who is in general control of the TV service: that is, the person that chooses the programmes to be shown in the service and organises the programme schedule," Ofcom said.