Rajid Karim, an IT expert and a disciple of an extreme Islamist cleric, joined the airline in order to blow up a plane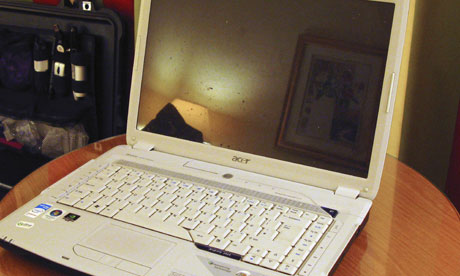 Police took months to break encrypted messages on Rajib Karim's laptop computer. Photograph: PA
A disciple of an extremist Islamist cleric, who got a job at British Airways to plot terrorist attacks, has been jailed for 30 years.
Rajib Karim, 31, a follower of the Yemen-based Anwar al-Awlaki, used his position as an IT expert with the airline to try to help stage attacks on the west. Karim was convicted earlier this month at Woolwich crown court of terrorist offences including plotting to blow up an aircraft.
Awlaki is believed by western intelligence agencies of being behind several terrorist plots against the US and Britain and is leader of al-Qaida in the Arabian Peninsula.
Mr Justice Calvert-Smith told Karim that he "worked incessantly to further terrorist purposes" while leading a quiet and unobtrusive lifestyle.
The judge said: "The offences were of the utmost gravity. You are and were a committed jihadist who understood his duty to his religion involves fighting and dying and then being rewarded in the afterlife."
He added: "None of those who worked with you at British Airways had even the slightest notion of what was going on."
The defence counsel, James Wood, said Karim's actions were "wholly embryonic" and that there was little certainty about what would have transpired.
The judge said he accepted that Karim was more of "a follower than a leader". But he went on: "Had the necessary infrastructure been put in place by others, he would have felt it was his duty to carry out jihad. I have to sentence on the basis that he meant what he said."
The judge recommended that Karim be automatically deported to his native Bangladesh after completing his sentence.
Karim was found guilty of preparing for terrorist attacks, including conspiring with Awlaki, who is on the run. Karim plotted to blow up an aircraft, shared information of use to Awlaki and offered to help financial or disruptive attacks on BA.
Police took months to break encrypted messages on his computer. They found he had been in direct contact with Awlaki, who is accused of having links to the attempted bombing of a plane over Detroit during Christmas 2009 and an attempt last year to explode printer cartridge bombs on freight planes heading to the US.
In September 2007 Karim became a graduate IT trainee with BA. Police described his computer encryption as the most sophisticated they had seen in a terrorist case. It took nine months to crack Karim's home computer, with one detective comparing it to "Russian dolls".
The trial heard Awlaki had emailed Karim asking: "Is it possible to get a package or person with a package on board a flight heading to the US?"
He also tried to exploit a strike at BA to try to get a posting as cabin crew and told Awlaki he was attempting to recruit sympathetic airport workers.