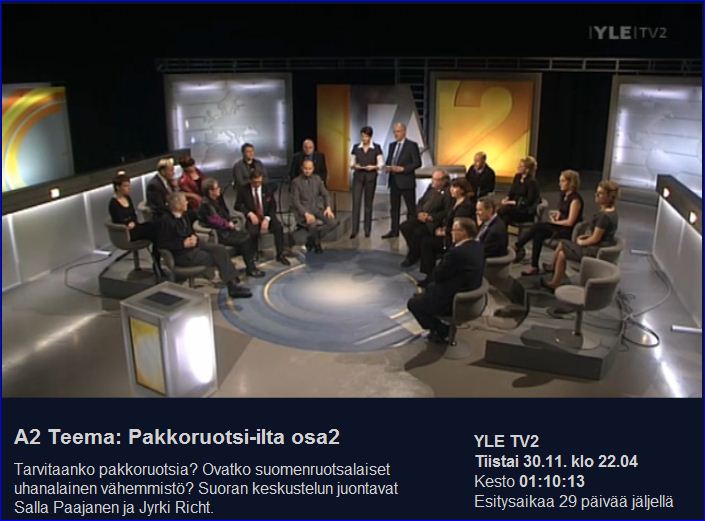 The Finnish state broadcaster YLE2 this past Tuesday (30.11.2010) aired a live broadcast of a studio discussion group on "mandatory Swedish", a topic that flares up now and then in the Finnish media. Swedish was made the 2nd official language of Finland and its status is recognized in the Finnish constitution. In the 70?s the learning of the Swedish language was made compulsory in schools, so the language of 5% of the Finnish population was forced upon the remaining 95%, and the angst over that decision has remained ever since.
The fact remains that there exists two distinct identities in Finland, predictably, based upon the languages of both groups. Such "identity" tension will always remain between the two groups because each side will always act, in what's deemed to be, in their own self interests. It's a highly logical, and as I said earlier, a predictable outcome.
Now add to that mix the thought of increased mass numbers of immigrants with a plethora of languages who will be demanding their own rights to use their own languages in Finnish society. But the Finnish-Swedish speakers have a plan, a few of their number (in the live broadcast) announced their party's intention to grab as many foreigners as possible and steer them into speaking Swedish. They made a case for the Finnish government to get involved and make it possible for immigrants to choose which language to study and to identify themselves with.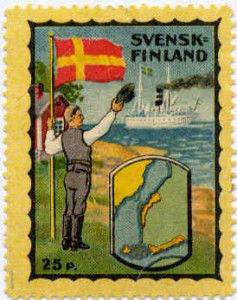 One of the Finnish-Swedish participants mentioned the fact that in the late 1800?s, Jews who were allowed to immigrate to Finland by the Russian Czar, learned Swedish, so there's history on their side of immigrants learning Swedish and integrating into society. But what was left unmentioned, was these Jews spoke Yiddish, a dialect of German and they found it much easier to learn than the host language (at first), and that every Finnish Jew is now fluent in three languages, Finnish, Swedish and English.
It's just in the coastal areas of Finland and in the island archipelago of Åland that Finnish-Swedes are not learning Finnish, and for the most part, have a completely different identity to that of the Finnish speakers that make up 95& of the country. So now the party of the Swedish speaking minority is actively trying to pull immigrants to its party which explains the the Swedish speaking Minister of Immingration and of Europe, Astrid Thors, actions over the last few years.
This is bound to drive an even deeper wedge between the Swedish speakers and the majority of Finnish speaking Finns. It just highlights the fact that different language groups will do whatever possible in securing their future, which creates in the end, a divided society with competing goals. Hardly a recipe for a cohesive, functioning society. The video of the event (in Finnish) is still available here, for the next 30 some days. KGS
Finn-Swedes as a percentage of the Finnish population

NOTE: If multiculturalism fails miserably to produce a joint identity with people of shared history, how in the hell is it going to work with vast numbers of immigrants coming from the Middle East?
Some Swedish-Speakers 'Foreigners' in Own Country
Though not always in the public eye, Finland is home to many Finns who face a linguistic barrier in many aspects of their daily life. Some of the country's 300,000 Swedish-speakers don't speak any Finnish at all, leading to an array of difficulties.
Within the Åland Islands, Ostrobothnia and the Turku archipelago, there are pockets where Finnish is hardly spoken and society is wholly Swedish-speaking.
In the autonomous Åland Islands, situated between Finland and Sweden, pupils are not required to study Finnish.
Felix Wrede, originally from the Åland Islands, is finishing his senior high school year in the officially bilingual city of Turku. Although his school is a Swedish one, he has realised he needs more than Swedish to get by in town.
"It's generally possible to speak Swedish with officials, but in shops you need to speak English or Finnish," says Wrede.
The level of Swedish-language public services has weakened in recent years. For example, in some central parts of the country, the Social Insurance Institution of Finland (Kela) sends Finnish-language letters to Swedish-speaking households.
Wrede plans to begin medical studies after high school. He'll likely study at the University of Helsinki–a bilingual institute. Although he is learning Finnish, he still prefers to patron restaurants and shops that service customers in Swedish.