And like Canada, you can bet that she or we, would be treated more harshly by the police for defending ourselves than the intruders would for robing, terrorizing, beating or raping us. The fact is, if we were allowed to have a defencive weapon at home and taught how to use it, the number of intruders would drop dramatically. That and of course, stop importing people for whom a British or Canadian jail is a nicer place than life for them on the streets back where they came from.
Eeyore for Vlad
Police tell TV presenter she was acting illegally in waving kitchen knife at youths who were peering in window late at night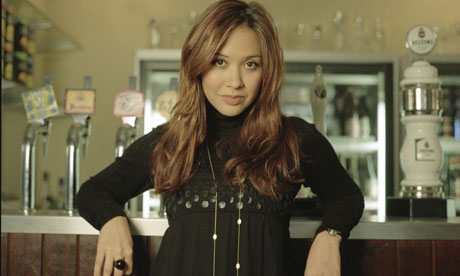 Myleene Klass is said to be 'aghast' after receiving a police warning for using a kitchen knife to scare intruders at her Hertfordshire home. Photograph: Richard Saker
The TV presenter and Marks & Spencer model Myleene Klass has been warned by police for waving a knife at teenagers who were peering into a window of her house late at night.
Klass was in the kitchen with her daughter upstairs when she spotted the youths in her garden just after midnight on Friday. She grabbed a knife and banged the windows before they ran away.
Hertfordshire police warned her she should not have used a knife to scare off the youths because carrying an "offensive weapon", even in her own home, was illegal.
Klass's spokesman, Jonathan Shalit, said the former Hear'Say singer was "utterly terrified" by the intruders and "aghast" at the police warning. "All she did was scream loudly and wave the knife to try and frighten them off," he told the Sunday Telegraph. "She is not looking to be a vigilante, and has the utmost respect for the law, but when the police explained to her that even if you're at home alone and you have an intruder, you are not allowed to protect yourself, she was bemused."
The warning issued to the model comes after a pledge by the Conservative party last month that they would make it more difficult for people who tackle burglars to be prosecuted.
The shadow home secretary, Chris Grayling, spoke out after Munir Hussain was jailed for beating a man who tied up his family in their home. He and his brother used a cricket bat to beat one of the intruders, who was left with a permanent brain injury.
A spokeswoman for Hertfordshire police said no reference was made in the Klass incident report about a weapon. She said the incident was being treated as trespass and "words of advice were given in relation to ensuring suspicious behaviour is reported immediately".
Klass, whose fiance, Graham Quinn, was away on business at the time of the scare, plans to step up security at the property, near Potters Bar.