Taliban suspend peace talks with Pak govt
Press Trust of India, Monday April 27, 2009, Islamabad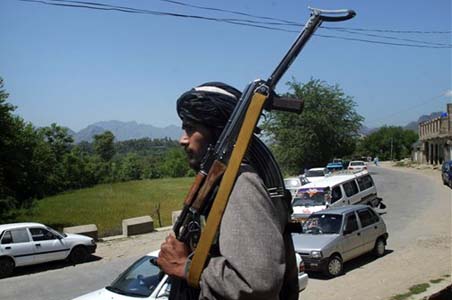 Taliban on Monday suspended talks with the Pakistani government on the Swat deal to protest against the military operations in Dir, adjoining Swat Valley, in which so far 30 militants and an army officer have been killed.
As the Pakistani forces intensified the operations for second day on Monday, Tehrik-e-Nifaz-e-Shariah Muhammadi spokesman Izzat Khan told reporters that no peace talks would be held with the government unless the security forces halted the operations.
Taliban spokesman Muslim Khan also said the militants will not lay down their arms at any cost. The Swat peace deal stipulated that the militants would lay down their arms once the demand for enforcing Islamic Sharia law in the once Pakistan's famous tourist resort was implemented.
The security forces continued shelling militant hideouts at several places in Dir district. Interior Ministry chief Rehman Malik said security forces had killed at least 30 militants during the operations, which was launched in retaliation to efforts by the  Taliban to extend their influence outside Swat.
The Taliban confirmed that commander Maulvi Shahid was among the militants killed on Sunday. Gunship helicopters targeted militant hideouts, killing and injuring a number of them.
Two personnel of the paramilitary Frontier Corps were also killed and a Major was among five personnel injured in an ambush in Maidan, the hometown of TNSM chief Sufi Muhammad.
Army helicopters airlifted Frontier Corps troops to strategic hilltops in Dir while armoured personnel carriers were seen moving towards the area.
An indefinite curfew was imposed in Lal Qila, Islampura, Kal Kot and several other areas in Dir considered to be strongholds of the Taliban. Security forces on Sunday took control of Lal Qila after clearing the key area of militants.
Reports from Swat this morning said the Taliban had occupied a telephone exchange in Bahrain town.
Security forces arrested four militants with heavy weapons at Khwazakhela in Swat. Militants in Dir have also taken up positions on hilltops to resist the security forces.
The Inter-Services Public Relations said the operation in Dir was launched on the request of the North West Frontier Province government to rid the area of militants who were threatening peace in the area.
The situation in Maidan, the hometown of Sufi Muhammad, worsened after district police chief Khurshid Khan and local mayor Alamzeb Khan were killed and scores of people were kidnapped in the past few weeks.