1. The evidence for the deliberate arson of Notre Dame in Paris mounts. Not that we needed more evidence, it was plenty obvious at the time as extraordinary measures are needed to set oak beams that old on fire. But the plans to remake it as a Postmodern, anti-Catholic and Islamic building tend to confirm. (We published a LOT on that at the time of the fire. Interesting coincidence that Barack and Michelle Obama happened to be on a boat on the river with a great view of the fire at the time, if memory serves, they were drinking Champagne.)
Here Come the Architects: Modernists Want Glass Roof, Steel Spire, or Minaret for Notre Dame https://t.co/Sgy6dg3prZ

— Breitbart London (@BreitbartLondon) April 20, 2019
French Govt Wanted Modernist Notre Dame Rebuild, Macron's Wife Proposed 'Erect Phallus and Golden Balls' Spire
"When I got back to the ministry, the office was in a state of stress: the Élysée Palace was dreaming of an 'architectural gesture' and was accusing me of just doing what I please," she wrote, referring to the French president's official residence.

Bachelot, who appears to have been insistent on as faithful a reconstruction of the Catholic cathedral as possible, said she did "not regret this insubordination" after Brigitte Macron, the French president's controversial wife, showed her a proposed design "topped with a sort of erect phallus with its base surrounded with golden balls" at a meeting.

With much of the global architecture establishment actively hostile to building in traditional styles, decrying this as "pastiche" and insisting all new buildings must appear "contemporary", there was a concerted effort to try and foist modernist aesthetics on Notre-Dame as the restoration of its damaged exterior and destroyed spire was discussed in the wake of the 2019 fire.

Architects proposed despoiling the cathedral with such features as a glass roof, a steel spire, or even a minaret — a tribute to Muslim Algerians in the country — in the wake of the blaze.

The allegedly conservative Telegraph newspaper in the United Kingdom published an article saying "it would be a travesty to rebuild a badly damaged Notre Dame as a facsimile of the original" instead of pursuing "bold and uncompromising modernity", while a Harvard professor in America went so far as to say the destruction of a Christian building "so overburdened with meaning… feels like an act of liberation".

The French government initially encouraged such fantasies, with Macron's prime minister saying they would "ask the question of whether we should even recreate the spire as it was conceived [or] as is often the case in the evolution of heritage, we should endow Notre-Dame with a new spire" — but public pressure and, possibly, internal lobbying by Bachelot eventually saw them commit to a faithful restoration of the cathedral's exterior.

The building's interior may not be safe, however, with leaked plans for a Disneyland-style woke reimagining of the cathedral emphasising diversity and climate change causing controversy towards the end of 2021.
2. Update — Photo of beautiful teen girl who died 'suddenly' playing flag football…
"It's really shocking because because we're really young": A Desert Oasis student joins her school in grieving the loss of 16-year-old Ashari Hughes. She died following a medical emergency during a flag football game.https://t.co/eUgeWJWpj7@News3LV pic.twitter.com/hnfRjrGLRo

— Tiffany Lane (@TiffanyNews3LV) January 7, 2023
(Looking forward to the TV doctors explaining how when you grab a flag at a certain exact point of a heartbeat, the sound of ripping velcro can cause a fatal heart attack in a healthy teenage girl. This one was 18 and healthy.)
3. Weekly Data from New South Wales Proves that Vaccine is Ineffective Against COVID – 86% of Deaths and 80% of Hospitalizations were Vaccinated
We were told the experimental COVID vaccines were going to "stop the spread" and "prevent death and hospitalization."

The New South Wales government website released its daily Covid update. Based on its daily report, most of the people who died with COVID-19 were vaccinated.
Australia is famous for its totalitarian COVID restrictions and vaccine mandates. The Deputy Premier of NSW boldly declared that even businesses that accept unvaccinated people would be subject to exceptionally heavy fines back in 2021.

Earlier this year, The Gateway Pundit reported that most of the people who died with COVID-19 in January 2022 were at least double vaccinated.
Related: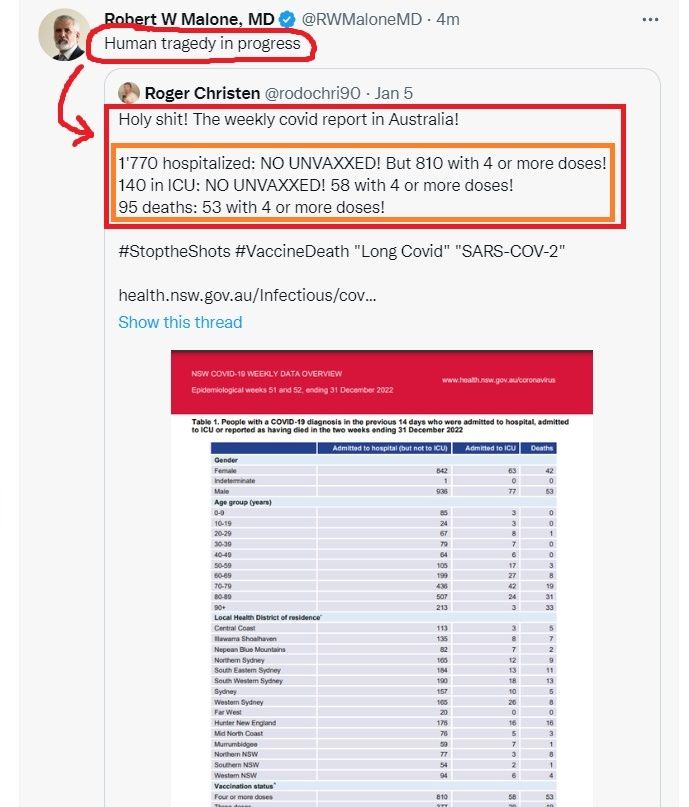 Related: LA Times reporter, 33 years old
4. 17-Year-Old Basketball Player Dies Suddenly at Home Due to "Medical Condition"
(Just FYI: The 'Died Suddenly' reports at this site are not all the ones I can find. They are just the ones I can't avoid.)
The Campbell County Coroner has confirmed that a high school basketball player from Gillette, Wyoming, died suddenly two weeks ago.

Max Sorenson, 17, died suddenly of a "medical event" at his home on Monday, December 26.

On December 29th, Campbell County Coroner Paul Wallem told the Cowboy State Daily that the high school basketball player had been brought to the Campbell County Memorial Hospital in Gillette, Wyoming, after a medical incident at his home.

Wallem was later pronounced dead. According to Wallem, he is not treating the death as a suicide, homicide, or drug overdose.
5. The European Commission, (the real politburo which makes decisions, not the fake pseudo-democratic European Parliament) is trying to get China to take the mRNA shots. China is refusing it.
Thank you all for staying with us. This year should see an intensification of efforts to destroy reality via information control and warfare. Watch how you spend your time. Avoid Telegram groups which feed time wasters and click bait like a river. To know what is actually happening requires husbandry of our time. Remember, major news that makes no difference doesn't matter.