1. We have been waiting a very long time for this verdict. now lets see what sentence he gets for this grotesque and horrifying murder and robbery of a senior citizen.
https://t.co/zY8p0K6EzG Habibullah Ahmadi, a 24-year-old man from Windsor, Ont., has been found guilty of second-degree murder in connection to a vicious attack on an elderly woman in 2017 near the Ganatchio Trail.

— Pegida Canada (@PegidaCanada) November 14, 2020
2. These are some high intensity protests in the UK against BS Covid measures. You can see the general public has about had it with the police.
Shocking scenes as scuffles and clashes erupt – police fight with protesters at anti-lockdown protest in Bristol, UK #Antilockdown #lockdown2uk #lockdown @StandUpX2 pic.twitter.com/lmjXOJoXBq

— Urban Pictures (@Urban_Pictures) November 14, 2020
3. What is "The Great Reset"?
4. Public pressure forced media company to remove signs of resistance to the masking of the population program underway everywhere, nearly a year after the 2 weeks to flatten the curve was over.
Yes, only one side of any debate must be allowed now according to ABC8. And any company that allows the other side of an issue to be spoken out-loud is to be boycotted to destruction. Which brings me to this comment of Hellequin GB., quoting another comment under the Paul Weston video:
"Old enough to have seen real communism in E. Germany.
Tables groaning with food for the elite while the rest fought for rotten potatoes in the marketplace.
Old enough to have supported Poland's fight against communism.
Old enough to have had a friend who lived through communism in Romania where she was told what job she could do, how many calories she was allowed to consume, when she could use the transport where she could go & when & who she could see.
People too frightened to speak incase it was reported in.
All history eradicated.
For the brainwashed, go visit the beautiful city of Budapest.
You'll find a museum dedicated to all those who were tortured imprisoned & perished under communism.
The people facilitating & ushering this in are deranged."
5. Dozens of foreign-born terrorists avoided deportation on release from prison, study finds
(This is behind a Telegraph paywall)
6. German state becomes increasingly hostile to actual Germans. Like any good communist state would.
7. One begins to think that when Trump doesn't make a decision we would all expect from him, its because the anti-state is lying to him
8. The rewriting of History and Holocaust denial by the left accelerates
Amanpour took pains to erase the word Jews while speaking three times about Nazi attacks and genocide.

At best, she exploited and trivialized the Holocaust to make her analogy.

At worst, as Tim Kaine put it in 2017, Christiane Amanpour engaged in a form of Holocaust denial. pic.twitter.com/LZG7niS5I1

— Hillel Neuer (@HillelNeuer) November 15, 2020
Here is the clip referred to:
Never before in the history of U.S. news networks did a journalist distort the Holocaust for political purposes as Amanpour just did on on CNN & PBS.

No, @camanpour, the Nazi genocide was not "an attack on fact, knowledge, history & truth."

They murdered 6 million Jews. Say it. pic.twitter.com/Cwkzj1lUBK

— Hillel Neuer (@HillelNeuer) November 14, 2020
9. Red Pill Germany on the mass gaslighting of the public on the US election
10.  Muslim child refugee actually an adult that beat a bartender in New Brunswick to within an inch of his life:
Moncton bartender remains in hospital after severe beating
Chris Lewis was biking home early Sunday morning when he thought he spotted a pile of old clothes along the sidewalk on Foundry Street in downtown Moncton. 

As he came closer, he realized it was a person. The man was convulsing, his eyes were swollen, and hair matted with blood.

"He was so badly beaten that I honestly thought he was a man in his 50s or 60s," Lewis told Radio-Canada. 

"The next day I found out the guy on the sidewalk was actually somebody I'd known for 25 years," Lewis said. 

That man was Jacques Vautour, so badly beaten Lewis didn't recognize the 42-year-old. 
CBC manages to avoid naming the guy cause its an Islamic name, and manages to avoid any mention of the fact that its a "Syrian" refugee who faked his age to claim being a child but even according to the fake ID is an adult now.
So who is the guy that beat the bartender for trivial reasons?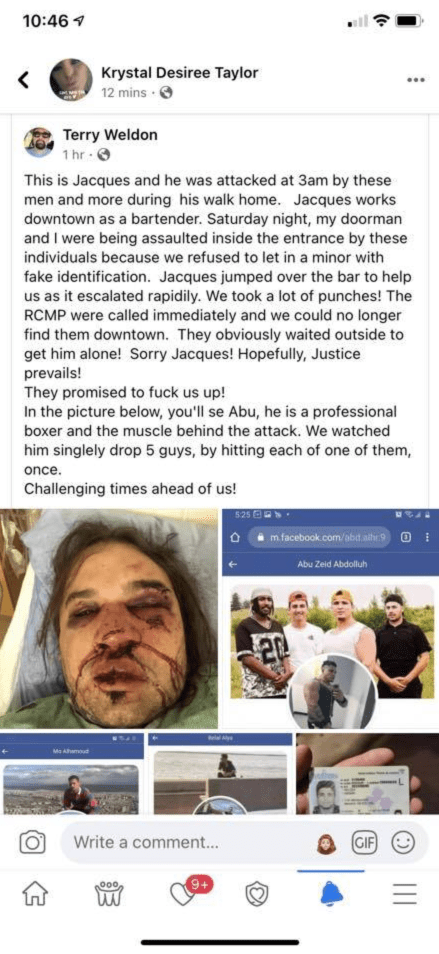 What else can we learn about Abu?
Abu Zaid was one of those Syrians that came in to Canada claiming to be 14 years old, but of course was an adult, thats why he was using fake ID
Clearly the Canadian government feels that law abiding and Western minded Canadians are to be cannon fodder for the new, post national citizens they are creating with the help of military propaganda efforts of course.
ADDITIONAL:
Comment:
If you would like to help Jacque Vautour, the victim of Abu Zaid, you can do here https://www.gofundme.com/f/help-jacque-vautour-aka-john-six, he won't be able to work for sometime, if ever again. I don't know him personally, by name, except to know he was the guy you wanted on the door while you and yours were enjoying a quiet drink inside a bar.
Thank you M., ML., Wrath of Khan, PC, Hellequin GB., Johnny U., Malca, ET., EB., Xanthippa, MissPiggy, Gates of Vienna, Pym Purnell, KF., Richard, Mad W. and everyone who sent in materials this weekend.
At this point it. really looks like they don't care what we know, or what is true. They simply care about what works. A purely practical communist totalitarian revolution. Still, we must focus on what is true and find ways of preserving truth and the method for establishing it if we hope for a future civilization based on reason, and the reduction of suffering.